BDO Darts Tips Day 4 (10/1/17)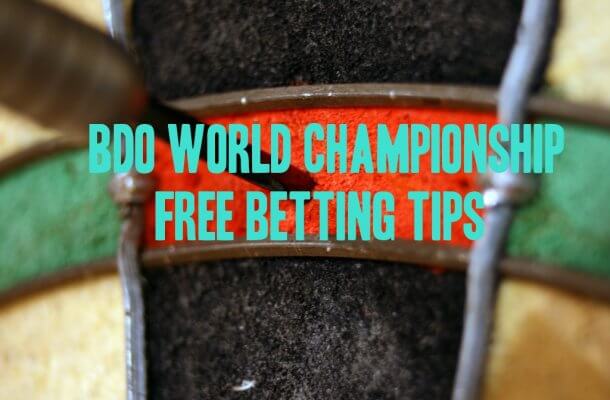 By
It's day four of the BDO World Championships, and things have started to get interesting. We're reaching the end of the first round of matches, and we have some of the biggest names in the BDO taking to the stage throughout the day. The second favourite with the bookies, Danny Noppert, starts us off against David Cameron, then BDO Stalwart Ross Montgomery takes on Richard Veenstra, before Wesley Harms ends the afternoon session against prelim winner Krysztof Ratajki. The big name in the evening session is, of course, defending champion Scott Waites, who faces prelim winner Dennis Harbour in the day's last game. That closes out the day's action and it looks to be a good one with plenty of class acts taking to the stage.
Notable Upcoming Bets:
Danny Noppert vs David Cameron
David Cameron impressed in his prelim match, and he finally got the win on the Lakeside stage he deerved. The Canadian has been getting better year on year, but he tends to luck out with his draws. The same applies this year, as he's taking on the in-forn Danny Noppert, who many of you will know from his run at the Grand Slam of Darts. Noppert pushed Gary Anderson all the way at the Grand Slam of Darts, losing in the last 16. It was a breakthrough for Noppert, and his stellar averages put his name firmly on the lips of people trying to pick the winner of the BDO World Championship.
I think Noppert should win this, but he's just a bit too short for this match. In fact, I like David Cameron to win at a fancy price. I do think Noppert should take it, but Cameron played well, his eye will be on, and Noppert is far too short for someone who's yet to do it on the Lakeside stage.
Richard Veenstra vs Ross Montgomery
Last year's semi-finalist Richard Veenstra has a tough match against BDO veteran Ross Montgomery. Veenstra averaged around the 90 mark or just below on his route to the final and took out some big names along the way, including Jeffrey de Graaf and Scott Mitchell. His big win last year came at the WDF European Singles, which he won. As for Ross Montgomery, well, you know what you'll get with The Boss. Montgomery won the Belgium Open last year, but that was the height of it in another quiet year. Montgomery went out in the first round last year, averaging just 78.90 in a shocking performance against Jamie Hughes.
I think this is Veenstra's to lose. Montgomery has had a good run or two in the past at the Lakeside, but I think his best days are behind him, while Veenstra is growing in confidence. Richard Veenstra -1.5 sets is our play here, as I think the Dutchman will prove far too strong for the Scotsman.
Wesley Harms vs Krzysztof Ratajski
Another year and another tilt at the world championship for Wesley Harms. It's safe to say he's had better chances in the past, and it looks like his best chance might have come and gone, but he's still playing decent darts and is a match for anyone on his day. As for Ratajski, he averaged almost 90 in his prelim match win. It was a tight match and he showed great fight to win it in what loked to be a losing battle at times. I think this could be tigher than the bookies have it. Like I said, I think Harms' best days are behind him and he hasn't had the most amazing 12 months, while Rajaski has nothing to lose. The value on the qualifier is good, so take Krzysztof Ratajski to win for one of the value bets of the day.
Mark McGeeney vs James Hurrell
Mark McGeeney, the runner up of the 2016 World Masters, will be happy with this draw, as he looks to improve on his performance last year, as he lost at itght one to Scott Mitchell in the second round last year, with a solid 90.90 average. James Hurrell lost his prelim match to Larry Butler 3-2, but has progressed this year with a win at the Police Masters. But I think Hurrell isn't near the level of the classy McGeeney, and this should be a nice opener for the 11th seed. How comfortable? I think he's got enough to eat the handicap line, so take Mark McGeeney -1.5 sets in a very comfortable win.
Darius Labanauskas vs Conan Whitehead
It's been interesting watching the progress of Darius Labanausakas over the past few years. After his debut in the 2015 World Championship, his game has progressed and he won two tournaments in 2016, rising to number eight in the BDO rankings. Conan Whitehead made the move to the BDO after an uneventful stint in the PDC, and he's not had a bad 2016, and I think he'll have a pretty fruitful 2017 if his improvement continues. However, it's a tough ask for Whitehead against the steadily improving Labanauskas. I do think it could be close, but I think Whitehead might just need a bit more time and another appearance or two at the Lakeside and will come on leaps and bounds for it. There's no angle to take on this, really, so it's no bet.
Scott Waites vs Dennis Harbour
The last match of the first round and we see the defending world champion take to the stage. It seems like every year we think Scot Waites is fading and the injuries are catching up with him and this year is no different. Waites was terrible at the Grand Slam of Darts and didn't win a game in Zuideruin, but he went well in the World Masters and the British Open prior to the World Championship. Dennis Harbour did what was expected of him in his prelim match, putting in a steady showing, nothing flash and no excitement really, at all. Can he beat Scott Waites? I honestly am not sure. Waites' injuries do tend to cause him problems, but that seems to be in longer games, so if Harbour can push him, then Waites might just struggle a bit. The fact is, Waites is far too short, so we have to back the value here, which is Dennis Harbour to win, although it is purely a value punt at fairly ridiculous prices.
I'll be back with more free tips for day five of the 2017 BDO World Championship tomorrow, so I'll see you then.