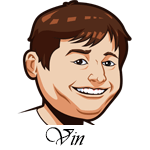 Follow @SBTSportBetting


[Get Exclusive Tips on our Patreon, Ad-Free
]
I really drafted well last week and by that I mean I built really good teams that ended up not making as much money as they normally would. The reason for that? I didn't have Tom Brady, Ben Roethlisberger or Rob Gronkowski.
A couple of times every season we will get some games like this and no matter what you do to build your team, if you don't have those guys then you aren't winning. They absolutely killed it and I hope that you were all on the right side of that.
I don't feel bad about not picking them though because nobody picked them. The Colts were one of the better passing defenses in the league before they decided to give up over 500 yards. The Bears had shown signs of life on defense before deciding to sit on the sidelines and watch the Gronk show. These weren't easy picks that everyone saw coming. This was just… luck. I don't want to call it luck because these are professional players trying really hard, but what else do you call it? These things just don't happen every week.
Let's get to our picks. I think there are some good ones here and that's fine. I like good ones, but what I really hope for is some lucky ones. That'd be nice.
DAILY FANTASY FOOTBALL SLEEPERS WEEK 9: QUARTERBACK
DRAFT
Colin Kaepernick: He had 32 against this same Rams team in Week 6. What has changed in 3 weeks? He's home now.
RGIII: I think he comes back with a vengeance. The Vikings defense has been tough against the pass, but RGIII can beat you in so many ways. His receivers not being open might not be a bad thing.
Brian Hoyer: This week's Super Cheap option has a favorable match-up against Tampa Bay who are 30th against the pass and have allowed a couple of MONSTER games.
Joe Flacco: Of all the Jekyll and Hyde quarterbacks in the league, he has been the Jekyll and Hyde-iest, but that doesn't necessarily mean he's unpredictable. For the most part, his good games have come against weak teams and his bad games have come against good teams. This week he goes against the Steelers who allowed him only 166 yards (with 2 TDs) in Week 2, but just gave up 400 to Andrew Luck. I don't expect either of those to repeat, but somewhere in the middle would be a nice day at Flacco's price.
DON'T DRAFT
Michael Vick: Don't get cute. The Jets still suck and it is not 2004.
DAILY FANTASY FOOTBALL SLEEPERS WEEK 9: RUNNING BACK
DRAFT
Marshawn Lynch: I was wrong about last week. THIS is the Beast Mode game. (If it's not you will never see him int his space again.)
Mark Ingram: An easy match-up and just like last week his teammates are injured. Expect another big one.
Jeremy Hill: Not sure if Bernard plays, but even if he does expect a healthy dose of Jeremy Hill. The Bengals really need a win so they should go back to what they do best (run and play defense) against a Jaguars team that hasn't been able to stop anyone.
DON'T DRAFT
DeMarco Murray: Probably going to get burned on this, but I don't care. I'm not touching him. He's carrying a ton, he's going against a tough defense and he might be facing life without Romo. No. Thank. You.
DAILY FANTASY FOOTBALL SLEEPERS WEEK 9: WIDE RECEIVER
DRAFT
Brandin Cooks: Coming off his breakout game and his fourth 15+ point performance, Draft Kings has him listed at just $4,100. Against Carolina. What am I missing here?
Mike Wallace: A bit cheaper coming off his worst game of the season. He should bounce back against the Chargers because they'll be needing him if they want to have a chance in this one.
Kelvin Benjamin: I'm expecting Thursday to be very high scoring and Benjamin should keep up with Cooks.
DeAndre Hopkins: I liked him so much last week that I'm putting him in here again. The Eagles have allowed some monster games to opposing receivers this year and if anyone on the Texans is doing that, it's Hopkins. (Sorry, Andre Johnson.)
Doug Baldwin: Since Harvin was traded he leads the team in targets, receptions and yards. This week he gets the Raiders in Seattle.
DON'T DRAFT
Mohammed Sanu: AJ Green coming back, a likely win and a heavy run game. I don't see this going well for you, Mohammed.
DAILY FANTASY FOOTBALL SLEEPERS WEEK 9: TIGHT END
DRAFT
Julius Thomas: Obvious name? Sure, but the Patriots have done well to shut down wideouts thus far this season, but TEs have been another story. I think that one of Sanders and Demaryius will have a good game, but I don't know which. I do know that Julius should have a good one.
Owen Daniels: His price is low because he missed last week, but if he plays I could see him having a nice little 12-15 point game.
Jordan Reed: Call this the Part B to RGIII. I think if RG3 has a great game that Reed is a big part of that.
DON'T DRAFT
Heath Miller: A nice game last week, but you could say that about everyone on the Steelers. The Ravens defense played him tough last time out.
DAILY FANTASY FOOTBALL SLEEPERS WEEK 9: DEFENSE
DRAFT
Denver Broncos: I don't care if it's the Patriots. The Broncos defense has put up big numbers all season long no matter who the opponent was. They are scary and dangerous. Brady should be afraid.
Baltimore Ravens: I know we're all still in awe of Big Ben's game on Sunday, but the last time these two teams played the Ravens embarrassed them and put up 15 fantasy points.
DON'T DRAFT
Indianapolis Colts: I know they look sexy against Eli, but maybe last week wasn't a fluke. Maybe there is a secret that the Steelers uncovered for the whole league to see? I doubt it, but just in case I'm putting them here.
Follow @SBTSportBetting