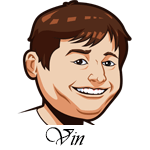 Follow @SBTSportBetting


[Get Exclusive Tips on our Patreon, Ad-Free
]
The NFL Draft takes place a week from today. We'll have full tips for the NFL Draft going up over the weekend, but for right now I am going to focus on the 2020 NFL Win Totals. I am a strong believer that the NFL won't be delaying their season for any reason as that is just how this league operates. Roger Goodell is on a Trump-appointed committee alongside Rob Manfred, Dana White, Robert Kraft, and Vince McMahon and I can't imagine that group of individuals deciding that it's best to cancel things. Right or wrong, the NFL is going to play.
So, assuming a 16-game schedule is play, I thought now would be a good time to look at the NFL Win Totals as recently posted by Caesars. Below you will find the complete list of teams and below that some of my thoughts on them.
Notable Upcoming Bets:
Baltimore Ravens: 12
Kansas City Chiefs: 12
New Orleans Saints: 10.5
San Francisco 49ers: 10.5
Dallas Cowboys: 9.5
Philadelphia Eagles: 9.5
Seattle Seahawks: 9.5
Buffalo Bills: 9
Pittsburgh Steelers: 9
Minnesota Vikings: 9
Tampa Bay Buccaneers: 9
New England Patriots: 8.5
Cleveland Browns: 8.5
Indianapolis Colts: 8.5
Tennessee Titans: 8.5
Los Angeles Chargers: 8.5
Chicago Bears: 8.5
Green Bay Packers: 8.5
Los Angeles Rams: 8.5
Houston Texans: 7.5
Denver Broncos: 7.5
Atlanta Falcons: 7.5
Arizona Cardinals: 7.5
Las Vegas Raiders: 7
New York Jets: 6.5
Detroit Lions: 6.5
Miami Dolphins: 6
New York Giants: 5.5
Carolina Panthers: 5.5
Cincinnati Bengals: 5
Jacksonville Jaguars: 4.5
Washington Redskins: 4.5
Right away, the team that sticks out to me is the Tampa Bay Buccaneers. They were 7-9 last year with six of those losses coming by a touchdown or less. You mean to tell me that replacing the league leading interception throwing quarterback in the league with one of the greatest quarterbacks of all-time is only going to lead to two more coinflip wins? No way. I am all over this over. They have some great receivers, something that Brady hasn't had in a couple of years, and I think they have some good opportunities to improve their defense in the draft. That is probably my best bet right there.
Another team that sticks out is the Cleveland Browns at 8.5. They have the same win total as the Green Bay Packers, New England Patriots, Tennessee Titans, and Los Angeles Rams. The Browns are a team that everyone thinks is going to be great and every year they let people down. Last season, they were 20th in Offensive DVOA and 22nd in Defensive DVOA at Football Outsiders so I'm not sure where this huge improvement is expected to come from. This would be an under bet from me.
Bet Cleveland Browns Under 8.5 Wins
One risky over I would take is the Jaguars at over 4.5 wins. Last season, everything that could go wrong for this team went wrong and they still ended up winning six games. Leonard Fournette is a good running back and he's playing for a new contract so I expect another strong season from him. Gardner Minshew showed signs of competency last year with a 21/6 TD:INT ration and a 92.1 QB Rating. I can see improvements from him in year two. (Plus, there's always a chance they go QB in the draft as Tua Tagovailoa is an interesting possibility here.) They have two first round picks and could be a threat.
I am not saying this is a playoff team, but winning less than five games is hard to do in this league and I think this team just has too much talent as it stands to go that low. Another six or seven win season seems likely.
Follow @SBTSportBetting