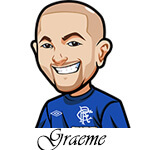 First of all – thoughts are with Tiger Woods. Someone who has amazed us through the past couple of decades with his skills. An absolute legend. Let's hope humans, medicines and science can get him healthy and back on the course sooner rather than later!
Last week the Genesis tournament was a bit of a mess with the weather, but amazingly we came out with the 55/1 winner in Max Homa!
I couldn't quite believe it. On Saturday it was looking like the DJ Top 5 and Cantlay Top 10 bets were going to come in and that was it. Then Max Homa got going and just never looked back.
I wish I had bet more on him but honestly I didn't expect one of my 4 longer shot bets to come in. With how stacked the field was I wasn't even sure if I wanted to back or tip them. Very glad I did though!
Here's the Max Homa betting slip: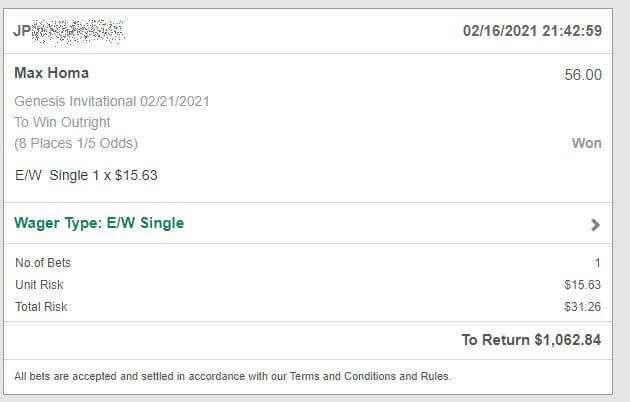 I felt we were on the verge of a nice big win but like I said – really wasn't expecting it to be the Genesis. A pleasant surprise. Unfortunately DJ came one stroke out of the Top 5 position and Cantlay had a rough Sunday to come in 2 strokes away from that Top 10 spot.
Let's get into this week.
WGC Workday Championship Betting Tips:
Just the worst tournament name ever but hey props to Workday for stepping up and helping make this tournament happen. Their system seems pretty darn impressive.
We don't really have any course data this week. Can pull some stuff from the NCAA Championship a few years back and then a bunch of theories based on what we know about the course.
It looks like a super tough course. I'm always surprised when people tip tournaments like this with such confidence – personally I find it a lot of guess work.
Based on that it is just small, speculative bets this week. You may want to do Top 10 bets instead or something. For me – I see the tournament as a gamble, and I'm willing to have that extra little gamble. I should note while the best odds mostly list BetOnline, I will be doing my bets at Bet365 due to Top 7 E/W placing. If you are betting at BetOnline, split the bet between to win and top 10.
$62.50 on Webb Simpson to Win & E/W:
Doesn't have the best WGC history as of late, but when I look at the key metrics for this course he comes out on top on the average. Hasn't played a lot lately. Heh – honestly he's someone where I can list the negatives so much easier here or reasons as to why not to back him. But by the perceived metrics for this course – he should perform.
Canada: 34.00 at Sports Interaction
Everywhere Else: +3300 / 33/1 at BetOnline
---
$62.50 on Patrick Reed To Win & E/W:
Doesn't really pop out on the metrics for me but could be a great spot for him to pop up. Solid Florida performer too.
+3000 / 30/1 at BetOnline
---
$62.50 on Rory McIlroy To Win & E/W:
Rory is Rory. We know what we get with him. His performance on Florida courses, his overall ability in golf, and then the price makes it worth the play here.
Canada: 17.00 at Sports Interaction
Everywhere Else: +1600 / 16.00 at BetOnline
---
$62.50 on Kevin Kisner To Win & E/W:
Pretty much a more metric pick. His performance on Bermuda is gold and that could be a big factor here.
+12500 / 125/1 at BetOnline
---
Puerto Rico Betting Tips:
Not a lot of course form to go on here, unfortunately. One of those tournaments where it could be ripe for a big win by someone.
$125 on Ian Poulter To WIn:
Straight up win bet this week on Poulter. His form has been inconsistent. He did get a 3rd place here back in 2016. Honestly it's a combination of seeing the way he has talked about this course in the past, and the metrics. He pops up top for me and he just sounds like he loves this course. I think he will be earmarking it as one to get him back on track.
I've no real reason as to why I am doing to win over E/W this week or not just doing a Top 5 place. Just one of those things where I am going with my gut.
Among the favourites I debated Poulter and Grillo. I'm not going to back Grillo but if you are on the fence about him he is a good little bet I think.
USA: +1800 at Bovada
Canada: 18/1 at Bodog
Everywhere Else: +1600 at BetOnline
---
$62.50 Scott Brown To Win & Top 10:
I really don't expect much from Brown here. But you can't argue with his impressive form at this tournament. He's a guy that comes out of nowhere constantly to perform. Has did it for years and loves certain tournaments. Well worth a bet.
I'm doing to win and top 10 for this one due to the difference in price between Intertops etc and the other sportsbooks. Split your bet among both.
USA: +6600 at Bovada
Canada: 66/1 at Bodog
Everywhere else: +6600 at Intertops
---
$62.50 on Ollie Schneiderjans To Win & E/W:
Played here a couple of years ago and didn't do too well but did come 49th. I like his incoming form though and he should suit this course.
USA: +3500 at Bovada
Everywhere Else: 35/1 at Bet365
---
$62.50 on Justin Suh To Win & E/W:
This is one of those bets where I looked at it, passed on it, then I just kept thinking about it and couldn't get away from it. Been impressed with what I have seen from Suh so far. He's got some great potential and I think Iv'e got to take him here.
USA: +4000 at Intertops
Everywhere Else: 40/1 at Bet365
---
I've also got $30 on Steve Stricker to win the Cologuard Classic tournament at 11/2 odds. That is on the Champions Tour.