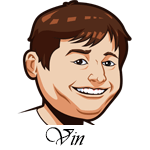 Follow @SBTSportBetting
3-0 last night! That's what I'm talking about. Really happy to touch down from my late flight and check the scores to see that we had a great day.
The nice thing about this day was that it mostly went as I thought it would. Sometimes you pick a team because of the starter or whatever, that guy last three innings and they win anyway. Those are nice to have, but it feels good when you think something will happen and then it does.
Like the Indians against the Tigers. I knew that Corey Kluber would dominate this offense and that's just what he did with 13 strikeouts through eight innings. Francisco Liriano had a better game than I expected, but he allowed a two-run homer to Bradley Zimmer that decided the game.
Noah Syndergaard didn't quite have the strikeouts I expected, but he was dominant in six innings with two runs allowed (only one earned) and five strikeouts in six innings. The Mets tagged Jose Urena for three runs early and went on to win 4-2.
I was half right in the Royals vs. Mariners game. Marco Gonzales only made it 2 1/3, giving up four runs and eight hits to Kansas City. Casey Lawrence did a ton of damage coming in relief when he gave up another five to push this one clearly into over territory. Where I was wrong was with Jake Junis. Another outstanding performance and someone I am going to keep my eye on going forward. He has a filthy slider that he can throw for strikes that he used to his full advantage last night.
All in all it was a great day, let's have another one.
[text-blocks id="137″ slug="email"]
San Diego Padres vs. Colorado Rockies Betting Tips:
Joey Lucchesi has had a great start to the season for the Padres. The rookie pitcher is 0-0 in two starts with a 2.79 ERA/2.13 FIP. He's yet to allow a homerun this season and has a 1.138 WHIP on the year. Pretty good stats for a rookie pitcher and a bright sign for the Padres this year. I've liked the very little I've seen, but that could all go bad tonight as he faces the Rockies at Coors Field.
This is a double whammy for him. Coors Field is the most notorious hitters park in all of baseball. Even if you took away the thin air, it's so spacious that doubles and triples fall in more than other parks. On top of that, the Rockies hit lefties far better than they hit righties. This is a really dangerous night for him and he's never pitched in this park before which could exacerbate things.
He goes against Tyler Anderson who had a really bad first start, but bounced back to shutout the Padres over six innings. He's not the greatest pitcher, but he knows how to pitch in this park which is more than I can say for Lucchesi, going with the Rockies winning big here.
Bet Rockies -1.5 at: [text-blocks id="87″ slug="bet-mlb"]
Baltimore Orioles vs. Toronto Blue Jays Betting Tips:
There aren't many pitchers that I trust less than Andrew Cashner. This guy has given up four homeruns in his first two starts while last season he walked 3.5 batters per nine while only striking out 4.6 per 9. I just don't trust him against a good offense and I think the Blue Jays are a pretty good offense. Aaron Sanchez is on the other mound and he's due for a good start. Taking the Blue Jays on the road tonight as a Trashner implosion seems likely.
Bet the Blue Jays -117 at: [text-blocks id="87″ slug="bet-mlb"]
Seattle Mariners vs. Kansas City Royals Betting Tips:
Felix Hernandez is coming off a really rough start against the Giants, but today he draws a Kansas City offense that (except for last night) has really struggled to score runs. It seemed like he didn't have his best stuff in that Giants game and I expect a bounceback here.
The Mariners offense should help out quite a bit as they are facing Eric Skoglund making his first start of the year. Last season this guy had a 9.50 ERA/5.05 FIP in seven appearances, he walked a lot and gave up a lot of contact. I think the Mariners should do those things today and grab their aging star a win.
Bet Mariners -109 at: [text-blocks id="87″ slug="bet-mlb"]
[text-blocks id="110″ slug="middle-ad"]
Follow @SBTSportBetting