April 12th, 2016 Betting Tips: MLB, NBA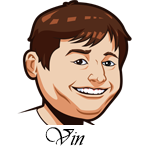 By
The NBA playoffs are starting this weekend and I could not be more excited. Lebron James seems to have turned it on just in time for another big run through the East, the record breaking (?) Golden State Warriors look to march to another title and the Spurs stand as the only thing in their way. A lot of people think that the NBA is too predictable at this time of year, but there is a lot of drama that will take place in these playoffs.
The Eastern Conference is filled with teams like the Celtics, Hornets, Heat and Hawks who are looking to make a mark and could surprise people. The Oklahoma City Thunder are always lurking and dangerous with two of the best five players in the NBA. Their regular season wasn't that inspiring, but the Warriors might fear them more than anyone. Throw in the possible last ride of the Griffin-Jordan-CP3 Clippers, the upstart Pistons, the possible last run of Dirk and the Mavs, throw in the excitement of playoff Dame Lillard and this could be a really exciting playoffs. There are a few interesting seeding match-ups today that should tide us over until these playoffs begin.
With the grind of regular season NBA winding down, we'll turn our focus to the grind of regular season baseball. There are 12 games going on today with a lot of really nice pitching match-ups. Jose Fernandez of the Marlins going against Noah Syndergaard of the Mets and former Cy Young winner Corey Kluber of the Indians against Matt Moore of the Rays are the highlights, but there are a lot of fun ones to watch tonight. Baseball is back, kids.
#1 Sportsbook Online for Americans

Good deposit bonus, lot of unique bets & props. Excellent mobile & live betting.
MLB Betting Tips:
Much was made of the offseason of the Los Angeles Dodgers and how they just let go of Zack Greinke to the Diamondbacks without much of a fight. Well, thus far it looks like they might have made the right move. In his first couple of starts, Greinke hasn't looked like himself at all. On top of that, the Dodgers were able to add Japanese pitching sensation Kenta Maeda to the rotation who pitched very well, allowing no runs in six innings, in his first start against the Padres. Today is the Dodgers home opener and I really like Maeda to get it done for them against Arizona today. Dodgers -142 will win today. This game starts at 4:10 Eastern.
Jose Fernandez had a rough outing in his first game of the season, but I expect him to fully recover today against the Mets. Noah Syndergaard was a Cy Young contender last season and this game should be a tough one for scoring. These are two of the best young pitchers in the game and I think they'll live up to the hype and send Mets/Marlins Under 6 runs.
The Indians are one of my favorite teams this season and Corey Kluber is a big reason why. He's among the elite pitchers in all of baseball and can really rack up the strikeouts. The Tampa Bay offense doesn't really inspire fear into anyone and I think he'll take down some serious strikeouts today. He goes against Matt Moore who had a seriously up and down season last year. He has trouble making it deep into games (partly thanks to the Rays strategy) as well and I think those signs point to a Cleveland -134 win.
Toronto is favorited against the Yankees today despite the fact that they are facing Masahiro Tanaka who is 5-2 when starting against Toronto with an ERA of 2.23 and a WHIP of 0.902. He'll go against Aaron Sanchez of the Jays who had a great start earlier this season. This just seems like a pitching match-up more than a Jays slugfest. I'm taking Jays/Yankees Under 8 Runs tonight.
NBA Betting Tips:
The Miami Heat really want that third seed so that they can hypothetically set themselves up for an Eastern Conference match-up with the Cleveland Cavaliers. The Hawks, Heat and Celtics all see that third seed as the key to getting to the Eastern Conference Finals and are fighting til the end. The Heat will be playing their best basketball tonight against the Pistons. The Pistons are hypothetically fighting for the 7th seed with the Pacers, but I don't think that comes as much into play tonight. The Heat are clearly the better team and clearly have the bigger prize to play for. Give me Heat +2 all night.
The Thunder are playing on the second game of a back-to-back and they were in Los Angeles yesterday. The Spurs can tie the record for home wins in a season with a win and I think they'll go for it today. This is potentially their second round match-up and I could see them sending a message to the Thunder. Spurs -8.
#1 Sportsbook Online for Americans

Good deposit bonus, lot of unique bets & props. Excellent mobile & live betting.