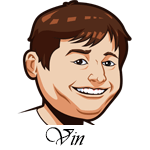 Follow @SBTSportBetting
Last night we saw why LeBron James is one of the greatest players of all time. He scored 20 points in the first quarter against the Pacers en route to a 46/12/5 night. The Pacers actually outscored the Cavs in every quarter except for that first one, but they built such a lead early that it wasn't enough. One thing is for sure after watching that game, this series isn't anywhere near over. The Cavs are in for a fight and it's one they might not win.
We also saw the Rockets assert their dominance last night as they smashed the Wolves, 102-82. Another really disappointing game for Jimmy Butler and only three Wolves scored in double figures. Just an absolute demolition and it's easy to see why a lot of people are picking this team to go to the Finals. They are really good at both ends of the floor.
Tonight we have more NBA playoffs action with three games. The Heat and Sixers has been the best series in these playoffs thus far and it continues tonight from Miami. The Blazers look to get back on track in New Orleans while the Warriors head to San Antonio, looking to sweep. Should be a great night with a lot of intriguing match-ups. Let's get into it.
Notable Upcoming Bets:
NBA Betting Tips:
I think game three is the game that the home team should almost always win. It's the first playoff game in the home city and usually has a big, excited crowd that is ready to cheer on their team. The Miami fans might even show up for the first quarter of this one. This series has been great thus far and I expect this one to get pretty physical. Goran Dragic scored a layup in the waning seconds of game two that really seemed to piss off the Sixers. I could see things getting a bit chippy here. That would favor Miami as they are a veteran team and less likely to get rattled by such things. I think that combined with the home court leads to a Miami +2 win.
How can you go against the Pelicans after what we saw in the first two games of this series? They just dominated on both ends of the court and really shut down Damian Lillard and CJ McCollum. The star of the series, besides Anthony Davis who is the star of every series, has been Jrue Holiday who has really broken out as a great two-way player. It's crazy just how well Rondo and Holiday have defended Portland and I see that continuing here. Pelicans -4 at home is the play.
MLB Betting Tips:
The Brewers are finally starting to get healthy and tonight they draw a great match-up against the Marlins. Dillon Peters has been bleeding runs through his first few starts and faces a tough right handed lineup in a homer friendly park. I'd be shocked if Domingo Santana or Ryan Braun don't take him deep tonight. Chase Anderson is on the mound for the Brewers and this is a great place to lay some runs. Brewers -1.5 should roll tonight.
Follow @SBTSportBetting