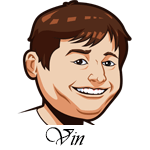 Follow @SBTSportBetting
Three NBA first round series took place last night and three teams moved to 2-0 in their series. This first round has featured it's fair share of good games, but there are only two series tied at 1-1 after two games and the rest of them are 2-0. In a seven game series that is not as daunting as it appears and we can't really know how much better these teams are until we see them on the road. We'll see the first road games of the first round starting tonight and the spreads are shifting to show some (hypothetically) closer games.
The game to watch tonight is the Rockets taking on the Warriors. Not because it might be a good game, because watching the Rockets is always awful, but because of the Steph Curry watch. He missed game two with an injury and if he is going to miss another game it might be time to worry. If he plays, I can see them cruising to a sweep. If he doesn't, I can also see them cruising to a sweep but the next round becomes a bit more of a question mark.
It will also be interesting to see if Dallas has any more magic up their sleeves against the Thunder tonight. They are an +8.5 home underdog tonight despite winning the last game out in this series. That game featured an all-time worst Kevin Durant playoff shooting performance that had a lot to do with the Mavericks defense of him, but was still so bad that it doesn't seem like it will happen again. Billy Donovan is just getting outcoached by Rick Carlisle in this series as it really should've been an easy sweep for the Thunder.
Between those two games, Toronto vs Indiana and a full slate of MLB games; my TV is going to be working overtime tonight.
NBA Betting Tips:
It feels like the Thunder are going to play better tonight and even if they are playing simply pretty good basketball than they are better than the Mavericks, but I am just not going to lay -8.5 on the road after the way they played the last time out. The Mavs played great defense and were smart in allowing Russell Westbrook open three-pointers throughout. He'll take them every single time despite being a 29% shooter in the regular season. This is something to watch again tonight.
The bet on this on is Mavs/Thunder under 196.5. The first two games of the series were under 180 and I expect the Mavs to try and play the slow down pace as much as possible here. Scoring will be at a premium for both teams. For the Thunder because of Dallas' defense and for the Mavs because they have no scoring.
Playoff Paul George, Pacers first home game, Dwayne Casey's stubborn coaching. I'm skipping Toronto/Indiana.
I don't care if Steph Curry plays or not, the Warriors -5 is a ridiculous line. The Rockets haven't shown interest in playing hard in any game in this series so why would they start now? Bring on the sweep, bring on the Clippers.
Notable Upcoming Bets:
MLB Betting Tips:
Pittsburgh should have a nice time out in San Diego tonight. James Shields is somehow the one pitcher who doesn't benefit from the spacious ballpark goes against them while Gerritt Cole should flourish there. The weak San Diego offense will make him look good as well and this one just feels like a gimme. Pittsburgh -143 is the play.
The real Chris Tillman showed up in Texas last week, giving up six runs and nine hits in 5 1/3 against the Texas Rangers. He now gets to face an even scarier offense in the Toronto Blue Jays. Marco Estrada goes for the Jays and he will have his hands full against the Baltimore offense that is killing it thus far this season, but overall I like his chances way better than Tillman's. Jays +109 should start to re-establish their AL East dominance tonight.
Follow @SBTSportBetting