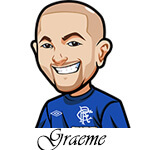 We had just 3 plays last week in the Northern Trust with two 1/8u plays and unfortunately they didn't pan out.
We had Morikawa who just really couldn't get going. He had a solid final round but that was it. We had Patrick Cantlay who finished -10. Needed -13 for a cash so just didn't make it. And the 225/1 Sepp Straka. He started well with three birdies in the first 6 holes but then a double bogey on the 7th and couldn't get going after that.
I'll consider it a win however that I didn't back Jordan Spieth as that gave me something to sweat on Sunday. He was 50/1 and even a top 5 place would have been a nice cash. He ended up coming 6th.
I'm a bit tight for time the next couple of weeks due to an unplanned trip to Scotland but I'll hopefully not miss any weeks. Just might be short write-ups occasionally. I should note that twice now I've booked a trip to Scotland and then won big that week (meaning I've upgraded my flight to first class lol). So let's hope that continues!!! Let's get to the tips:
BMW Championship 2019 Betting Tips:
The BMW usually plays at different courses. This week it's the Medinah Country Cup which has held 5 Majors and the Ryder Cup over the years. Lot of guys on the top 30 bubble here so will be interesting to see how it goes.
Brooks Koepka 8/1: 1/4u to win. I think the price is right here for a small play on Brooks. We've seen a lot of short odds winners here and there's a reason for that. In saying that the price for Brooks isn't too shabby with Rory the favourite here. This course is something he should play well at. Short odds with such a talented field however makes it a smaller play.
That's my only main play this week and it's still a small one. The rest is just some 1/8u plays where I don't feel super good about them, but the more I read and studied I couldn't get them off the shortlist.
Paul Casey: 40/1. 1/8u to win & E/W.Form has been getting better lately. I can't see him winning but he might be a contender.He's been inconsistent all year really but he has been showing some solid consistently lately and I hope he peaks here.
Brandt Snedeker 60/1: 1/8u to win & E/W. Excellent price on Brandt. He performed very well last week and has had quite a few good performances over the last couple of months. He doesn't really stand out in the metrics other than scrambling but is worth a small play.
Jim Furyk 140/1: 1/8u to win & E/W. Stands out in the metrics, knows how to handle these courses. In saying that, if I had a smaller bet than 1/8u I'd do it and it's a minimal bet as he hasn't been getting the cashes this year. Only the one top 5 place in 2019 which was at the Players Championship. Very very marginal play.
Corey Conners 160/1: 1/8 to win & E/W. He's on that threshold and will be looking for a good performance here. He should have no problem getting to the green it's just a case of how his putting goes this week.
For the record I see both Ian Poulter and Justin Thomas backed a lot this week. Three golfers on my shortlist who just got eliminated were Kisner, Merritt and Kuchar.
Czech Masters 2019 Betting Tips:
All of these are 1/8u to win & E/W.
Tom Lewis 25/1
Gavin Green 28/1
Andrea Pavan 20/1
Jamie Donaldson: 100/1