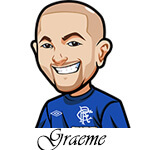 Follow @SBTSportBetting


[Get Exclusive Tips on our Patreon, Ad-Free
]
Okay then.
So football all over the globe is canceled. That's fun.
Honestly it's the right decision. I'm glad they're doing it. It's what the mass public wants and I think peoples heads just wouldn't be in it.
I hope they come up with some alternatives during this off-time. Like not sure anyone out there knows of the Tennent Sixes. It was an indoor tournament played each year in Scotland. It ran from 1984-1993 and was so fun to watch.
Throw "Tennent Sixes" on Youtube and check it out. It's seriously a blast. I'd love it if they do that.
Of course some games are still going on. The Bundesliga for example is all closed doors tomorrow. You know I enjoy writing content here and studying stats even when it's leagues I don't pay attention about. So screw it I'm going to do what I can to keep doing the daily soccer tips here and we'll just see what happens.
All of these from here on out will have an asterix in the stats. I may even have a separate section where I list Januarys record, Februarys record, COVID-19 record, etc.
Anyhoo let's see what we got for Saturdays Bundesliga games. The only thing I can really gather from all of this closed arena stuff is that home/away isn't really a factor.
Union Berlin vs Bayern Munich Betting Tips:
Bayern Music are 4 points ahead in the league and prior to the break they will want to make a big deal of it and get a big victory here.
They always to me feel like a professional outfit who don't factor in the crowd so I think that's a big deal going into this one.
Union Berlin are currently 11th in the Bundesliga and inconsistent at best.
I think we see a nice professional win by Munich. They often win by 2-3 goals and they are savages.
In saying that 90 minutes is a long time and Union Berlin have a pretty damn solid scoring record. These two teams last played in Bayern and Union Berlin were able to score against them there.
This is one where I flip-flop a bit. I feel like Bayern will rattle them 5-0 but then I also think Berlin will get at least a goal. I'll go with what is generally the safer bet based on Berlins goalscoring record.
(Odds on this page are correct as of 2020/03/13 10:32:56 AM EST but are subject to change)

Dortmund vs Schalke Betting Tips:
Dortmund are another team who prior to the break will be all about professionalism and motivation. They are 4 points behind Bayern so they will be the more motivated team.
Schalke are in 6th spot and struggling to hold onto it at the moment. They can't go any further I expect and they're in bad ways.
I expect Dortmund to be the more mentally sound team in this one and the team more motivated to put on a performance. While Schalke will be looking forward to the break and more focused on not touching the opposition as much as possible.
(Odds on this page are correct as of 2020/03/13 10:32:56 AM EST but are subject to change)

Follow @SBTSportBetting