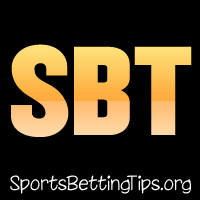 Follow @SBTSportBetting
An 0-1 last night.
This one was just plain unlucky. With three minutes left in the game, the Nuggets had a ten point lead over the Suns. The line was five so we were thinking that this one should easily come in. Denver was up 20 at the end of the first quarter and mostly coasted the rest of the way though. The final score? 122-118. There was a missed free throw towards the end there and we were just on the wrong end of the coin flip.
The other three games that I wrote up all came through. The Warriors proved just how hard it is to beat the same team twice in a row in this league, the Jazz blew out the Knicks, and "not betting against James Harden" proved fruitful as he scored 40 for the third straight game.
Six games on the slate tonight as the NBA goes up against the last day of the NFL regular season. Let's take a look at the games.
Chicago Bulls vs. Toronto Raptors: This is Toronto's first game back home after a road trip and they've beaten the Bulls seven straight times. No Kyle Lowry and Fred Van Vleet is questionable, but it's hard to imagine they don't make it eight. The Bulls have won three of their past four games, but none of those teams were contenders. Just don't want to lay the -10 with the injuries, but I think Raps win.
Los Angeles Lakers vs. Sacramento Kings: Still no LeBron James and the Lakers have dropped two without him. One was to the Kings on the 27th though and I think it's hard to beat a team with a loss like that so fresh in your head. Lakers are at home here and I think they'll win, but the stats say without LeBron they should probably be an underdog.
Minnesota Timberwolves vs. Miami Heat Betting Tips:
Let me start this one off by saying that the Minnesota Timberwolves were off last night and this game is in Miami. That doesn't always work out for the road team who tend to enjoy themselves in Miami on Saturday nights. Just a little food for thought.
That said, I would be on Miami here regardless of that. My system really likes them at home here as they have a solid home court advantage and have looked good over the past week plus. They've won six of their past seven games and are 6-0 against the spread in that span. It seems like this team thrives off injuries as the loss of Goran Dragic has really allowed them to get creative and put out some fun offenses. Justise Winslow is really stepping up and saving their season right now.
Minnesota? Not so much. They are 3-7 over their past ten games and Derrick Rose is listed as doubtful for this one. No Jeff Teague as well so this team is really lacking in the backcourt. I think that some of the guys might've had some fun last night and Miami will take full advantage of that here.
https://www.Bovada.lvBet Heat -3.5
Follow @SBTSportBetting