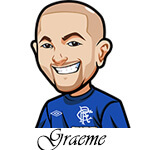 Follow @SBTSportBetting


[Get Exclusive Tips on our Patreon, Ad-Free
]
So first a quick note if you are following my World Cup 2018 Top Team Goalscorers betting tips – I cashed out of the Lukaku one. It was a 5 unit bet for 15 unit return and I cashed out for 12.5 unit return. Reason is there's the potential for a tie – plus Lukaku has some ankle ligament issues – and I didn't want to risk a 7.5u return..
I also cashed out the Harry Kane bet. That one was 5 units for a 11.5 unit return and I cashed out for a 10.9 unit return. I'm happy with that even though I think he's got it locked up. I placed those bets at Bet365 which has the cashout feature. If you are at a sportsbook with cash out features, I'd advise doing it.
Okay with that said onto the final group games in Group G of the 2018 World Cup. The final games take place on Thursday, June 28th, 2018. England take on Belgium while Panama take on Tunisia.
To no surprise England and Belgium have both already qualified from the group. England had a mixed game against Tunisia where they won it in injury time, and then a 6-1 thumping of Panama.
Belgium got off to a great start with a 3-0 victory over Panama then followed it up with a massive 5-2 victory over the Tunisians.
England vs Belgium Betting Odds:
England To Win: 2.80
Belgium To Win: 2.70
Draw:3.00
I'm doing a very cautious 1u bet on Over 2.5 goals. Read my analysis of both teams below or bet it at
https://www.Bovada.lv
(Odds on this page are correct as of 2018/06/24 7:50:13 PM EST but are subject to change)
England Analysis:
I've got a lot of concerns about this England team.
Set pieces are key for them and when you take them away as well as that fluke Kane goal for the hat trick…I think there's a lot of issues there.
In the field of play I just don't think they're doing it for me. They play a game that is just too open and I don't think their defense and goalie are up to snuff.
I honestly think they'll struggle against better teams.
In saying that, the result of this game is really no major consequence. However I believe the win will matter more for England as they want to keep the confidence flowing throughout the squad. Kanes goal against Tunisia helped and then a thumping of Panama was big for them.
While the result really isn't a big deal in the long run, I do think England will try and go for it.
Belgium Analysis:
Obviously Belgium have looked excellent thus far. I mean yeah they were expected to beat Panama but they had a fantastic result against Tunisia and just looked so good and confident.
After all the hype over the last few tournaments it's like this squad has finally gelled as a team. The thing about the Tunisia result is that Tunisia moved the ball around well and were positive throughout with good passes yet that didn't stop Belgium from thumping them.
Lukaku is getting a lot of the headlines but the play of De Bruyne is crucial and he's the most vital player on the team in my opinion.
Not sure about this game in particular due to the outcome not being that important, but Belgium are a team to look out for in the knockout stages.
England vs Belgium Betting Tips:
You never know what to expect from a game like this. Often it's a boring draw with neither team wanting to risk anything and also players being rested if they even have just the hiccups.
Maybe it's wishful thinking but I do think this result will mean more for England and they'll adapt the same open play. Based on that and Belgiums abilities I'm going do a very cautious 1u on Over 2.5 Goals. Part belief, part something to entertain me. You can bet that at https://www.Bovada.lv.
Follow @SBTSportBetting