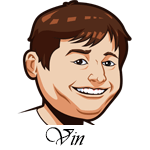 Follow @SBTSportBetting
It's kind of amazing, but it only took the Cavaliers one game after their trade to set things right. They had a huge game against the Celtics on Sunday and once again look like the best team in the Eastern Conference. Tonight will be a good test to see just how real that was or if it was simply an off game for the Celtics. They face the Thunder on the road tonight who might be getting Russell Westbrook back tonight. This could be a good one.
The weird thing about LeBron James is he loves the idea of a super team, but he is at his best when surrounded by role players who do their job. Miami was a good time, but it was great when he had players like Shane Battier, Mike Miller and Udonis Haslem doing the dirty work and nailing shots. That's kind of what they are looking to recreate here. Taking away Isaiah Thomas and putting in guys like Rodney Hood, George Hill and Larry Nance Jr. who don't care about stats and will just do what it takes to win. This is kind of exciting and I'm very interested to see how they play again tonight.
Notable Upcoming Bets:
NBA Betting Tips:
The Thunder have been really struggling without Russell Westbrook and if he doesn't play tonight, this one is all about the new look Cavs and we are all over this line. What if does play? Well, that's a bit more tricky. He is the key to everything that they do and the engine that makes it all run. How they play with him versus without him is the difference between night and day.
That said, this Cavs team is coming into this game with a lot more motivation right now. They are feeling each other, they are well rested and they are hungry. If Westbrook does play (not a sure thing) he may be on a minutes restriction and the risk is too great. The Cavs +1.5 is the play.
The Bucks -7.5 are another great play tonight at home against the Hawks. They have been great since firing Jason Kidd and have the top defense in the league during that time. Some of that is sample size and quality of opponent, but that doesn't really matter when you are playing the Hawks: a low quality opponent. I like the defense to do well tonight and for Giannis to put on a show for his home crowd. The Bucks are a great pick tonight.
A big schedule alert on the slate tonight as the Spurs head to Denver to face the Nuggets. Denver is notoriously the worst place to play on a back-to-back and that's exactly what the Spurs are doing here tonight. This is also their third game in four nights and Denver just so happens to be on a 10-game winning streak right now. The Spurs will be without Kawhi Leonard and LaMarcus Aldridge and it's hard to find a reason to like the Spurs tonight. Nuggets -7 is the play.
Follow @SBTSportBetting