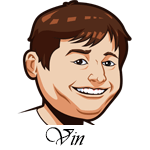 Follow @SBTSportBetting
It's only been one day, but there is already plenty of drama involving the Anthony Davis trade. The Pelicans put out a statement saying that they would be doing this on their own terms and also hinted that the NBA needs to enforce the tampering rules here. They say that they won't rush on Davis and are implying that they could wait til summer if that's what it takes to get the best deal. Somehow I don't think that's true though as I think he is most likely to be moved before the trade deadline.
Last night saw another big win for the Warriors and they have now won 11 straight. This team is just on fire right now and clicking in all the right ways. Kevin Durant and Stephen Curry are proving they are two of the best players in the NBA, but Klay Thompson's shooting stroke returning has been a big part of this. It's really hard to see them not winning it all at this point barring something crazy.
The league rolls on though and there is a full slate of games tonight. We also see a few more NHL games and they slowly come back from the NHL All-Star Break. It's been a weird one with some teams having to come back Monday after the break and some of those same teams playing again today.
Notable Upcoming Bets:
NHL Betting Tips:
One game I am looking at today is the Buffalo Sabres taking on the Columbus Blue Jackets. Both of these teams had a similar layoff and I am really leaning towards the home teams coming off this break. It helps that Columbus is the far better team and the Sabres are on the outside of the playoff picture as well.
Bet Blue Jackets -115 in regulation
NBA Betting Tips:
Oklahoma City Thunder vs. Orlando Magic: The Thunder have been getting healthy and they have been doing very well ever since. They are currently on a five-game road trip and draw a match-up with the Orlando Magic today. The game is in Orando, but the Magic have really been struggling. They are 4-10 straight up in January and their playoffs hopes appear to be dashed. They head in here with a three game losing streak and you have to think that will be four when it's done. The Thunder have one of the league's top defenses while the Magic offense is pretty weak.
Milwaukee Bucks vs. Detroit Pistons: The Bucks continue to roll on. They are 8-2 over their last ten games and are first in the Eastern Conference. Giannis Antetokounmpo is having an MVP season if it wasn't for James Harden being a superhero. The Pistons have recently fallen to 9th in the playoff race and if there were ever a team in desperate need of shaking things up, it's this one. The Andre Drummond-Reggie Jackson-Blake Griffin era just isn't working. This is a little bit more than I like to lay on the road, but the Bucks are just too good right now and I think they'll dominate here.
Follow @SBTSportBetting