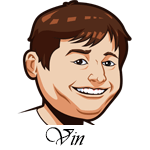 Follow @SBTSportBetting
A 1-2 record last night.
The Red Sox and Tigers didn't fully wake up from the All-Star break so they didn't even come close to the over. While the Diamondbacks and Rockies blew it away early.
The only thing I am kicking myself on is the Indians/Rangers game. The system liked the over in this one, but I just didn't see it with Trevor Bauer on the mound and the improved bullpen. Well, the bullpen wasn't improved yet. Never forget: believe it when you see it. Just because a team makes a trade doesn't mean they are instantly better. The Indians won, but didn't cover thanks to, you guessed it, the bullpen blowing leads.
Saturday!
[text-blocks id="137″ slug="email"]
Pittsburgh Pirates vs. Cincinnati Reds Betting Tips:
Nick Kingham of the Pirates has a 4.26 ERA/4.60 FIP on the season, but that number jumps to 6.41/6.41 on the road. Not the largest sample, but I like the way this Reds offense has been playing and I think they'll do well against him today.
I don't really trust Anthony Desclafani with his 5.32 ERA/6.06 FIP/4.52 xFIP, but the Pirates are hitting for 94 OPS against righties and he is at home. At this price, the Reds are worth a flier.
Bet Reds -115 at: [text-blocks id="87″ slug="bet-mlb"]
Milwaukee Brewers vs. Los Angeles Dodgers Betting Tips:
I was thinking of going to this game, but with Clayton Kershaw on the mound against this offense? No thanks. The Brewers have just a 82 wRC+ against lefties on the season and you know what to expect from Clayton Kershaw. I don't love it for Milwaukee who continue to fall behind the Cubs in the standings.
Chase Anderson goes for the Brewers and he has a 3.78 ERA/5.29 FIP on the year. The Dodgers have a 110 wRC+ on the year and this line should be a heck of a lot higher.
Bet Dodgers -157 at: [text-blocks id="87″ slug="bet-mlb"]
[text-blocks id="110″ slug="middle-ad"]
Colorado Rockies vs. Arizona Diamondbacks Betting Tips:
Last night's over was a piece of cake and I'm hoping for more of the same here. The Diamondbacks has a 102 wRC+ against lefties on the season. Kyle Freeland has a 3.11 ERA/4.09 FIP with a high left on base and a low batting average on balls in play. He's not that good and he will have a bad start soon. How about tonight?
The Rockies face Zack Godley who has a 4.61 ERA/4.27 FIP on the year. This park is dangerous when humid and even though the Rockies have just a 82 wRC+ against righties, I think they'll put up some runs today and help send this one over.
Bet Rockies/Diamondbacks over 8 runs at: [text-blocks id="87″ slug="bet-mlb"]
Seattle Mariners vs. Chicago White Sox Betting Tips:
Felix Hernandez is just a different pitcher at home. A 3.94 ERA at home against a 6.65 ERA on the road. Good news? He's at home tonight and facing a White Sox offense with just a 91 wRC+ on the season against righties.
The real juice of this match-up is Dylan Covey who has a 5.69 ERA/4.53 FIP on the year with a 7.90 (!) ERA in his road starts. The Mariners offense is tough with a 103 wRC+ against righties. I like Seattle more than almost any team on the board tonight and will be laying those runs.
Bet Mariners -1.5 (-110) at: [text-blocks id="87″ slug="bet-mlb"]
[text-blocks id="418″ slug="best-sportsbooks"]
Follow @SBTSportBetting