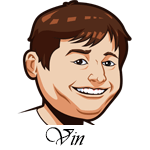 Follow @SBTSportBetting
Yesterday I took a little look at the trade deadline, but I actually misstated something. I implied that July 31st was the non-waiver trade deadline and there was a later trade deadline for waiver trades. That is wrong. They changed the rule this year and for whatever reason I wasn't positive that it started for this season. So, here's how it works now.
There is a July 31st trade deadline and this is the last time someone can be moved before the end of the World Series. If you have a major league contract, the latest date that you can be moved via trade is July 31st. After that, no movement of players that have major league contracts is allowed.
This is good for the players as getting traded so late in the season can be stressful for the family. Hopefully, this is also good for the trade deadline as well and we see a flurry of moves that we normally wouldn't see with that secondary trade deadline also available to teams. We have eight days, get ready.
Notable Upcoming Bets:
MLB Betting Tips:
Chicago Cubs at San Francisco Giants: The Giants have been the story of baseball of late as they have been so hot of late, 9-1 over their past ten games, that they've gotten themselves into the Wild Card race. They are now one game over .500 and right there in the mix for the second Wild Card. They are a hard team to go against tonight.
Madison Bumgarner is the starter tonight and the story of this whole season has been "when will he be traded?" Well, he might not be now with the way this team is playing and that is a huge chip off the trade market. On the season, he has a 3.65 ERA/3.70 FIP with those numbers being slightly better at home. The Cubs offense has been good this season, but is slightly weaker against left handed pitchers. This is a good match-up at home for MadBum.
The Cubs send Yu Darvish and his season has been rough. He has a 4.46 ERA/4.89 FIP on the season and those numbers have come down a bit after back-to-back scoreless starts. Take away those two and he was at 5.01 ERA/5.31 FIP. I know those games count, but I have a hard time betting on them when the rest of the season has been what it is. Throw in the way that the Giants have been playing lately and I have to go with them here. There is just enough sample of Darvish getting hit hard and this team has been smoking it lately.
WNBA Betting Tips:
Indiana Fever at Phoenix Mercury: Diana Taurasi is listed as doubtful for this one, but I'm not sure it matters. The Fever have lost five straight and nine out of the last ten games. They faced the Mercury earlier this season and the size advantage of Phoenix was really on full display. Even taking away Taurasi, I think that should still hold up and the Mercury should add another L to the Fever's record.
Follow @SBTSportBetting