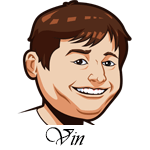 Follow @SBTSportBetting
A 1-2 record yesterday. All three games that I mentioned in the preview that the system liking that I chose not to play myself ended up winning. Bleepin' Giants, man.
My big regret from yesterday is that I got greedy and went with the Yankees -1.5 over the -160. I usually cut myself off around -150/-160 and only go with the runline if I really love it. The system loved it though so I played it and the final score ended up being a one-run game. The Yankees won and I could've had a winning night if I'd just went with that higher line. Oh well. So much more baseball left to get it right.
The other loss was the under on the Phillies/Rockies. In retrospect, I wish I had done the first five on this one. Through the first five we only had two runs scored and I thought we would cruise to the under. German Marquez allowed a run in the sixth, but it still felt good with only 3 runs scored and three to play. Then for some stupid reason, German went back out there for the seventh. He loaded the bases and gave way to the bullpen who then allowed the game to get out of hand. I think there is enough data out in the world that we should know better than to leave a pitcher like him out there for the third time through the order that late in the game. The bullpen might've blown it anyways, but giving them the bases loaded is just bad managing. Shame on you, Bud Black!
The Red Sox came through for us on the late pick. The bad Felix Hernandez we were expecting didn't show up, but Red Sox still did what was necessary to grab the win.
Tonight, the system shows every game as being very tight and the odds reflect that as well. The Astros look great, but there isn't a lot of value in taking them even if you lay the runs. Only a couple picks tonight and one where the system is strongly leaning that I'll ignore.
That game is the Nationals over the Jays. I'm not a big Aaron Sanchez guy this year, but the Nats aren't exactly lighting the world on fire against righties. Gio Gonzalez has been really solid this year as a starter, especially away from home, but I just don't fully trust him. Neither team has impressed me of late and I'm just going to stay away.
[text-blocks id="137″ slug="email"]
Miami Marlins vs. Baltimore Orioles Betting Tips:
This is a weird one that the system spit out, but one that makes perfect sense to me. These are two of the worst teams in baseball against right handed pitchers as both teams have a wRC+ of just 80 on the year. Both teams have an OBP under .300 against righties this season and they just lack the pop to get it done.
Meanwhile, both teams are sending basically their best starting pitchers. For the Marlins, it's Jose Urena with his 4.59 ERA/3.84 FIP. He has actually pitched slightly better on the road this season.
For the Orioles, it's Kevin Gausman who has a 4.58 ERA/4.32 FIP on the year. He's had four bad starts that really skew his numbers, but the other nine have been pretty good. Playing in the AL East is tough, playing the Marlins is not.
The system sees this game being a couple runs lower than the total so I am taking the under here. If you are skittish on bullpens after yesterday, the first 5 innings under looks good to me as well.
Bet Marlins/Orioles Under 8.5 Runs at: [text-blocks id="87″ slug="bet-mlb"]
[text-blocks id="110″ slug="middle-ad"]'
Seattle Mariners vs. Boston Red Sox Betting Tips:
You all should know by now how much I love James Paxton. He's one of the best lefties in all of baseball and he always seems to show up at home. Tonight, he faces the Red Sox offense that is tops in the league against righties, but rather pedestrian against lefties. They have a .682 OPS/84 wRC+ and Safeco Field is famously unkind to hitters. This could be a big one for Big Maple.
Rick Porcello's numbers look great (3.54 ERA/3.30 FIP), but those numbers are skewed a bit by his awesome April. Since May began he has a 4.47 FIP with his strikeouts going down, his walks going up and his homerun rate going up. The Mariners offense has a .740 OPS/106 wRC+ against righties on the year and the system likes them here.
Bet Mariners -145 at: [text-blocks id="87″ slug="bet-mlb"]
[text-blocks id="110″ slug="middle-ad"]
Follow @SBTSportBetting