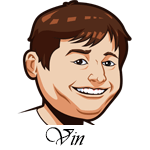 Follow @SBTSportBetting
Another NFL week ends with a Monday night match-up, this week the two teams facing off are the Kansas City Chiefs lead by Patrick Mahomes and the Denver Broncos lead by… Case Keenum?
The Broncos are 2-1, but entering this game as a big time underdog at -3.5 at home. That's because the Chiefs and Patrick Mahomes leads the world in passing. Even without having played a game yet this week, he leads the NFL in touchdown passes with 13. He's been the man and there hasn't been much that can stop him in this league. Denver is an interesting match-up for him. Mahomes hasn't really faced a good pass rush yet this season and you have to think that Von Miller will be able to get him in this game. I could definitely see him struggling here as the Broncos are almost surely going to shut down the run game. So, a struggling Mahomes is like 300 yards, two touchdowns.
The Chiefs offense needs to be great to make up for the Chiefs defense. Their pass defense ranks 30th in DVOA, per Football Outsiders, which could make Case Keenum look like a star here. Case Keenum isn't the most impressive, but he has deep threats in Emmanuel Sanders and Demaryius Thomas who could make this KC defense pay.
The general consensus here seems to be that the Chiefs are going to roll and move on to 4-0. I feel like that is a bit too much of a simplification of this one. The Broncos defense is good and they've had time to study Mahomes to find a weakness. The Broncos homefield advantage can't be overlooked as well and the Chiefs defense gives almost every team a chance. This should be a better game than people expect it to be.
Notable Upcoming Bets:
Kansas City Chiefs vs. Denver Broncos Betting Tips:
The keys for the Broncos in this one will be to control the clock. They are averaging an NFL best 144 yards per game on the ground and they should be able to move the ball here. The run sets up the pass and if that happens, the Chiefs are terrible against the pass. The Broncos need to come out fast in this one though because one stutter step and Patrick Mahomes will be down their throat.
Kansas City is averaging 16 points per game in the first quarter this season, if the Broncos want to compete in this one they can't let that happen. They'll have to play good defense and, more importantly, eat up a good chunk of clock on their possessions.
Von Miller has said that he thinks Mahomes holds the ball long enough, three seconds or more at a time, which is all he needs to get into the pocket. I believe that. I think the Broncos will give him a bit of a rush here and make this more of a game than people are expecting. It all comes down to shutting them down early and if they do that, I like them to win this game.
Follow @SBTSportBetting