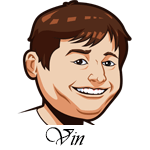 Follow @SBTSportBetting


[Get Exclusive Tips on our Patreon, Ad-Free
]
It's March Madness time, baby! All basketball, all day long. The games might not always be pretty, but today and tomorrow are the best days of the year for basketball fans because of the sheer amount of games. The upsets are great, the drama is amazing and it's this tournament that people are talking about when they say they prefer college basketball to NBA. They don't really prefer college play (because it's mostly terrible), but they love the way that every game means something. Single elimination tournaments are the best.
We're on the lookout for upsets and secretly close games. The 5 seed and 12 seed is historically a great spot to target, but anything is possible in the college tourney. Especially this year where every team is good and no team is historically great. This tourney is wide open.
There will also be some NBA action tonight highlighted by the Spurs hosting the Blazers. This could potentially be a first round match-up and I think that series could be surprisingly good. The Blazers move the ball very well and could pose problems for the Spurs in a seven-game series. Enough to beat them? Probably not, but it would be entertaining.
Another potential playoff match-up tonight is the Indiana Pacers and Toronto Raptors. If the season ended today this would be the first round match and it would be a tough one. The Raptors have played great all season, but we saw what happened to them in the first round last year. Toronto doesn't have a superstar on the level of Paul George either so this could end up getting very interesting. Depending on the odds, I think the Pacers would be worth a series bet in that one. Tonight will give us more information regarding that.
College Basketball Betting Tips:
Arkansas Little Rock +8.5 is our upset special of the day. First off, it's a twelve versus five and we know how those work out. Second, this is just a great match-up for Arkansas. Purdue is one of the worst teams in the tourney at creating turnovers while Little Rock has a 21.4 percent turnover rate that is 20th in the nation. Extra possessions are huge and Little Rock should have them. If you're feeling this pick you can always go Little Rock +345, but we'll be playing it safe with the points.
Iona +8 against Iowa State is another game we're looking really closely at. Despite being the 13 seed versus the four seed, Iona actually had one more regular season win than Iowa State in the regular season. These two teams had opposite conference play with Iona going 16-4 in the MAAC and Iowa going just 10-8 in the Big 12. There is a difference in the conferences there, but Iona definitely had the stronger finish to the season. Plus, you have to take into account that Iowa State lost in the first round last year as a third seed. Again, we're taking the points but Iona +285 is out there.
Kentucky -13.5 is proof that today is not all about the upsets. Can anyone tell me where Stony Brook is? Or what a Stony Brook is? Didn't think so. Stony Brook was 0-5 against the spread this season despite having 26 wins. That means that they only had five games with official lines. Kentucky is Kentucky. Good night.
NBA Betting Tips:
The Pacers have been killer at home. On Tuesday they took care of business against the current three-seeded Celtics and I expect them to again tonight against the two seeded Raptors. This is Toronto's third game in four nights which should slightly benefit the Pacers. I just think Indiana -2 is out to prove something tonight and they will take care of business.
On Tuesday, I picked the Clippers +9 to play it close against the Spurs in San Antonio. They did for three quarters before being outscored by 20 points in the fourth. Lesson? Don't go against the Spurs at home right now. I love the Blazers, but Spurs -11.5 is going to have to be the pick tonight. They are just a head above the rest of the (non-Warriors) West right now.
Follow @SBTSportBetting