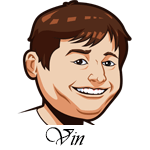 Follow @SBTSportBetting
Last night the Utah Jazz put a scare into the Golden State Warriors as they nearly defeated them in regulation time in Utah. If it wasn't for a late three pointer to force overtime, they would have no only defeated the Warriors but held them below 100 points. The Utah Jazz defense is for real and if they make the playoffs they aren't likely to upset anyone, they will make them work for it with that defense. If the playoffs began today they would draw the Warriors in the first round so hopefully that means some exciting games like we saw last night.
The race for playoff seeding continues tonight with many contenders in action. The Pacers loss on Tuesday sent them down to the eighth seed and a match-up with the Cavaliers. You know they'd like to get that win back and they have a good chance to do so tonight against the Magic at home. We also have the Celtics and Blazers going at it in Portland. The Celtics are still in the hunt for the third seed in the East while Portland still has an outside shot at the fifth seed and an (arguably) better match-up with the Clippers. Right now they face the red hot Thunder in round one. OKC faces the Clippers without DeAndre Jordan, Chris Paul and Blake Griffin in the TNT game. There is a lot to like about tonight's slate.
Notable Upcoming Bets:
NBA Betting Tips:
Maybe I've been wrong about these Houston Rockets. Maybe they are finally putting it together and making a run at the playoffs. Sure, they've lost four of the past six straight up, but they've played some tough teams over that stretch and been in each of them down to the end. Tonight against the Bulls is one of the "easier" match-ups they've had as of late and I think they should be able to get the job down. Harden was great on national TV on Tuesday and I could see him being great on national TV again tonight. I may regret this later, but Houston -5 is my play tonight.
Tonight's Blazers and Celtics game is a match-up of two teams on a string of unders. The Celtics have gone three straight and Portland has gone four straight. Is this simply a matter of teams ramping up their defenses on the way to the playoffs? Or does something have to give? Both of these teams recent streaks have been against teams without great offenses and these two teams have great offenses. I think something have to give and tonight this one is going over 214.
The Clippers without Chris Paul, DeAndre Jordan and Blake Griffin are not a great team. They are JJ Reddick and a bunch of weird players. Austin Rivers will play heavy minutes tonight and that is why the Thunder are -15 point favorites. That is a quarter worth of scoring and I am not touching that one. I will, however, grab under 214. The Thunder will score, but the Clippers should really struggle to. I see this game in the 200-210 range. Not 214.
Follow @SBTSportBetting