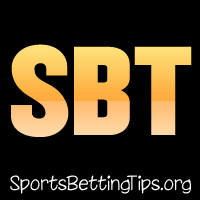 Follow @SBTSportBetting


[Get Exclusive Tips on our Patreon, Ad-Free
]
A 2-1 record last night.
I said in my write-up that I understood skipping my Nuggets over Warriors pick and I should've just done that. The Warriors looked like that team that everyone thinks they can be last night and Klay Thompson had one of those games with 39 points, and going 9-for-11 from three point land. This team came out hot in the first half, something they seemingly never do, and that was all they needed to get it done. When Klay is shooting like that, this team is unstoppable.
Thankfully, we had the Pistons in the win column by the time that game started. This team has just really impressed of late and they continue to win. Blake Griffin had a nice game with 27 points and 10 rebounds, but it was Andre Drummond who dominated this game on both ends. He finished with 20 points, 24 rebounds (!), three steals, and two blocks.
Our other pick also came in as a very tired Thunder team head to Los Angeles and dropped one to the Clippers. The Thunder were really never in this one as their biggest lead of the entire game was two points and they barely had that for much of it. Danilo Gallinari had a big game with 34 points, but Lou Williams had an even bigger game with 40 off the bench. That team is going to be fun to watch in the playoffs as I think they'll be a hard out for whoever draws them.
A couple games we like tonight so let's keep our good fortunes rolling with the following picks.
Phoenix Suns vs. Portland Trail Blazers Betting Tips:
Don't look now, but the Suns have won four out of their last five games. They are putting up big points in doing it and the team is really starting to come together. Young players are making leaps and the future is maybe not as terrible as it once seemed. Or they are just beating up on some bad teams. Either way.
This one is pretty simple. I like the way Phoenix has been playing and Portland has lost three of the past four. Is Portland the better team who should win this game? Absolutely, but 12 points is a lot in this league and the Suns are seemingly enjoying playing spoiler.
https://www.Bovada.lvBet Suns +12.5
Boston Celtics vs. Los Angeles Lakers Betting Tips:
Two big stories going off with these teams that have nothing and everything to do with what's on the court.
The Lakers announced that they'll be putting LeBron James on a minutes restriction for the rest of the season. This isn't because of any health reasons or anything like that, it's because they are out of the playoffs and they are now looking at draft position.
This is the result of the league flattening the odds. Teams have no motivation to lose because the odds of getting the #1 pick are small (good), but teams that are eliminated from the playoffs have more motivation to lose because they can improve their slim chances at getting into the top four (bad). With this team, it's all about Anthony Davis. If they somehow move into the top-four of this draft that is just one more thing they can throw at New Orleans for Anthony Davis.
For the Celtics, it's all about what happened at 35,000 feet. These guys had a long flight and while what exactly happened on there remains with the team, the feeling is that they cleared the air and are now all on the same page. That starts with Kyrie Irving and I expect this team to play well down the stretch if he's engaged.
https://www.Bovada.lvBet Celtics -5
Follow @SBTSportBetting