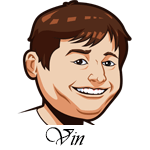 Follow @SBTSportBetting
Yesterday's game we picked was rained out in a controversial situation. I get that it's California and it never rains there (screw you California, btw), but you need to have some sort of drainage system in place. These players are going to go about three weeks now without a scheduled off day thanks to this situation. A tough break for both teams.
I am reposting that tip in full below for the makeup game today as both pitchers are expected to remain the same. Plus, one tip on an early game. It's pretty much all day games today so I am getting this to you early.
I also put up a little tip jar on the site for those of you who enjoy these tips and feel like showing your appreciation. This site is a lot of fun for me, but it does take a lot of time to update the system and write posts every day. If you're feeling generous, I'd love to enjoy a beer on you. If not, I will continue writing the tips as close to every day that I can. Like I said, I love doing this.
Anyways, on to the tips.
Philadelphia Phillies vs. Chicago Cubs Betting Tips:
The system really like Jon Lester against the Phillies here. He's having a fantastic season with a 2.09 ERA/2.97 FIP. A bit of luck in there as you can see with a high LOB%, but he's actually been unlucky in BABIP and he's done a good job of limiting walks. The Phils are a good offense, but they've been about average against lefties this year.
Aaron Nola goes for the Phillies and he's had a rough start with a 4.47 ERA/4.40 FIP which is much higher than you'd expect from him. His strikeout numbers are fantastic, but the homeruns are a real issue. This Cubs team can definitely hit them too. They have an .801 OPS/114 wRC+ against righties on the season. This is a great spot to grab the Cubs at home on what should be a nice day at Wrigley.
Bet Cubs -112
Minnesota Twins vs. Los Angeles Angels Betting Tips:
Note: This is yesterday's post repeated here. Beware of any pitching changes.
The Twins are a hard team to stay away from right now as their offense has really been doing well of late. It's especially hard to stay away from them when they face a pitcher like Matt Harvey. He has a 6.35 ERA/5.11 FIP on the season with high walks and low strikeouts. The Twins offense is very dangerous against righties and I see them having a nice game today.
The Twins send Martin Perez who is not impressive, but is very solid. He has a 2.89 ERA/3.37 FIP on the season and the Angels have been below average against lefties on the season.
Bet Twins -116
Follow @SBTSportBetting