May 29th, 2018 Betting Tips: MLB, WNBA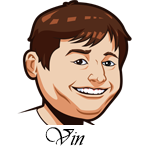 By
The dog days of summer are nearly upon us. Last night saw game one of the Stanley Cup Finals and if that game is any indicator, it's going to be a crazy one. A 6-4 game in the Finals was really exciting and if the rest of the series lives up to that game, it could be an all time great.
We also saw the Warriors defeat the Rockets to make it to the NBA Finals. When that team is on, there is no one in this league that can even tough them. I don't think there has ever been a team with this many great players in their prime playing together at the same time and because of that they can weather some serious storms, and handle losses like Andre Iguodala and an awful bench. When Curry and Durant start cooking, there is really no one who can stop them. They opened as a -900 favorite in the Finals and an early finish seems likely.
So today we focus on baseball and the WNBA. The WNBA has been quite profitable for us in the past and we'll look to continue that trend this season. Let's take a look at today's games and see what we've got.
#1 Sportsbook Online for Americans

Good deposit bonus, lot of unique bets & props. Excellent mobile & live betting.
MLB Betting Tips:
The Astros are truly amazing and tonight they face one of the only teams in baseball that can really challenge them in the Yankees. The Yankees are one of the best hitting teams in the game with some seriously powerful right handed hitters. They face Charlie Morton today is having a great season, but most of his success has come against left handed hitters. The guys he faces here can make him pay. He also has an artificially low batting average on balls in play and left on base percentage that will come back to bite him eventually.
He goes against CC Sabathia who the Astros should most definitely hit. He's definitely in the veteran pitcher part of his career and also has the low BABIP. It should be pretty humid in New York which is nice hitting weather and I think both teams will do exactly that. The over 9 runs is a great play here.
My other favorite pick is the Boston Red Sox -1.5 over the Jays. Boston is the top hitting team against right handed pitchers and Marco Estrada has been rocked for much of the season. His ERA is over 5 and he's a flyball pitcher, that could turn out bad for him. Rick Porcello gets the start for the Red Sox and he's looked good this season.
WNBA Betting Tips:
The New York Liberty have struggled early and tonight have a tough match up against the Dallas Wings. The Liberty are 0-2 on the season with both Brittany Boyd and Epiphanny Prince on the mend. Dallas has been doing well this season with the addition of Liz Cambage who spent the last four years playing overseas. She's averaging over 16 points and 11 rebounds on the year and has been real dangerous down low for the Wings. I like the Wings +2.5 to grab the win here.
#1 Sportsbook Online for Americans

Good deposit bonus, lot of unique bets & props. Excellent mobile & live betting.