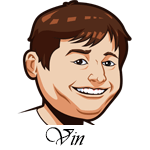 Follow @SBTSportBetting
I need a win. That weekend was brutal.
Over 9 runs, White Sox and Twins score eight. Brewers a favorite over Pirates? Lose by 9 runs. It just hasn't been my day, my week or even my… well, maybe not that far. I have had an unlucky month and need to turn that around here. When you need a win and need to get things right, there is only one team that you can truly count on: the World Champion Houston Astros. That is my main pick of the day which you'll see below.
There are a couple of games I like, but not enough to bet on. I think the Tigers are in a good spot to win with Michael Fulmer on the mound and Matt Moore on the other mound, but that offense is so top heavy that it's hard to count on.
The Cardinals are another team I like today, but just not enough to bet on. I think that Fernando Romero has some blow up potential as his walks were high in his first start, but the Cards offense has letdown before and he is a big time groundball pitcher.
Jeff Samardzija hasn't looked great recently and I like the Phillies offense of late, but I just don't trust Zach Eflin as I feel he's due for some regression. I like it, but not feeling like a homerun. More like a single I could stretch into a double.
There's been a lot of games like that lately. Like, but not love. Hits, but not homeruns. I am going to try and stick with love homeruns from now on. Today, I really love the Astros so let's get into that.
[text-blocks id="137″ slug="email"]
Houston Astros vs. Oakland Athletics Betting Tips:
How could I not like the Astros tonight? You have the Astros offense going against Brett Anderson. He looked pretty good in his first start of the year, but he is a lefty and he's facing Jose Altuve, Carlos Correa and George Springer. That is a tough fight for even the very best of left handed pitchers and he's not that.
Dallas Keuchel is on the mound for the Astros and he got hit against the Athletics in a start earlier this season. I feel like that is influencing the line here which is good for us. I don't see him giving up six runs and three homeruns again here. He's allowed three runs or less in every start this year and the Oakland Coliseum is notably favorable to pitchers. He should have a good game here.
I believe in the Astros here and am taking them to win this one.
Bet Astros -133 at: [text-blocks id="87″ slug="bet-mlb"]
[text-blocks id="110″ slug="middle-ad"]
Follow @SBTSportBetting