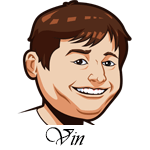 Follow @SBTSportBetting
Photo: Ryan Kang/NFL
Last week the Vikings got absolutely walloped by the Buffalo Bills and it really changed people's perspective on the team. They entered that game as a -16.5 favorite and it was over in a matter of minutes.
The Vikings were an early preseason favorite to represent the NFC in the Super Bowl, but after that some doubt started to creep in. I think that's a big overreaction, but it's easy to see why people feel that way. Super Bowl teams just don't play like that. That said, the defense is for real and Kirk Cousins isn't likely to have another game like that.
The other team that is a big favorite in the NFC to make the Super Bowl is the Los Angeles Rams. With Jared Goff steal on his rookie contract, the team decided to spend big on the defense and it's really paid off. Ndamukong Suh and Aaron Donald are dominating up the middle and this team looks downright scary at times. They have dominated early and this should be their toughest match-up yet. This could be the NFC championship game and it might be the best match-up we've seen all season.
Notable Upcoming Bets:
Minnesota Vikings vs. Los Angeles Rams Betting Tips:
The Vikings have had issues getting their running game going thus far this season as the last two games have been real struggles for them. That will put a lot on Kirk Cousins, but he should do fine as long as he can avoid the pass rush. The Rams defense will be without Marcus Peters and Aqib Talib for this one.
What worries me about the Rams offense in this one is that it's all been coming so easy to them and they haven't really been tested. This Vikings defense should come into this game in a bad mood after last week's game and I can't imagine them having another stinker like they did last week.
I feel like this game is going to be closer than the line above says. The Vikings should be able to get a passing game going while the defense should show up this week. The Rams are the overwhelming favorite to win the Super Bowl right now and probably the best team in the NFL right now, but I think this line is just too high considering the Vikings talent level.
College Football Betting Tips:
It's the ACC Conference opener for these two teams as North Carolina heads to Miami. The Hurricanes are 3-1 on the season and ranked 16th while UNC sits at just 1-2.
Despite their win last week, the Tar Heels are still very much a team in transition. They had a 3-9 record last year and look to be going down the same road this year. Even in the win last week, the defense gave up over 400 yards and 35 points. I expect things to be much worse than that tonight.
The thing to watch with Miami is how much run they give to redshirt freshman quarterback N'Kosi Perry. When he was in the game last week, this team played at another level. He seems likely to start, but if he doesn't I could see Malik Rosier getting a quick hook if he doesn't perform. Whoever ends up playing, I see the Hurricanes putting a lot of points on the board and dominating this game.
Follow @SBTSportBetting