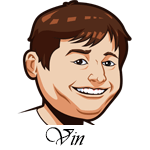 Follow @SBTSportBetting
A 2-1 record for Game 2. 4-2 for the series. 50-37 in the 2020 Playoffs.
The Lakers once again dominated the Heat in Game 2 and this series looks to be over. The loss of Goran Dragic hurt, but that loss coupled with the absence of Bam Adebayo was just too much. Bam has been their best or second best player throughout these playoffs and without his size, the Lakers have been feasting.
The crazy thing about game two is that the Heat shot the ball really well. They were 50% from the field and 40% from three, but they still managed to lose by double digits. This ended up being a high scoring game because of that so we took the under loss, but managed to win our other two bets.
One of those bets was Anthony Davis over 30 points and the Lakers win. That one cashed as Davis finished with 32 points and 14 rebounds in 40 minutes. The minutes was a big part of why we took that play and if he's playing that level of minutes, he's going to continue to pour it in. LeBron James also continues to pour it in with 33 points, 9 rebounds, and 9 assists.
The line is back at -9.5 for this one with a total bumped up to 219.5 As of this writing, both Bam Adebayo and Goran Dragic are listed as doubtful and are not expected to play.
Best Odds for NBA:
Miami Heat vs. Los Angeles Lakers Betting Tips:
In a lot of ways, the second half of the Heat might have been their best shot of making a series out of this one. They were on fire, scoring 39 points in the third quarter, and the Lakers just took it and answered it with 35 of their own. Miami got big minutes out of Kelly Olynyk and a great performance, but he was no match for Davis on the other end.
I just can't come up with much of an argument here for the Heat. Losing two starters in a series like this is a death sentence. They were already an underdog, but now they don't have the weapons to fight and the Lakers smell blood.
The Heat should go back to whatever they were doing in the last game and try to outscore their opponent from deep. They shot the ball pretty well and that third quarter should be a point of focus for this one. I don't think it's going to work, but I think they are going to try and put more offense on the floor in favor of defense. At this point, that is their only real hope.
It's a bit higher than I'd like, but the over looks like a solid bet. We know the Lakers are going to put up the numbers, it just remains to be seen how fast of a pace the Heat can keep.
Player Prop: I made this using the Props Builder at Bovada.
Rondo off the bench has been huge in this series. The defense is their, but he had the counting stats to match last time out. He finished with 16 points. 10 assists, and 4 rebounds last time out in just 26 minutes.
That all adds up to 30 so this line seems like a gift. He's always going to have the assists if he's on the floor and the shots will be available to him with LeBron and Davis on the floor. I think he converts again.
You can go higher, 21 is +110, but 19 seems just perfect based on his minute allotment. I can see an 9/9/2 type of box score from him here.
Bet Rajon Rondo Over 19 Points/Rebounds/Assists (-114)
Best Sportsbook To Bet NBA:
Register an Account.
All betting odds and props will now be viewable under the event listing.
You can deposit to BetOnline via over 20 different options such as credit card.
Follow @SBTSportBetting