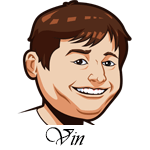 An 0-1-1 record last night.
The Lakers got a big win last night with a 114-108 final score to take a 3-1 lead in the Western Conference Finals. We bet the Nuggets +6 and that ended up being a push. I saw it teetering between 6 and 6.5 so hopefully some of you have that higher number.
We also bet the under on this one and that didn't come in. A huge first quarter, 37-30, put as in an early hole that was too hard to come back to. The thing about this is that I was right about the style of play. Both teams did pound the paint, but both teams also shot very well down low. The Lakers won the rebounding battle which Denver coach Mike Malone points to as a big reason for the loss.
Jamal Murray didn't make a three pointer in this game and Jokic struggled with foul trouble. That second part was a big part of this win as it was similar to game one as the Lakers were able to keep him off the floor with early fouls. The Nuggets have come back from 3-1 deficits twice in this series and I would not bet against them in game six, but the Lakers are showing why they are considered to be the team to beat.
Crazy stat about this series? If you take out Game 1, the Nuggets and Lakers are tied 325-325. Yes, it's 3-1, but if you take out that Anthony Davis 3-pointer to win game two then this is a much different series. Respect the Nuggets!
We return to the Heat-Celtics series tonight as the Heat look to lock in their spot in the Finals with a win.
Best Odds for NBA:
Miami Heat vs. Boston Celtics Betting Tips:
A crazy stat is that this series is actually tied right now from an overall perspective, 441-441. The difference is crunch time.
Boston have been outscored by 23 points in crunch time over the four games and are allowing 144.4 points per 100 possessions during clutch situations. That's not good. They seemingly had a golden opportunity to even this series, after leading games for more minutes than the Heat have, but they just absolutely did not show up and now have the big deficit where they need to be perfect to advance.
They are a very good team and Jayson Tatum might be the best individual player in this series, but they just haven't got it done in the clutch.
One area where I think Boston is in trouble is the emergence of Andre Iguadola. He hasn't been much of a factor in this series, but played some big minutes in game four including closing out the game with Dragic, Herro, Butler, Iguodala, and Adebayo. That lineup is all smart, unselfish players who can search out and find a weakness in a defense. There is no negative on the court in that situation and the Celtics should be very afraid of that.
Boston's best bet is when they close out with Kemba Walker, Marcus Smart, Jayson Tatum, Jaylen Brown, and Gordon Hayward all on the floor together. Except they give up size to that Miami configuration and the defense hasn't performed well when they try to trap.
Honestly, I'm looking for an excuse to take the Celtics here and I just can't find it. Miami played one bad game in this series and everything else has been all about the Heat. Boston is once again the favorite here, but I just don't see it. The Heat are going to the Finals.
I'll also take the over here. Three of the four games in this series have gone over and both teams have put up a ton of three pointers in this series. As the rotation shrinks, I think we see more of those good shooters on the floor and both teams letting it fly.
I also wouldn't be surprised to see another close game and overtime would not surprise me. These teams have just been playing it that close.
Best Sportsbook To Bet NBA:
Register an Account.
All betting odds and props will now be viewable under the event listing.
You can deposit to BetOnline via over 20 different options such as credit card.