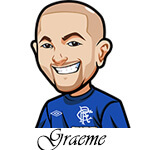 Follow @SBTSportBetting


[Get Exclusive Tips on our Patreon, Ad-Free
]
Well I think I have my busy Saturdays figured out. Wake up, watch soccer for about 4-5 hours while doing my daily work requirements and doing NHL tips.
Break for lunch, grab a latte, then watching afternoon NHL & college football (and F1 qualifiers on certain weeks) while doing NFL tips. Nice little day. And how great was taht TCU win for the over that Vin nailed? Really thought that one was a loss. Nice to have one of those go our way!
Now if I could just have things go my way with the NFL. It was a 3-3 week last week for me and yet again it was the player props winning out. Falcons +6.5 ended up being the let down spot although credit to the Bengals who look like they have that chemistry again. Bucs -13 is what it was – I've been down on the Bucs this season, but if there was any spot where they stand up, that would be the spot. They did not.
Jaguars vs Broncos
The Jaguars are 2.5 point favourites in this London game. Probably won't be the most exciting game. Broncos coming in on a 4 game losing streak, while the All Elite Jags are…also on a 4 game losing run.
It should be a brutal, brutal matchup for Lawrence but on the bright side for him, the other side will have Russell Wilson who has looked just terrible.
I was looking at a possibly prop on under for Lawrence yards, but the data was really 50/50 on that one. However I think it's worth betting on Etienne again. 0.5u on Over 71.5 rushing yards for Etienne. Broncos D you can run against, and in the last few games they're down to 21st in rushing yards per game. Robinson away is just great for Etienne and I'd be surprised if Lawrence throws a lot here.
Vikings vs Cardinals
The Vikings are 3.5 point favourites as they host the Cardinals.
Cards coming in off that big win over the Seahawks. Vikings had a bye week which they went into strong.

Falcons vs Panthers
The sportsbooks expect the Falcons to bounce back, and they are 4 point favourites here at home. Panthers coming off that massive win over teh Bucs. P.J. Walker has looked pretty solid so far. Falcons pass D is a disaster.
With Hubbard out, surely this will be a big game for Foreman. Panthers have excellent run blocking as well. Line is 66.5 yards. It's tempting, but teams do love to throw against the Falcons. They're low for rushing yards given up per game but that's because they're something like sixth lowest in rushing attempts against. Ack. I'm going to skip this one as I'm wary that the Panthers try to exploit the passing game and just focus on that.
Cowboys vs Bears
The bookies expect Dak to destroy, with them 10 point favourites at home. Dak still hasn't really shown me enough to have that level of confidence in him. Week 1 was a disaster. Last week he didn't really have to do too much.
I think the best news for the Cowboys is that Zeke is out. They have two great talents in him and Pollard but I've just never felt they utilize them properly. Now Pollard will see a lot of the work, that should help.
I'm fine going 1u on Bears +10 here. It's one of those things where I just am not buying Dak and the Cowboys yet. Fields I expect will use his explosive rushing which the Cowboys aren't great against. And if Dak and the Cowboys do show up then cool I'll change my assessment of them.
Saints vs Raiders
The Raiders are favourites on the road by 1.5. Andy Dalton starting for the Saints again. Jacobs at over/under 85.5 yards is interesting. They are relying on him heavily at the moment. The Saints rush D is nothing to fear. Assuming he gets at least 20 carries, I like him to go over that. 1u on Jacobs over 85.5 rushing yards.
Lions vs Dolphins
The Lions are 3.5 point underdogs at home. I don't know what has happened to this team offensively the last couple of games but it is very disappointing. It should be a better matchup for them here at least as this game is suited for Goff.
Should be a good game for Tua too. Honestly I'd be right on the over here if it wasn't for the Lions last couple of games. At least Swift looks healthy for them. It's tricky to call this game because the matchup on paper should be close, but the Lions offense has been so poor these last two games.
I'm going to stay away from this one. The play I really did like was Hill over 87.5 receiving yards. I feel like this is one where they should lean on heavy and it is ripe for him. But I always worry that Tua still prefers Waddle and they both have that connection.
Jets vs Patriots
The New York Jets are 2.5 point underdogs at home to the Patriots. Pats are just too questionable at the moment. I've nothing for this game.
Eagles vs Steelers
In the joint biggest point spread of the day, the Eagles are 10.5 point favourites here as they host Pittsburgh. Steelers coming in off that loss to the Dolphins. I'm a big fan of the Eagles this season, but this point spread is too big for me. Not seeing any player props I like either. One of those games where live betting is probably good – if the Eagles are up by a decent amount going into the 2nd half, take whatever the Steelers live spread is as Eagles I feel like they slack off a bit.
Texans vs Titans
A tight game expected with the Texans 1 point underdogs. Tannehill out is a big question mark. Malik Willis just based on pre-season we could see some decent rushing yards from him. Not seeing any props for him yet with rushing yards but that will probably be worth looking at. Houston is absolutely brutal against the run. Henry should probably have a killer game.

Seahawks vs Giants
The Seahawks are 3 point favourites hare as Geno is expected to continue his magic. The Giants still working their magic. I just find them a hard team to actually back as you keep waiting for it all to come crashing down.
They are using Barkley a lot. He is at 84.5 for the O/U rushing yards. Seahawks 29th in rushing yards allowed against them per game. I'm good with over 84.5 for 0.5u here. Game should go at a decent pace, and they should continue to lean heavily on Barkley.
Rams vs 49ers
The Rams are 1 point underdogs as they host Jimmy G & co. I mentioned last week I was watching the game with one of my best friends who is an absolute diehard. Grew up during the Montana years etc. Was pretty funny as I bet the Chiefs to win just to troll him, when then the 49ers were up 10-0 I told him I'd bet the Chiefs still win. Then just to be an absolute dick, I said "and I'll give you 49ers +10 meaning you're currently up 20-0". By the end of the game, my god was he upset. It was only a $10 bet, but the funnest $10 I've ever earned.
As for this game – ah, I just don't know. Deebo out is a big loss. I did like how Aiyuk stepped up last week and looked good. We did just see the 49ers handle the Rams quite easily. Also nice that Kyle Shanahan has remembered he has George Kittle.
I think the Rams are there for the taking, but I'm concerned about Deebo being out and have my concerns about the 49ers D right now. Not so much the Chiefs game, but just how badly the Falcons lit them up. No play.
Colts vs Commanders
Indianapolis are 3 point favourites. Washington with that win last week over the Packers but man they just aren't a team I can back. I liked them at the start of the season but I've really went off them. Heincke was looking trash initially last week before getting going. Colts rolling with Ehlinger. But the Commanders D is geting better. Feel pretty good passing on this game.
Bills vs Packers
Joint biggest point spread of the day, as Grumpy Aaron Rodgers comes to Buffalo with a 10.5 point spread to overcome.
I'm wary of this one. I just get that feeling Rodgers is going to come out motivated and step it up like he did against the Bears. The point spread is just too much for me. Lazard being out is good news for the Bills and I think on paper yeah they cover this point spread. Too big for me to bet though.
Browns vs Bengals:
Browns 3 point dogs here. They have disappointed me a lot this season. Now playing a Bengals team that I think we can say are starting to get their act together. I'm disappointed the Browns aren't using the Chubb/Hunt combo like they have in previous years. Chase out for the Bengals is a big concern.

Follow @SBTSportBetting