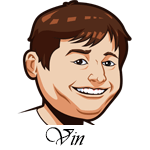 Follow @SBTSportBetting


[Get Exclusive Tips on our Patreon, Ad-Free
]
The Nationals took a 2-0 lead in the World Series and are now headed back to Washington with a chance to clinch their first ever championship. The Astros had one absolutely awful inning filled with errors and bad luck that cost them this one. They were a big favorite in this series and both of the first two games, but now see themselves down big in this series.
Tonight for Thursday Night Football we have the Vikings and Redskins, and… why is this on TV? The Redskins are 1-5 on the year and a non-contender. While the Vikings are a more solid team this isn't what I think of when I think of a big game of the week. Woof.
The big game I am looking forward to tonight is the season debut of the Milwaukee Bucks and Houston Rockets. The Rockets will look much different this year by adding Russell Westbrook to the team. While I'm really excited to see how Giannis Antetokounmpo has evolved. I think he's going to be even better this season.
Notable Upcoming Bets:
NFL Betting Tips:
Washington Redskins at Minnesota Vikings: The Vikings offense is cooking right now. They scored 38 two weeks ago and 42 points last week. Now they face the Redskins who have given up 31 or more in four of seven games this season. Last week they played that rain game against San Francisco, but this week they are in the dome so they should go back to giving up points.
I think the line on this one is slightly too high with a -16.5 spread, but the total looks very juicy. I see the Vikings putting up at least 30 here which just leaves 11.5 points on the table. The Vikes defense can give that up and still win this one.
Bet Vikings/Redskins Over 41.5
NHL Betting Tips:
Washington Capitals vs. Edmonton Oilers: The Capitals are starting off hot and have won four straight. All four of those games have seen a total final score of at least 7. The Oilers are home here where they are undefeated. They've lost a couple of straight though and McDavid has been very quiet. I am expecting him to wake up here and have a nice performance while the Capitols continue their scoring ways.
Bet Capitals/Oilers Over 6 goals
NBA Betting Tips:
Milwaukee Bucks vs. Houston Rockets: Last season, the Milwaukee Bucks had one of the best defenses in the game and against Houston they created a template on how to stop James Harden. Nobody was really able to copy what they did because they weren't the Bucks. Well, the Bucks are still the Bucks.
They are bringing back most of the squad from last season while the Rockets had some major upheaval in trading Chris Paul for Russell Westbrook. No matter what anyone says, that is going to take some time to adjust. Throw in that the Rockets were one of the teams who played in China and that we've seen some early season struggles from those teams in the past, I am all over the Bucks here.
Los Angeles Clippers vs. Golden State Warriors: The Warriors are going to start the season a bit shorthanded without Klay Thompson and basically a whole new look team in the wake of Kevin Durant leaving and Andre Iguodala leaving. The Warriors are being very underrated this season and they will win some games, but this is not a good place to start for them.
The Clippers have the best player in the game right now and a defense that is smothering. They have the depth that the Warriors have been lacking for years and they should be able to control this game. The crowd at the new stadium should be hot, but they are going to be crying into their white Valentino bags when this one is over.
Follow @SBTSportBetting