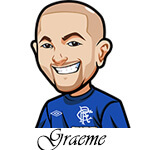 Follow @SBTSportBetting
On July 7th, 2018 we see the hosts Russia take on Croatia in the quarter finals of the 2018 World Cup.
Russia made it here after finishing 2nd in their group. They convincingly beat Saudi Arabia 5-0 and then Egypt 3-1. However they got thumped by Uruguay 3-0. They overcame the odds however and beat Spain on penalties. That game finished 1-1 and both Koke and Aspas missed penalties for Spain while Russia netted all of theirs.
Croatia were the stars of the group stages. They defeated Nigeria, Iceland and Argentina with solid performances to deservedly top the group. In the knockout stages they went behind almost immediately to Denmark, tied it up and then that one went to penalties and Croatia were the lucky ones missing two to Denmarks three.
An interesting tie no doubt.
Russia vs Croatia Betting Odds:
Russia To Win: 3.90
Croatia To Win: 2.25
Draw: 3.1p
(Odds on this page are correct as of 2018/07/03 3:53:56 PM EST but are subject to change)
Russia Analysis:
Russia were a team that came into the World Cup with very little expectations. I didn't expect much from them that is for sure. I came around when they went up against Uruguay and felt they got the short end of the straw on that one. They fought well but a goal off a set piece then an own goal and a red card messed things up.
The game against Spain was a very interesting one. Some of the passing statistics for individual Spain players was unreal. I was impressed that after going down Russia were able to bounce back with a goal even if it was a penalty.
In saying that I felt it was a very poor performance by Spain and the type of performance we often see from them. All bark and no bite.
Croatia Analysis:
Croatia were involved in a very even match with Denmark. It was impressive how fast they were able to come back from going 1 goal down.
It was an interesting one as Croatia took over the game quickly however Denmark gained confidence the more it went on and if they had better finishing it all could have been different. I knew Denmark would be a tough test and this would be a tight game.
In saying that I don't feel Denmark are among the upper tier of teams in the World Cup and it is disappointing that Croatia couldn't finish them off.
Croatia vs Russia Betting Tips:
At the end of the day I am more impressed with Russia than Croatia. Croatia do have some dangerous individuals but I felt Russia held strong against Spain and am backing Russia to qualify for 3u. Back this at https://www.Bovada.lv.
Follow @SBTSportBetting