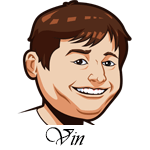 Follow @SBTSportBetting
A 2-0 record last night.
The Brewers/Pirates went easily over as the Brewers did it all by themselves in a 13-6 win. Christian Yelich has been killing it and is getting really strong MVP buzz. Hey, didn't I have him as a good bet way back before the season? I did!
For a sleeper, how about Christian Yelich? He's going to see a huge boost to his stats from moving from Miami's cavernous park to the Brewers homer friendly park. He's been worth 4.5 WAR in each of the past two seasons and at only 26 he could make a leap this year.
Did he make a big leap? Oh yeah. Did I bet him at +20000? Of course not. Oh, and I also tipped JD Martinez. Sigh.
As expected this month has been successful as we are currently at 57.78% for +2.56 units. We still have this final week so we will need to finish strong before the playoffs. I'm feeling really good about the playoffs as the lines tend to be less sharp and more narrative based. We'll see, but I'm looking forward to it.
For those of you who follow me on twitter, you've probably seen a bunch of posts for NBA Futures. This is another site I run in which I post season long updates on all of the futures betting for the NBA. This is obviously the busy time as all of the win totals and futures odds are just coming out. If you are interested in the NBA, check it out.
With all that out of the way, let's get to the tips.
[text-blocks id="137″ slug="email"]
Philadelphia Phillies vs. Colorado Rockies Betting Tips:
This is right up my alley.
We have the Phillies who have a 84 wRC+ against lefties on the season facing Tyler Anderson who is having a very nice season, who has looked even better at home.
We have the Rockies who are bad against righties with a 79 wRC+ on the season going against Zach Eflin who is also having a nice season.
Both offenses are cold of late as well with the Rockies having a 71 wRC+ over the past two weeks and the Phils sitting at 87 wRC+. The line is set big because this is Coors Field, but these offenses just don't deserve it.
Bet Rockies/Phillies Under 11 Runs
Los Angeles Dodgers vs. Arizona Diamondbacks Betting Tips:
I was going to lay the runs here when I looked last night, but the line has dropped overnight and I feel comfortable paying the little bit extra from this moneyline.
Clayton Kershaw is and will forever be, the man. He has a 2.45 ERA/3.21 FIP and is a run of 14 straight quality starts (at least six innings pitcher, three runs or less allowed). He just doesn't get hurt bad, ever. The Diamondbacks offense is simply falling apart right now. They have just a 92 wRC+ against lefties on the year and their last two weeks shows a 58 wRC+. They blew it in this race and the Dodgers own them now.
Robbie Ray is having a good season. He's a good pitcher with a 3.92 ERA/4.25 FIP, but he's no Kershaw. The Dodgers are on fire right now with a 137 wRC+ over the past two weeks and have hit lefties well. Additionally, these two bullpens are going in opposite directions right now. Easy pick of the Dodgers. Lay the runs if you want, I'll pay the extra.
Bet Dodgers -155
Oakland Athletics vs. Seattle Mariners Betting Tips:
James Paxton. That's why I am picking Seattle. That's the only reason.
Paxton has a 3.83 ERA/3.25 FIP on the year and this is his first start in 17 days as he's dealt with some illness. When healthy he's been one of the best pitchers in the game, with a 11.61 K/9. Oakland is pretty amazing, but I wouldn't pick them against Pax at home.
The Mariners offense has been getting hot too late for playoff contention. They have a 120 wRC+ over the past 14 days and get a nice match-up against Daniel Mengden here. Mengden has a 4.00 ERA/4.59 FIP on the year.
Bet Mariners -134
Follow @SBTSportBetting