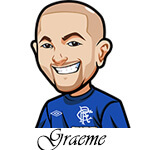 Follow @SBTSportBetting


[Get Exclusive Tips on our Patreon, Ad-Free
]
Super Bowl LIV takes place this Sunday, February 2nd.
It features one of the best offenses in the Kansas City Chiefs versus one of the best defenses in the San Francisco 49ers.
There has obviously been a lot written about this game like there is any Super Bowl. The Kansas City Chiefs are slight favourites at -1.5 points. The over/under is set at 54 points.
You all know how they got there. I've read a wide variety of opinions over the last two weeks in regard to this game. I've sat around with friends and discussed this game a lot. Some are neutrals, some are Chiefs fans, some are 49ers fans.
And one of them was even a Patriots fan who happened to show up wearing a Mahomes jersey. Ugh. Some people.
After discussing it with many and thinking about it a lot and looking at the stats I'm going to make my pick:
The Kansas City Chiefs will win the Super Bowl.
First of all lets look at the 49ers. A lot was said about that game versus the Packers where Jimmy G rarely passed the ball. Just 8 passes in total. And hey it made sense. The running game was working. It was safe. Why change it?
However I think that will hurt the confidence a lot for the 49ers, especially after seeing the way the Chiefs stuffed the Titans running game. Derrick Henry has been just absolutely incredible and the Chiefs held him below 70 yards. He still got a touchdown out of it all but the Chiefs showed they were prepared for the run.
What the 9ers did against the Packers? Making all those first downs running the ball? I just can't see it happening here. The blueprint has been seen by the Chiefs defense. They showed they can stop Henry. Unless there is some incredible offensive coaching by the 49ers, I just can't see it.
It's often said that defence wins games. That was said many, many times after Super Bowl 50 when the Broncos won 24-10. However Cam Newton is no Patrick Mahomes.
For the last two seasons I've hated Mahomes. I really have. I put it down to the way the media suck him off so much. However after watching the Chiefs versus the Titans it dawned on me – I hate him because he is so freaking good. I'm a Patriots fan and I've seen all the hate the Pats and Brady get. I've had people admit to me that it's simply because they are just so good. I realized I was hating Mahomes for the same reason.
The dude is INCREDIBLE. If he has time to throw, things are dangerous. Even if the 49ers pressure him early he's still not too bad there. It's also risky if they're going to be blitzing etc. Even if they do throw him off – we've seen him turn it around before.
As a Pats fan I love Jimmy G and I wish him all the best. However I just don't think the 49ers have confidence in him and going into the biggest game of all time? That's not good.
No-one has been able to really stop Mahomes. You have to simply outscore him and I can't see Jimmy doing that.
I'm looking forward to this Super Bowl. Usually I have a dog in the race (being a Pats fan I almost always have!) and there is one team I am rooting for strongly. Not this one. I'm quite happy with both teams winning and so that was nice – being able to give this an unbiased look.
This is the first Super Bowl for Mahomes. If the lad cracks? Then so be it. However to me that's the only way the Chiefs lose.
Bet the Kansas City Chiefs to win the Super Bowl.
I'll be back tomorrow and Saturday with more Super Bowl related betting tips. Props and all that good stuff.
Follow @SBTSportBetting