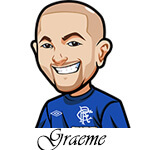 UFC 252 takes place on August 15th, 2020 and it features a pretty damn stacked card.
The main event is of course Stipe Miocic vs Daniel Cormier. The trilogy fight. The rubber match. Cormier KO'd Stipe in the first fight however Stipe TKO'd Cormier in the second fight.
I still feel Stipe didn't win that fight; Cormier lost it. Cormier had a great game plan and was doing well however he just decided to go with standup instead and opened himself up. I think it was a case of over confidence more than anything else.
Also on the card we have Junior Dos Santos vs Jairzinho Rozenstruik and Marlon Vera against Sean O'Malley. Good ol Jim Miller is in action too.
Let's see what we got:
UFC 252 Betting Tips:
1u on Miocic to win at +100 odds. This is such a tough call and it really can go anyones way here. Cormier wants this one so bad however one lucky punch could end it. Honestly I had actually written down Cormier here initially.
What made me change my mind is the fact that I think this round has the possibility of going long and that doesn't bode well for Cormier. Dude is now 41 and had already planned on retiring. He wants this one so bad just like the Jones fight and he lost there and I hate to say it but I think we see him lose again.
2u on Rozenstruik to win at -126 odds. I mean who doesn't love JDS? Always loved the guy. However I think the odds hare are based on name value. He just isn't the fighter he was anymore and I think Rozenstruik adds to his impressive record with a KO victory here.
1u on Jim Miller to win at +118 odds. Jim Miller comes in here with 3 wins in his last 4. Pichel is a tough fighter for sure. Honestly this is one I was looking to avoid but the more I looked at it I felt it really could go any way, and based on that there is value on Miller. Plus man I love cheering on and celebrating Jim Miller.
1u on Daukaus to win at +106 odds. This will be an interesting style clash. I like Daukaus and I liked the way he bounced back after that Anyanwu loss to the Holmes win. Porter is solid and a big test for him of course. Porter will be looking to work on the counter I expect however I think Dakaus is improved since that Anyanwu fight and will get the win here.
1u on Livinha Souza inside distance at +350 odds. A risky one but I enjoy Souzas submission game. She's a much better fighter than Yoder and I think will be able to dominate this one and pick up her 9th submission victory. A lot depends on if Souza brings her A game really – when she does she is fantastic.