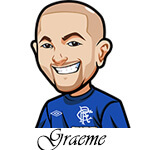 Hi guys,
We went into Sunday looking pretty darn good.
Adam Scott was in strong contention for the To win & E/W bet, Rory was looking solid for the Top 5 finish, and Ryan Palmer looking a shoe-in for the Top 10 finish.
Alas it wasn't to be.
Scott and Rory both had weak final rounds and both fell out of contention. Scott and Rory both had +1 days which was brutal as just a -1 and a -2 day would have been cashes for both.
Palmer thankfully held in there and did better than expected, coming tied for 2nd. Despite only the one cash and thus a losing week I'm still very happy with the results of this and the results since the year started. Getting the players in contention like that is important and good to see. European Tour alas was a disaster for that.
Here's the Palmer betting slip: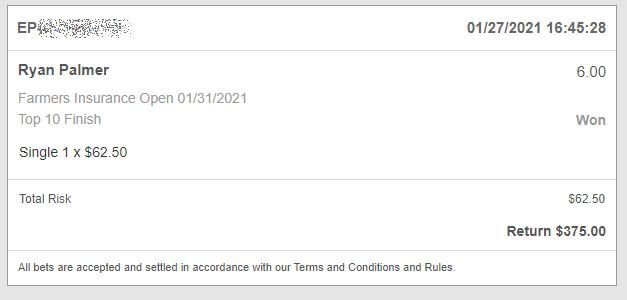 Let's look at this week:
Waste Management Phoenix Open 2021 Betting Tips:
Would love to take Bubba alas at that price I just can't justify it. Not enough value. Although on that note – when I was going through the sportsbooks to get the best odds, my browser froze as I was clicking to expand the Phoenix Open 2021 Winners odds at Bodog/Bovada.
I clicked the "expand" button again however I guess it was just slow loading it. As it opened it and it legitimately clicked on Bubba Watson and put him in the bet slip for me.
So screw it – $50 on Bubba to win & E/W I can't ignore that. Considering his form here with so many Top 5s, I don't hate it honestly. It's probably worth a play.
USA: +5000 at BetOnline
Everywhere Else: 50/1 at BetOnline
---
$250 on Daniel Berger Top 10 Finish
I really like where his game is right now and I wouldn't discount a Top 5 finish or even a win for Berger here. He's looking great since the season started back up again and I feel the price is well worth it.
USA: +180 at Intertops
Everywhere Else: 1.8/1 at Intertops
---
$125 Xander Schauffele Top 10
I know quite a few people who believe this is the week for Xander. It wouldn't surprise me and I think her will be there or thereabouts. But just based on all the data I don't think the price is worth risking him to win. What is it two years since his last tournament win?
I did enjoy the way he played last weekend I can totally see why many are backing him. I'm just iffy. I think when I base bets more on other peoples picks they have never worked out (Molinari last week for example). Not that I don't think Xander has a good chance I just don't think the price is here for it.
A begruding $125 on him for a Top 10 finish. I initially was going with Top 5 but I just didn't feel comfortable with that one either.
USA: -130 at Bovada
Canada: -130 at Bodog
Everywhere Else: -138 at Bet365
---
$62.50 on Will Zalatoris To Win & E/W
Looks like he has what it takes to do the business on this course. Looked good last week. Honestly I think he could be a nice little sleeper pick. Just the lack of true data to really back the pick up like current & course form has me hesitant. We'll do a small bet on him.
USA: +4000 at Intertops
Everywhere Else: 40/1 at Intertops
---
$62.50 on Russell Henley To Win & E/W
Just a by the numbers pick based on his price and the data I have. Course form and current form don't jive with this one too much but regardless his game is well suited for this course.
USA: +7000 at BetOnline
Everywhere Else: 70/1 at BetOnline
Saudi International 2021 Betting Tips:
Always hard to bet on ones like these where you have a guy like DJ that dominates it. Plus not enough data. Just the one pick which I shall put behind the social block and make it an SBT Exclusive.
(Social block removed now as tournament is getting closer)
$62.50 on Abraham Ancer at 28/1 E/W.
Just seems like one of those picks we gotta make. Good finish last year, great performance last time we saw him etc. Feel happy backing him. Top 10 etc might be better but I like that he came here with plenty of time to spare.
USA: +2800 at Bovada
Canada: 29/1 at Sports Interaction
Everywhere Else: 28/1 at Bet365