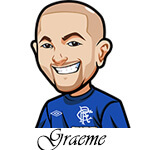 Follow @SBTSportBetting


[Get Exclusive Tips on our Patreon, Ad-Free
]
A nice 3-0 day on Monday with the World Cup bets.
The England and USA games both were pretty much as expected, which was nice going in cold. We got very lucky with the Holland game. Their lack of a target man – even with Memphis out there – is a concern.
Also just a quick note – after writing in the initial post about a 1-3 confidence system, I immediately reverted to my usual soccer betting tips unit system without thinking. So I'm just going to stick with the latter going forward. So to clarify for anyone new:
0.5u = really just a bet for the sake of making a bet, or a high risk underdog play, or one where I think it's +EV but has low value.
1u = Most bets will be this. General confidence in it.
2u = LOCK OF THE CENTURY! That is a joke. There is no such thing. But this means it is one I feel really good about. Doesn't mean it will win or anything – just means hey yeah I love this play.
Let's get straight into Tuesdays games because we got 4 of them for the next week and things are going to get a little busy! And as I mentioned the games start at 5am for me so I gotta start getting to bed early!
Argentina vs Saudi Arabia:
Argentina are uh yeah slight favourites at 1.12 odds. Lot of high expectations for them in this tournament.
They qualified 2nd and were unbeaten although with a fair few draws. Can we bet on how many times the commentators verbally jerk off Messi? Don't get me wrong I'd love for him to lift the trophy but man I'm getting a bit tired of all the talk about him.
There's no real overthinking this is there? Argentina are expected to rock them. No point getting clever. We do of course remember how disappointing Argentina were the last World Cup groups, unable to beat Iceland and barely getting through.
I'm going with a 2.10 odds play that you can only find on our Patreon.
Denmark vs Tunisia:
Denmark are 1.62 favourites here. They won Group F in superb fashion. As a Scot, I got to watch all of their games and was impressed. Also great results in the Nations League.
I rate them very highly. They play well as a team and the Eriksen stuff has clearly got them fighting hard together.
Tunisia are no pushovers and can be very solid defensively. But I like Denmark to be able to break them down.
I personally feel like Denmark are being undervalued right now by the bookies. I'm going to go with a 2u play only available on our Patreon.
Crowd should be good for this one BTW as Tunisia have a huge support there. I hope it's like the Iran crowd today where they were cheering them like crazy even when they were battered. That was awesome to see.
Mexico vs Poland:
Mexico slight favourites here at 2.59 odds with Poland 3.14 and the draw 3.12.
Poland were pretty good in the qualification stages with 30 goals scored and a 6-2-2 record. They struggled to keep clean sheets at times though. Mexico finished 2nd in the CONCACAF Third round.
This is a huge game for both teams as qualification for them is likely won or lost based on this match. So it makes things very tough because you don't know if they will push to win, or if both aim to play safe and play for the draw.
I think this is an easy one to go with 0.5u on the draw at 3.12. These two could cancel each other out easy enough.
Australia vs France:
France rocked with the news that they are missing Benzema. However they have just ridiculous depth.
Australia are one of those teams that I just find them hard to rate at all. I hate writing teams off but man that's how I feel with them.
However France do come in off the back of some brutal Nations League results.
I'm going to go with a small 0.5u on France to win by at least 2 at 1.72 odds. They're just one of those teams that have given me nightmares at times and although on paper this should be easy enough for them – I have my doubts.
Follow @SBTSportBetting