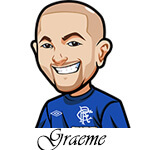 Follow @SBTSportBetting
Welcome to Day 2 of my $10k or Bust Betting Challenge.
For those new to this – I'm starting with $5,000 and hoping to double it throughout the World Cup. It's $10k or Bust however – if I don't get to the $10k mark then I will go bust trying. Simple as that.
Yesterday, I bet more than HALF my balance already as I made a TON of Top Team Goalscorer Bets. I bet $2550 out of the $5000 on that.
I also bet Immobile $50 to be the top goalscorer, and went with $200 on Brazil-Brazil.
As of this writing – I am unaware of the Brazil vs Croatia score. I'm writing this prior to the game. The reason for that is I am off out with my friends to watch the game and spend all day enjoying the opening ceremonies of the World Cup. I'm going to be absolutely trashed most likely haha – so I don't trust myself to touch my betting accounts after the game, nor do I think I will be well enough to make the bets the day after.
Todays article deals with Day 2 of the World Cup. We have exactly 3 games. Mexico vs Cameroon kicks off the day in the 2nd fixture of Group A, and then we have two games in Group B which are the hotly anticipated Spain vs Netherlands game, and Chile vs Australia.
The first bet I am going to make is Cameroon to Win. The odds of that happening are 14/5 which I think is a nice price, and I will be betting $100 on that.
Spain vs Netherlands is a game where I think it will be a quiet first half. I'm going to go with 0-0 at half time in this game. Again – $100 on that one, at 11/8 odds. I think both teams will start playing very tight.
Finally in Chile vs Australia – I'm going with Chile-Chile as in they will be leading at both the first half, and end of second half. This is a half-time full-time bet. $100 on that at 6/5 odds.
And that's my 3 bets for Day 2 of the World Cup. Balance is now $1900.
Follow @SBTSportBetting