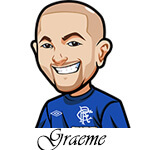 We went 2-1 yesterday in the blog.
Our loss was with a $150 bet on Spain, and we won a $300 bet on Australia vs Holland, and a $150 bet on Cameroon vs Croatia with Over 2.5 and Croatia winning respectively.
I'm kicking myself though because I kept harping onto all my mates about Australia scoring, and I knew for a fact this match would be Over 2.5 Would have bet my life on it. I should've bet more. As it is at another sportsbook I made out like a bandit, betting both Cahill/RVP to score at 11/2 odds.
Quite the day of football yesterday, that's for sure.
Our current balance is $2,176.70. I also have $2600 on Top Team Goalscorer bets so $4,776.70 and I am big time regretting not placing bigger bets yesterday. Not just on the overs – I also loved Croatia, even before Eto'o is out, and kicking myself for that.
Today we have 3 games.
Colombia vs Ivory Coast: Colombia should do the business. $150 bet on them at 21/20.
Uruguay vs England: As dumb as this sounds – being Scottish, I don't want England to win. I want them to lose really, really badly. Therefore I'm throwing $100 on England to win at 21/20. Then if they do win then hey made some money. If they lose? Even better!
Japan vs Greece: Honestly I hate this game. The Greece are a better team than their result against Colombia said – but Honda and Japan have did well at unlocking defenses. In a game where I'm completely unsure as to who will win or what the result will be, I'll go with the bigger odds which is Greece winning. Just $50 on that.
Hilariously I accidently bet $500 on it. Switched that to $50 thanks to Bet365 support.