PDC Darts Tips Day 3 (17/12/16)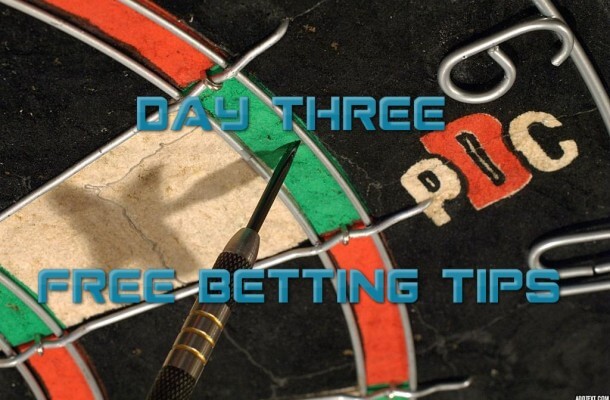 By
Posted:
December 16, 2016
.
Hot Bonus Alert: Get a $1,000(!) deposit bonus at
BetOnline
.
The third day of the 2017 PDC World Championships is the first double header of action. We have an afternoon session starting just after 1pm and then the evening session starts at the usual time of just after 7pm. Isn't it great? A double session of darts is like manna from heaven. The highlight of the afternoon is Benito van de Pas, as he faces the winner of the afternoon's prelim match between Tengku Shah and Masumi Chino. In the evening session, the highlight is undoubtedly Michael van Gerwen making his 2017 PDC World Championship bow. MvG will be taking on the winner of the evening's prelim match between Ross Snook and Kim Viljanen. Also in the evening session, we see former Lakeside World Champion Stephen Bunting taking on Darren Webster in what looks to be a decent game of darts.
Notable Upcoming Bets:
Tenku Shah vs Masumi Chino – Prelim Match
Honestly, I don't know nearly enough about either player to give any advice on this one. It's the same as most of these matches. Nerves might get the better of one of them, or they might be a real sleeper that hacks up without dropping a leg, we just don't know. The bookies have them more or less split, and if you have to have a bet, back the outside of the pair just for value, which would be Masumi Chino. However, for me, it's no bet on this one, as there's just too little information out there.
Terry Jenkins vs Josh Payne
This is undoubtedly one of the last years we'll see Terry Jenkins at the Ally Pally, as The Bull has indicated he'll be slowing down over the coming months, and it's no small part to him slipping down the rankings slowly but surely. As for Josh Payne, the PDC's number 52 is just on his way up the rankings, after a quality season on the tour. This pair has met three times on the floor, with Jenkins winning their first two encounters, and Payne winning their most recent meeting in October 6-5.
It hasn't been a bad year for Terry Jenkins, even if it's not up to his usual lofty standards. But he has made one ProTour Final, as well as a few semi-finals and quarter-finals. It's been the Majors where Jenkins hasn't been producing the goods.
Josh Payne is definitely on the up and up, and started the year with a Development Tour win in March, and then backed it up at the end of April with a ProTour win in Barnsley to the tune of £10,000. He's struggled a bit in the ProTour events since, but he's gone well on the Development Tour in the interim.
The bookies are favouring Jenkins here, of course, at around 4/6, which I actually think is a bit of a steal. Payne had a good start to the year, but hasn't closed it out too well, and his run at the Players Championship Finals wasn't as impressive as it might first have seemed, looking at his stats. I think the experience of Jenkins pays off here, and I actually think the handicap line of -1.5 is interesting. So, we'll take Terry Jenkins -1.5 sets to beat Josh Payne, as I think Payne's inexperience on the big stage will be a huge factor in this.
John Henderson vs Andrew Gilding
One of the more understated games in today's action, but it could be a close one as John Henderson faces Andrew Gilding. They've met three times in the past, with Henderson leading the head to head 2-1, winning both their meetings in 2015, while Gilding won their only meeting in 2016.
John Henderson has been rhythmically plodding along on the ProTour, going deep a few times here, losing in the first round there, but he's managed to keep his place in the top 32 by a few quid, starting the tournament as the number 31. Henderson was unfortunate not to take Gary Anderson out at the Players Championship Finals, but he couldn't keep his consistency going and eventually lost to the reigning World Champion.
A lot had been made of Andrew Gilding as he surged into the top 32 last year, with good runs at the UK Open and the World Matchplay. However, this year he's only had one quarter-final and one semi-final to his name, and he's really struggled to find the form that got him into the top 32 in the first place. At the Players Championship Finals, he was unfortunate to lose to Vincent van der Voort. His scoring wasn't great, but his finish was solid enough.
The bookies have this as a tight one between the two, but I like John Henderson to win as Gilding just can't seem to buy a win at the moment. Henderson just needs to get into the groove and his consistency should be enough to get him past a player who is struggling with his confidence.
Benito van de Pas vs Shah or Chino
This should be comfortable for Benito van de Pas, unless the winner of the prelim really springs a shock and batters the big scores in. There's a lot of people expecting a bit showing again this year from the young Dutchman, and this should be a comfortable warm-up for him against a player who, in theory, should be out of his league. Since we don't know who BvdP is facing, we'll stick with no bet on this one.
Ross Snook vs Kim Viljanen
Normally I try to steer clear of the prelim matches, as we don't know much about each player, but I have to say, there's an angle I like on this one. Kim Viljanen to win is the play. Why? Well, he impressed me last year in his prelim match, although he then struggled against Kevin Painter. I think that experience is going to be beneficial, as will his time playing for Finland in the World Cup of Darts. His opponent, Ross Snook, upset the odds to get here, winning the North American Qualifier, after a lack lustre year on the WDF circuit. To be fair to Snook, he beat Darin Young in the final of the qualifier and John Part in the last 16, but it's not like either man is at their prime. Anyway, you have to go with the big stage experience, and since the bookies actually have Viljanen as the slight outsider, you definitely have to back him.
Cristo Reyes vs Dimitri Van den Bergh
A battle between two stars from mainland Europe and we have Spain facing Belgium and both players will be keen to enhance their burgeoning reputations in the PDC with a win here. They've met four times and the honours are even at two apiece. They have yet to meet in a televised event, so this is a first.
Cristo Reyes shocked everyone in 2015 by making it to the last 16 and also enjoyed good runs at the European Championships. Reyes has had a decent enough 2016, with a few quarter-finals and
one semi-final, but there's something really concerning about his game right now. Looking at the Players Championship Finals, Reyes hit 5 doubles out of 36 (13.89%) in defeat to Berry van Peer, averaging 87.31. It was sensational watching him miss double after double, after such solid performances in the tournaments prior to it.
As for Dimitri Van den Bergh, he's had a busy year, playing the Development Tour, as well as the main ProTour. Dimitri Van den Bergh's best form has come towards the end of the year, with a ProTour semi-final in September, and qualification for the Grand Slam of Darts, where he didn't get out of his group, but he performed well, losing in a 9-darts shootout to Robert Thornton, after beating Scott Waites and Gerwyn Price in the group.
I have to say, Reyes' doubling in his match against Berry van Peer worried me, as he's usually solid on his doubling. That's not to say Dimitri Van den Bergh is a wizard on the doubles, and he's prone to missing a few, but something about Reyes didn't seem right, and I prefer to be on the side of the young Belgian at odds-against tonight, as it should be close, and there's a bit of value to be had on backing Dimitri Van den Bergh to win
Stephen Bunting vs Darren Webster
Another interesting match between two evenly-matched players that should provide some entertainment for us. The head to head between Stephen Bunting and Darren Webster is 2-1 in favour of Bunting, with the Liverpudlian winning their last meeting in August in a ProTour event in Barnsley.
Stephen Bunting has had a terrible year by his high standards. While he won a ProTour event in March, he couldn't build on that win, and has our quarter-finals and a semi-final to his name, while he's struggled in the Majors, where's he's not made it past the last 16. He didn't even manage to qualify for the Grand Slam of Darts this year, losing 5-1 to Micky Mansell in the last 32. There's no doubting the former World Champion's class, but he's just lacking some confidence in his game at the moment.
On the flipside, Darren Webster is oozing confidence at the moment, having made the semi-finals of the Players Championship Finals and qualifying for the Grand Slam of Darts, where he beat good friend Phil Taylor 5-0. He's also had a couple of semi-finals on the floor and just seems to be doing the business right now.
I think this is going to be tight, but there's definitely value to be had backing Darren Webster here, as he's around 9/5 to win, and I'd have him shorter than that. Darts is all about confidence, and Webster will be thinking he can beat anyone right now after his great run last month, while Bunting seems to be having doubts about his game. I can see this finishing 3-2 to either man, so we have to take the value play, which is Darren Webster to beat Stephen Bunting
Michael van Gerwen vs Snook or Viljanen
Yeah, a bit of an anti-climax to our betting tonight. There's going to be no value at all to be had here, so just watch the master in action as MvG breezes into the next round. No bet, of course.
I'll be back with more free tips for day four of the 2017 PDC World Championship tomorrow, which is another double session.