Eventually we're looking to have a detailed page covering all our historical stats.
From the merge here were BetSoccer.ca stats
COVID 20/21 Stats
151-180 +28.10u
Overall Record: 549-703(+54.44u)
And a spreadsheet link.
For now here is the golf betting tips stats;
Unit Bet Hall of Fame:
These are the wins I made with the biggest profits. You can click on each one for the betting slips.
1: Cristie Kerr: 66/1. +82.5. Kia Classic, Mar 2015
2: Mi Jung Hur: 40/1. +80u Yokahoma Tire, Sep 2014
3: Bubba Watson: 28/1. +70u Travelers, June 2018
4: Dustin Johnson: 14/1. +70u US Open, June 2016
5: Brandt Snedker: 22/1. +55u Pebble, Feb 2015
6: Scott Hend: 40/1. +50u Thailand Classic, Mar 2016
7: Gary Woodland: 80/1. +48u US Open, June 2019
8: Yani Tseng. 100/1. +48u LPGA Thailand, Feb 2015
9: Amy Yang: 18/1. +45u LPGA Thailand, Feb 2015
10: Kevin Kisner: 18/1. +45u RSM Classic, Nov 2015
Underdog Hall of Fame:
These are the highest odds wins that netted me a profitable return. Due to many of them being E/W cashes the unit sizing isn't too substantial for some but it's still an amazing feeling getting those massive underdog cashes.
1: 125/1: J. Wagner. +3.5u. John Deere, Aug 2016
2: 110/1: S. Straka. +4.7u. Houston Open, Oct 2019
3: 100/1: Yani Tseng. +48u. LPGA Thailand, Feb 2015
4: 100/1: Paul Casey. +9.5. Championship, Aug 2020
5 90/1: D. Burmester. +6.83u. DP Tour, Nov 2018
6: 90/1: Tyrell Hatton. +6.13u The Open, July 2019
7: 90/1: Sungjae Im. +3.7u. Safeway Open, Oct 2018
8: 80/1. Gary Woodland. +48u US Open, June 2019
9: 80/1: Mika Miyazato. +19u. Arkansas, June 2015
10: 80/1: Lindy Duncan. +19u. LPGA Volvik, May 2018
11: 80/1: Collin Morikawa. +9.5. 3M Open, July 2019
12: 80/1: H. English. +9.5u. Northern Trust, Aug 2020
14: 80/1: Ryan Fox. +3.2u. Scottish Open, July 2017
15: 80/1: T Fisher Jr.. +2.12u. SA Open, Jan 2017
---
This is a page documenting every single pick I have ever made on the site since I first launched the site back in 2014 all the way until the end of 2020. I update this section once per year during the Christmas break.
It is broken down by year and you can click each arrow to expand for that year and see all of the stats. The table is searchable as well if you want to look up a particular tournament.
Now over the years, I have changed the amount I bet based on my bankroll expanding. I've now hit a hard limit that I won't change; betting amounts from $62.50 all the way up to $1,000. $1,000 is my peak. I've also changed the way I list bets here multiple times. Initially, it was just 1/4u to 1u. Then I added in 1/8u bets and experimented with 1,2,3,4 and 5 unit bets. I've finally settled on just listing the amount that I bet and that is what I am most comfortable with.
I've also used different betting amounts over the years depending on the tournament. So a 1u bet in the PGA might have been $500, but the same 1u bet on the LPGA would be $200 etc.
Due to that and to accurately represent the units won over the years in the below tables I have modified the amounts bet, win or lose, to todays amounts. So in 2014 a max bet of $400 will now by my max bet of $1000. Hopefully that makes sense – it's basically to get a clear representation of the betting units win and lost.
While I don't think in units anymore, my most common bet out of 1422 bets (between 2014 and 2020) was $125 which I placed 38.5% of the time. For reference I placed the $62.50 bet 34.3% of the time and $250 19.8% of the time. They were the three most common bets.
So if we classify $125 as 1 unit, then my annual profits and losses, as well as win/loss records so far are:
2014: 6-39. +$8676.25 (+69.41u)
2015: 44-204. +$32,662.10 (+261.30u)
2016: 40-179. +$16,255.40 (+130.04u)
2017: 27-172. +$1,598.27 (+12.78u)
2018: 36-287. +$17,868.58 (+142.95u)
2019: 24-210. +$8,006.38 (+64.05u)
2020: 14-120. -$1,575.23 (-12.60u)
So for 2014-2020, that is a record of 191 wins and 1211 losses for a 13.6% win ratio. That's the way golf is unfortunately when betting on big odds. It can be tough when you go on a big run of losses because while it's natural it really does wear on you. That comes to a total profit of $83,491.75 or 667.93u profit.
If you want to see it on the form of units: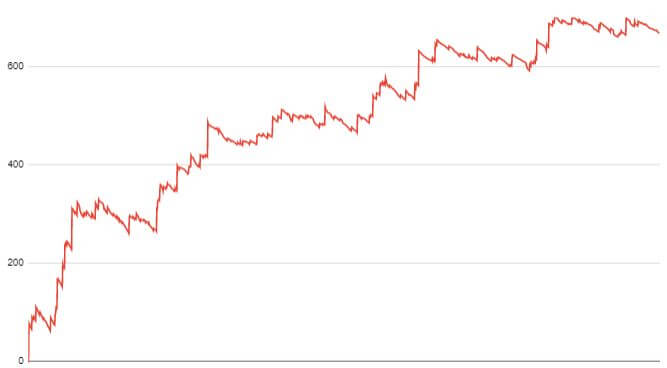 Below are the stats on a year to year basis.
2014 Stats
| Tour: | Tournament: | Bet: | Odds: | Risk: | Profit/Loss: |
| --- | --- | --- | --- | --- | --- |
| LPGA | Yokahoma Tire LPGA Classic | Lexi Thompson Win | 13/2 | $250.00 | -$250.00 |
| LPGA | Yokahoma Tire LPGA Classic | Mi Jung Hur Win | 40/1 | $250.00 | $10,000.00 |
| LPGA | Yokahoma Tire LPGA Classic | Angela Stanford Win | 28/1 | $250.00 | -$250.00 |
| LPGA | Reingwood LPGA Classic | Mi Jung Hur E/W | 20/1 | $250.00 | -$250.00 |
| LPGA | Reingwood LPGA Classic | Stacy Lewis Win | 5/1 | $250.00 | -$250.00 |
| LPGA | Reingwood LPGA Classic | Na Yeon Choi Win | 10/1 | $250.00 | -$250.00 |
| LPGA | LPGA Malaysia | Lexi Thompson E/W | 18/1 | $250.00 | -$250.00 |
| LPGA | LPGA Malaysia | Na Yeon Choi E/W | 12/1 | $250.00 | -$250.00 |
| European | ISPS Handa Wales Open | Joost Luiten Win | 12/1 | $250.00 | $3,000.00 |
| European | ISPS Handa Wales Open | Gregory Bourdy Win | 35/1 | $250.00 | -$250.00 |
| European | ISPS Handa Wales Open | Simon Dyson Win | 20/1 | $250.00 | $ - (Withdrew) |
| European | Alfred Dunhill Links Championship | Martin Kaymer E/W | 14/1 | $250.00 | -$250.00 |
| European | Alfred Dunhill Links Championship | Tommy Fleetwood E/W | 25/1 | $250.00 | $656.25 |
| European | Alfred Dunhill Links Championship | Ricardo Gonzales E/W | 125/1 | $250.00 | -$250.00 |
| European | Portugal Masters | Tommy Fleetwood E/W | 18/1 | $250.00 | -$250.00 |
| European | Portugal Masters | Ross Fisher E/W | 45/1 | $125.00 | -$250.00 |
| European | Portugal Masters | Shane Lowry E/W | 14/1 | $250.00 | -$250.00 |
| Champions | SAS Championship | Kirk Triplett E/W | 22/1 | $250.00 | $3,437.50 |
| Champions | SAS Championship | Mark O'Meara E/W | 50/1 | $250.00 | -$250.00 |
| Champions | SAS Championship | Russ Cochran E/W | 22/1 | $250.00 | -$250.00 |
| Champions | Pacific Links Hawaii Championship | Davis Love III Win | 14/1 | $250.00 | -$250.00 |
| Champions | Pacific Links Hawaii Championship | Jay Haas Win | 25/1 | $250.00 | -$250.00 |
| Champions | Pacific Links Hawaii Championship | David Frost Win | 20/1 | $250.00 | -$250.00 |
| Champions | Nature Valley First Tee Open | Kirk Triplett E/W | 16/1 | $250.00 | -$250.00 |
| Champions | Nature Valley First Tee Open | Paul Goydos E/W | 18/1 | $250.00 | -$250.00 |
| Champions | Nature Valley First Tee Open | Jay Haas E/W | 16/1 | $250.00 | -$250.00 |
| Ryder | Ryder Cup | Team Europe To Win | 20/31 | $1,000.00 | $645.00 |
| PGA | Frys.com Open | Brooks Koepka E/W | 28/1 | $250.00 | -$250.00 |
| PGA | Frys.com Open | Jimmy Walker E/W | 14/1 | $250.00 | -$250.00 |
| LPGA | KEB-Hanabank | Na Yeon Choi E/W | 11/1 | $250.00 | -$250.00 |
| LPGA | KEB-Hanabank | Pornanong Phatlum E/W | 33/1 | $250.00 | -$250.00 |
| LPGA | KEB-Hanabank | Se Ri Pak E/W | 66/1 | $125.00 | -$250.00 |
| PGA | Shriners Open | Ryan Moore E/W | 25/1 | $250.00 | -$250.00 |
| European | Hong Kong Open | Miguel Angel Jimenez E/W | 11/1 | $250.00 | -$250.00 |
| Champions | Greater Hickory Classic | Kirk Triplett E/W | 14/1 | $250.00 | $312.50 |
| Champions | Greater Hickory Classic | Fred Funk E/W | 18/1 | $250.00 | -$250.00 |
| PGA | McGladrey Classic | Webb Simpson E/W | 16/1 | $250.00 | -$250.00 |
| Champions | AT&T Championship | Bernhard Langer Win | 13/2 | $125.00 | -$125.00 |
| Champions | AT&T Championship | Kirk Triplett E/W | 16/1 | $125.00 | -$125.00 |
| Champions | AT&T Championship | John Cook E/W | 30/1 | $125.00 | -$125.00 |
| European | BMW Masters | Mark Foster E/W | 90/1 | $125.00 | -$250.00 |
| European | BMW Masters | Tommy Fleetwood E/W | 30/1 | $250.00 | -$250.00 |
| European | BMW Masters | Joost Luiten E/W | 20/1 | $250.00 | -$250.00 |
| PGA | CIMB Classic | Hideki Matsuyama E/W | 14/1 | $250.00 | -$250.00 |
| LPGA | CME Group Tour Championship | Shanshan Feng E/W | 10/1 | $250.00 | -$250.00 |
| LPGA | CME Group Tour Championship | So Yeon Ryu E/W | 12/1 | $250.00 | -$250.00 |
2015 Stats
| Tour: | Tournament: | Bet: | Odds: | Risk: | Profit/Loss: |
| --- | --- | --- | --- | --- | --- |
| European | South Africa Open Championship | Merrick Bremner E/W | 66/1 | $125.00 | -$125.00 |
| European | South Africa Open Championship | Hennie Otto E/W | 18/1 | $250.00 | -$250.00 |
| European | South Africa Open Championship | Jbe Kruger E/W | 20/1 | $250.00 | -$250.00 |
| PGA | Hyundai Tournament of Champions | Ryan Moore E/W | 20/1 | $250.00 | -$250.00 |
| PGA | Hyundai Tournament of Champions | Matsuyama Top Asian | 4/6 | $5,000.00 | $3,335.00 |
| PGA | Sony Open | Hideki Matsuyama E/W | 20/1 | $250.00 | -$250.00 |
| PGA | Sony Open | Charles Howell III E/W | 35/1 | $250.00 | -$250.00 |
| PGA | Sony Open | Russell Henley E/W | 25/1 | $250.00 | -$250.00 |
| European | Abu Dhabi Golf Championship | George Coetzee E/W | 60/1 | $125.00 | -$125.00 |
| European | Abu Dhabi Golf Championship | Charl Schwartzel E/W | 33/1 | $250.00 | -$250.00 |
| Champions | Mitsubishi Electric Championship | Bernhard Langer Win | 6/1 | $250.00 | -$250.00 |
| Champions | Mitsubishi Electric Championship | Kirk Triplett E/W | 22/1 | $250.00 | -$250.00 |
| PGA | Humana Challenge | Zach Johnson E/W | 30/1 | $125.00 | -$125.00 |
| PGA | Humana Challenge | Jerry Kelly E/W | 80/1 | $125.00 | -$125.00 |
| European | Dubai Desert Classic | Stephen Gallacher E/W | 25/1 | $500.00 | $2,625.00 |
| European | Dubai Desert Classic | Bernd Wiesberger E/W | 30/1 | $500.00 | $350.00 |
| PGA | Phoenix Open | Hideki Matsuyama E/W | 25/1 | $500.00 | $1,312.50 |
| PGA | AT&T Pebble Beach | Jimmy Walker Win | 15/2 | $250.00 | -$250.00 |
| PGA | AT&T Pebble Beach | Dustin Johnson E/W | 16/1 | $500.00 | $333.33 |
| PGA | AT&T Pebble Beach | Brandt Snedeker E/W | 22/1 | $500.00 | $6,875.00 |
| European | True Thailand Classic | Marc Warren E/W | 12/1 | $250.00 | -$250.00 |
| European | True Thailand Classic | Scott Hend E/W | 28/1 | $250.00 | $656.25 |
| European | True Thailand Classic | Jake Higginbottom E/W | 100/1 | $250.00 | -$250.00 |
| Champions | Ace Group Classic | Kirk Triplett E/W | 22/1 | $250.00 | -$250.00 |
| Champions | Ace Group Classic | Duffy Waldorf E/W | 45/1 | $125.00 | -$125.00 |
| PGA | Northern Trust Open | Bill Haas E/W | 30/1 | $250.00 | -$250.00 |
| PGA | Northern Trust Open | Nick Watney E/W | 30/1 | $125.00 | -$125.00 |
| PGA | Honda Classic | Keegan Bradley E/W | 25/1 | $250.00 | -$250.00 |
| PGA | Honda Classic | Luke Donald E/W | 80/1 | $250.00 | -$250.00 |
| PGA | Honda Classic | Justin Rose E/W | 30/1 | $250.00 | -$250.00 |
| European | Joburg Open | Thomas Aiken E/W | 18/1 | $250.00 | -$250.00 |
| LPGA | Honda LPGA Thailand | Amy Yang E/W | 18/1 | $500.00 | $5,625.00 |
| LPGA | Honda LPGA Thailand | Ariya Jutanugarn E/W | 14/1 | $500.00 | -$500.00 |
| LPGA | Honda LPGA Thailand | So Yeon Ryu E/W | 14/1 | $250.00 | -$125.00 |
| LPGA | Honda LPGA Thailand | Gerina Piller E/W | 66/1 | $125.00 | -$125.00 |
| LPGA | Honda LPGA Thailand | Lexi Thompson E/W | 35/1 | $125.00 | -$125.00 |
| LPGA | Honda LPGA Thailand | Yani Tseng E/W | 100/1 | $500.00 | $6,000.00 |
| LPGA | HSBC Womens Championship | Paula Creamer E/W | 66/1 | $125.00 | -$125.00 |
| LPGA | HSBC Womens Championship | Azahara Munoz E/W | 30/1 | $250.00 | $458.33 |
| European | African Tour | Jaco Van Zyl E/W | 14/1 | $500.00 | -$500.00 |
| PGA | Puerto Rico Open | Chesson Hadley E/W | 28/1 | $125.00 | -$125.00 |
| WGC | Cadillac Championship | Bubba Watson E/W | 16/1 | $750.00 | $1,125.00 |
| WGC | Cadillac Championship | Branden Grace E/W | 60/1 | $125.00 | -$125.00 |
| PGA | Valspar Championship | Luke Donald E/W | 25/1 | $250.00 | -$250.00 |
| PGA | Valspar Championship | John Senden E/W | 66/1 | $125.00 | -$125.00 |
| PGA | Valspar Championship | Jim Furyk E/W | 18/1 | $250.00 | -$250.00 |
| LPGA | JTBC Founders Cup | Stacy Lewis Win | 4/1 | $250.00 | -$250.00 |
| LPGA | JTBC Founders Cup | Karrie Webb E/W | 28/1 | $125.00 | -$125.00 |
| PGA | Arnold Palmer invitational | Keegan Bradley E/W | 30/1 | $250.00 | -$250.00 |
| PGA | Arnold Palmer invitational | Bernd Wiesberger E/W | 80/1 | $125.00 | -$125.00 |
| PGA | Arnold Palmer invitational | Kevin Na E/W | 40/1 | $250.00 | -$250.00 |
| LPGA | Kia Classic | Anna Nordqvist E/W | 25/1 | $250.00 | -$250.00 |
| LPGA | Kia Classic | Cristie Kerr E/W | 66/1 | $250.00 | $10,312.50 |
| Champions | Mississippi Gulf Resort Classic | Jeff Maggert E/W | 22/1 | $250.00 | -$250.00 |
| European | Hassan II Golf Trophy | George Coetzee E/W | 16/1 | $500.00 | $125.00 |
| European | Hassan II Golf Trophy | David Horsey E/W | 25/1 | $250.00 | -$250.00 |
| European | Hassan II Golf Trophy | Alejandro Canizares E/W | 30/1 | $250.00 | -$250.00 |
| PGA | Valero Texas Open | Kevin Na E/W | 35/1 | $250.00 | -$250.00 |
| PGA | Valero Texas Open | Zach Johnson E/W | 25/1 | $250.00 | -$250.00 |
| PGA | Valero Texas Open | Jordan Spieth E/W | 10/1 | $500.00 | $375.00 |
| PGA | Shell Houston Open | Matt Kuchar E/W | 14/1 | $125.00 | -$125.00 |
| LPGA | Lotte Championship | Suzanne Pettersen E/W | 12/1 | $250.00 | -$250.00 |
| PGA | RBC Heritage | Luke Donald E/W | 28/1 | $250.00 | -$250.00 |
| PGA | RBC Heritage | Charley Hoffman E/W | 33/1 | $250.00 | -$250.00 |
| LPGA | Swinging Skirts LPGA | Lydia Ko To Win | 13/2 | $500.00 | $3,250.00 |
| LPGA | Swinging Skirts LPGA | Jenny Shin E/W | 50/1 | $250.00 | -$250.00 |
| PGA | Zurich Classic | Lucas Glover E/W | 100/1 | $125.00 | -$125.00 |
| PGA | Zurich Classic | Troy Merritt E/W | 90/1 | $125.00 | -$125.00 |
| Champions | Insperity Invitational | Bernhard Langer Win | 4/1 | $500.00 | -$500.00 |
| Champions | Insperity Invitational | Esetban Toledo E/W | 33/1 | $125.00 | -$125.00 |
| LPGA | North Texas Shootout | Stacy Lewis Win | 11/2 | $1,000.00 | -$1,000.00 |
| European | Afrasia Open | Dean Burmester E/W | 28/1 | $125.00 | -$125.00 |
| PGA | The Players Championship | Rory McIlroy Win | 7/1 | $500.00 | -$500.00 |
| PGA | The Players Championship | Paul Casey E/W | 40/1 | $250.00 | -$250.00 |
| PGA | The Players Championship | Lee Westwood E/W | 40/1 | $125.00 | -$125.00 |
| Champions | The Tradition | Tom Lehman E/W | 11/1 | $250.00 | -$250.00 |
| Champions | The Tradition | Marc Calcavecchia E/W | 200/1 | $125.00 | -$125.00 |
| LPGA | Kingsmill Championship | Cristie Kerr E/W | 16/1 | $125.00 | -$125.00 |
| European | Open De Espana | Miguel Angel Jimenez E/W | 45/1 | $125.00 | $640.63 |
| European | Open De Espana | Thomas Aiken E/W | 25/1 | $250.00 | -$250.00 |
| European | Open De Espana | Romain Wattel E/W | 28/1 | $125.00 | -$125.00 |
| PGA | Wells Fargo Championship | Phil Mickelson E/W | 25/1 | $500.00 | $708.33 |
| PGA | Wells Fargo Championship | Bo Van Pelt E/W | 125/1 | $62.50 | -$62.50 |
| PGA | Wells Fargo Championship | Sean O'Hair E/W | 55/1 | $125.00 | -$125.00 |
| PGA | Crowne Plaza Invitational | Zach Johnson E/W | 12/1 | $250.00 | -$250.00 |
| European | BMW PGA Championship | Miguel Angel Jimenez E/W | 55/1 | $125.00 | $796.88 |
| European | BMW PGA Championship | David Howell E/W | 50/1 | $125.00 | -$125.00 |
| European | BMW PGA Championship | Luke Donald E/W | 28/1 | $125.00 | -$125.00 |
| LPGA | Shoprite LPGA Classic | Stacy Lewis Win | 6/1 | $250.00 | -$250.00 |
| LPGA | Shoprite LPGA Classic | Azahara Munoz E/W | 40/1 | $250.00 | -$250.00 |
| LPGA | Shoprite LPGA Classic | Alison Lee E/W | 70/1 | $125.00 | -$125.00 |
| European | Irish Open | Miguel Angel Jimenez E/W | 45/1 | $125.00 | -$125.00 |
| European | Irish Open | Tommy Fleetwood E/W | 40/1 | $125.00 | -$125.00 |
| European | Irish Open | George Coetzee E/W | 66/1 | $125.00 | -$125.00 |
| European | Irish Open | Chris Wood E/W | 40/1 | $125.00 | -$125.00 |
| PGA | AT&T Byron Nelson | Gary Woodland E/W | 35/1 | $125.00 | -$125.00 |
| Champions | Principal Charity Classic | Jay Haas E/W | 6/1 | $125.00 | -$125.00 |
| PGA | The Memorial | Hideki Matsuyama E/W | 22/1 | $500.00 | $1,125.00 |
| PGA | The Memorial | Matt Kuchar E/W | 25/1 | $250.00 | -$250.00 |
| European | Nordea Masters | Thongchai Jaidee E/W | 20/1 | $125.00 | -$125.00 |
| LPGA | Women's PGA Championship | Lydia Ko To Win | 17/2 | $500.00 | -$500.00 |
| LPGA | Women's PGA Championship | Suzanne Pettersen E/W | 14/1 | $250.00 | -$250.00 |
| European | Austrian Open | Daniel Im E/W | 75/1 | $62.50 | -$62.50 |
| European | Austrian Open | Lee Slattery E/W | 50/1 | $125.00 | -$125.00 |
| PGA | Fedex Classic | Robert Allenby E/W | 225/1 | $62.50 | -$62.50 |
| PGA | US Open | Jordan Spieth To Win | 8/1 | $500.00 | $4,000.00 |
| PGA | US Open | Brand Snedeker E/W | 40/1 | $250.00 | -$250.00 |
| PGA | US Open | Hideki Matsuyama E/W | 33/1 | $250.00 | -$250.00 |
| PGA | Travelers Championship | Brandt Snedeker E/W | 14/1 | $250.00 | -$250.00 |
| Champions | Senior Open | Kirk Triplett E/W | 22/1 | $500.00 | -$500.00 |
| Champions | Senior Open | Tom Pernice Jr. E/W | 50/1 | $125.00 | -$125.00 |
| LPGA | Arkansas Open | Lydia Ko E/W | 10/1 | $250.00 | -$125.00 |
| LPGA | Arkansas Open | Mika Miyazato E/W | 80/1 | $250.00 | $2,375.00 |
| European | BMW International Open | Thomas Bjorn E/W | 35/1 | $250.00 | -$250.00 |
| European | BMW International Open | Soren Kjeldsen E/W | 30/1 | $125.00 | -$125.00 |
| PGA | Greenbrier Classic | Webb Simpson E/W | 22/1 | $125.00 | -$125.00 |
| PGA | Greenbrier Classic | Scott Pinckney E/W | 125/1 | $62.50 | -$62.50 |
| PGA | Greenbrier Classic | Jon Curran E/W | 100/1 | $62.50 | -$62.50 |
| PGA | Greenbrier Classic | Steven Bowditch E/W | 66/1 | $62.50 | -$62.50 |
| European | French Open | Graeme McDowell E/W | 25/1 | $125.00 | -$125.00 |
| European | French Open | Richard Green E/W | 100/1 | $62.50 | -$62.50 |
| Web.com | Nova Scotia Classic | Ryan Spears E/W | 40/1 | $62.50 | -$62.50 |
| Champions | Encompass Championship | Kirk Triplett E/W | 20/1 | $250.00 | -$250.00 |
| PGA | John Deere Classic | Steve Stricker E/W | 30/1 | $250.00 | -$250.00 |
| PGA | John Deere Classic | Zach Johnson Win | 9/1 | $1,000.00 | -$1,000.00 |
| PGA | John Deere Classic | Scott Brown E/W | 66/1 | $125.00 | -$125.00 |
| LPGA | US Womens Open | Stacy Lewis E/W | 11/ | $125.00 | $109.38 |
| LPGA | Marathon Classic | Lydio Ko Win | 8/1 | $250.00 | -$250.00 |
| LPGA | Marathon Classic | So Yeon Ryu Win | 15/2 | $250.00 | -$250.00 |
| PGA | The Open | Dustin Johnson E/W | 11/1 | $250.00 | -$250.00 |
| PGA | The Open | Tommy Fleetwood E/W | 80/1 | $125.00 | -$125.00 |
| PGA | The Open | David Howell E/W | 125/1 | $125.00 | -$125.00 |
| Champions | Senior Open | Bernhard Langer Win | 6/1 | $750.00 | $1,500.00 |
| Champions | Senior Open | Mark McNulty E/W | 125/1 | $250.00 | -$250.00 |
| LPGA | Meijer LPGA Classic | Haru Nomura E/W | 125/1 | $250.00 | -$250.00 |
| LPGA | Meijer LPGA Classic | Sandra Gai E/W | 45/1 | $125.00 | -$125.00 |
| LPGA | Meijer LPGA Classic | Amy Yang E/W | 14/1 | $500.00 | $ - |
| European | Omega European Masters | Tommy Fleetwood E/W | 20/1 | $500.00 | -$500.00 |
| European | Omega European Masters | Jamie Donaldson E/W | 22/1 | $125.00 | -$125.00 |
| European | Omega European Masters | Victor Dubuisson E/W | 25/1 | $125.00 | -$125.00 |
| PGA | RBC Canadian Open | Luke Donald E/W | 22/1 | $250.00 | -$250.00 |
| PGA | RBC Canadian Open | Sean O'Hair E/W | 80/1 | $125.00 | -$125.00 |
| PGA | RBC Canadian Open | Scott Piercy E/W | 40/1 | $125.00 | -$125.00 |
| European | Madeira Islands Open | Ricardo Gouveia E/W | 16/1 | $250.00 | -$125.00 |
| European | Madeira Islands Open | Jose-Filipe Lima E/W | 50/1 | $125.00 | -$125.00 |
| European | Madeira Islands Open | Scott Henry E/W | 35/1 | $125.00 | $484.38 |
| European | Madeira Islands Open | Marc Schneider E/W | 90/1 | $125.00 | -$125.00 |
| PGA | Quicken National | Tiger Woods E/W | 45/1 | $125.00 | -$125.00 |
| PGA | Quicken National | Johnson Wagner E/W | 45/1 | $250.00 | -$250.00 |
| PGA | Quicken National | Will Wilcox E/W | 40/1 | $125.00 | -$125.00 |
| Champions | Shaw Charity Classic | Kirk Triplett E/W | 28/1 | $250.00 | -$250.00 |
| PGA | Barracuda Championship | Andres Romero E/W | 20/1 | $125.00 | -$125.00 |
| WGC | Bridgestone Invitational | Keegan Bradley E/W | 40/1 | $125.00 | -$125.00 |
| WGC | Bridgestone Invitational | Jim Furyk E/W | 40/1 | $125.00 | $562.50 |
| WGC | Bridgestone Invitational | Hideki Matsuyama E/W | 28/1 | $125.00 | -$125.00 |
| PGA | PGA Championship | Rory McIlroy Win | 12/1 | $250.00 | -$250.00 |
| PGA | PGA Championship | Jim Furyk E/W | 50/1 | $500.00 | -$500.00 |
| PGA | PGA Championship | David Lingmerth E/W | 100/1 | $250.00 | -$250.00 |
| PGA | PGA Championship | Justin Rose E/W | 18/1 | $250.00 | $437.50 |
| PGA | PGA Championship | Bubba Watson E/W | 14/1 | $250.00 | -$250.00 |
| LPGA | Portland Classic | Lydia Ko Win | 7/1 | $500.00 | -$500.00 |
| LPGA | Portland Classic | Austin Ernst E/W | 55/1 | $125.00 | $182.29 |
| LPGA | Portland Classic | Lizette Salas E/W | 33/1 | $125.00 | -$125.00 |
| Champions | Boeing Classic | Gene Sauers E/W | 50/1 | $125.00 | -$125.00 |
| Champions | Boeing Classic | Scott Dunlap Win | 12/1 | $250.00 | -$250.00 |
| PGA | Wyndham Championship | Brooks Koepka E/W | 14/1 | $250.00 | $250.00 |
| PGA | Wyndham Championship | Brooks Koepka 1st Rnd Leader | 25/1 | $125.00 | -$125.00 |
| PGA | Wyndham Championship | Webb Simpson E/W | 25/1 | $250.00 | -$250.00 |
| PGA | Wyndham Championship | Carl Petterson E/W | 50/1 | $250.00 | -$250.00 |
| Champions | Dick's Sporting Good Open | Mark O'Meara E/W | 20/1 | $125.00 | -$125.00 |
| Champions | Dick's Sporting Good Open | John Cook E/W | 80/1 | $62.50 | -$62.50 |
| LPGA | Yokohama Tire LPGA Classic | Stacy Lewis Win | 9/2 | $250.00 | -$250.00 |
| LPGA | Yokohama Tire LPGA Classic | Lexi Thompson Win | 10/1 | $250.00 | -$250.00 |
| LPGA | Yokohama Tire LPGA Classic | Mi Jung Hur E/W | 40/1 | $125.00 | -$125.00 |
| PGA | The Barclays | Justin Rose E/W | 11/1 | $250.00 | -$250.00 |
| PGA | The Barclays | Matt Kuchar E/W | 35/1 | $250.00 | -$250.00 |
| European | KLM Open | Richie Ramsay E/W | 30/1 | $125.00 | -$125.00 |
| European | KLM Open | David Horsey E/W | 50/1 | $125.00 | -$125.00 |
| European | KLM Open | Joost Luiten E/W | 18/1 | $250.00 | -$250.00 |
| PGA | BMW Championship | Jordan Spieth To Win | 10/1 | $250.00 | -$250.00 |
| PGA | BMW Championship | Zach Johnson E/W | 33/1 | $250.00 | -$250.00 |
| PGA | Tour Championship | Jordan Spieth To Win | 8/1 | $500.00 | $4,000.00 |
| PGA | Tour Championship | Justin Rose Top 4 Finish | 9/4 | $250.00 | $562.50 |
| European | Alfred Dunhill Links Championship | Lee Westwood E/W | 33/1 | $125.00 | -$125.00 |
| European | Alfred Dunhill Links Championship | Danny Willett E/W | 20/1 | $250.00 | -$250.00 |
| European | Alfred Dunhill Links Championship | Roope Kakko E/W | 125/1 | $62.50 | -$62.50 |
| European | Alfred Dunhill Links Championship | Lee Slattery E/W | 80/1 | $62.50 | -$62.50 |
| European | Alfred Dunhill Links Championship | Victor Dubuisson E/W | 50/1 | $62.50 | -$62.50 |
| European | Alfred Dunhill Links Championship | Padraig Harrington E/W | 100/1 | $62.50 | -$62.50 |
| LPGA | Evian Championship | Shanshan Feng E/W | 25/1 | $125.00 | $328.13 |
| Champions | SAS Championship | Kenny Perry To Win | 8/1 | $250.00 | -$250.00 |
| Champions | SAS Championship | David Frost E/W | 28/1 | $250.00 | -$250.00 |
| Champions | SAS Championship | Kirk Triplett E/W | 35/1 | $125.00 | -$125.00 |
| Champions | SAS Championship | Michael Allen E/W | 30/1 | $125.00 | -$125.00 |
| Champions | San Antonio Championship | Michael Allen E/W | 30/1 | $125.00 | $406.25 |
| Champions | San Antonio Championship | Kirk Triplett E/W | 35/1 | $125.00 | -$125.00 |
| Champions | San Antonio Championship | Kenny Perry To Win | 7/1 | $125.00 | -$125.00 |
| LPGA | Hannabank Championship | Amy Yang E/W | 30/1 | $750.00 | $1,375.00 |
| European | Portugal Masters | Ross Fisher E/W | 40/1 | $250.00 | -$250.00 |
| European | Portugal Masters | Thorbjorn Olesen E/W | 45/1 | $125.00 | -$125.00 |
| European | Portugal Masters | Romain Wattel E/W | 45/1 | $125.00 | -$125.00 |
| PGA | Frys.com Open | Rory McIlroy Win | 5/1 | $250.00 | -$250.00 |
| PGA | Frys.com Open | Hideki Matsuyama E/W | 16/1 | $500.00 | -$500.00 |
| PGA | Frys.com Open | Steven Bowditch E/W | 70/1 | $125.00 | -$125.00 |
| European | UBS Hong Kong Open | Miguel Angel Jimenez E/W | 25/1 | $250.00 | -$250.00 |
| PGA | Shriners Open | Ryan Moore E/W | 25/1 | $250.00 | -$250.00 |
| PGA | Shriners Open | Emiliano Grillo E/W | 25/1 | $125.00 | -$125.00 |
| PGA | Shriners Open | Jason Bohn E/W | 40/1 | $250.00 | $562.50 |
| LPGA | Blue Bay Classic | Lee-Anne Pace E/W | 50/1 | $62.50 | -$62.50 |
| LPGA | Blue Bay Classic | Caroline Masson E/W | 50/1 | $62.50 | -$62.50 |
| LPGA | Blue Bay Classic | Jessica Korda E/W | 70/1 | $62.50 | -$62.50 |
| LPGA | Blue Bay Classic | Michele Wie E/W | 65/1 | $62.50 | -$62.50 |
| LPGA | Blue Bay Classic | Chella Choi E/W | 45/1 | $62.50 | -$62.50 |
| LPGA | Blue Bay Classic | Austin Ernst E/W | 125/1 | $62.50 | -$62.50 |
| Champions | Toshiba Classic | Fred Couples Top 5 Finish | 11/5 | $500.00 | $300.00 |
| Champions | Toshiba Classic | Steve Pate E/W | 150/1 | $62.50 | -$62.50 |
| Champions | Toshiba Classic | Michael Allen E/W | 22/1 | $250.00 | -$250.00 |
| European | Turkish Airlines Open | Ian Poulter E/W | 25/1 | $250.00 | -$250.00 |
| European | Turkish Airlines Open | Matthew Fitzpatrick E/W | 20/1 | $250.00 | -$250.00 |
| European | Turkish Airlines Open | Kiradech Aphibarnrat E/W | 40/1 | $62.50 | $281.25 |
| European | Turkish Airlines Open | Ross Fisher E/W | 80/1 | $62.50 | -$62.50 |
| European | Turkish Airlines Open | Lucas Bjerregaard E/W | 50/1 | $62.50 | -$62.50 |
| European | Turkish Airlines Open | Andy Sullivan E/W | 20/1 | $62.50 | -$62.50 |
| PGA | CIMB Classic | Gary Woodland E/W | 40/1 | $125.00 | -$125.00 |
| PGA | CIMB Classic | Ryan Moore E/W | 18/1 | $250.00 | -$250.00 |
| PGA | CIMB Classic | Kevin Na E/W | 14/1 | $250.00 | $312.50 |
| WGC | HSBC Championship | Jordan Spieth To Win | 8/1 | $500.00 | -$500.00 |
| WGC | HSBC Championship | Bubba Watson E/W | 14/1 | $250.00 | -$250.00 |
| WGC | HSBC Championship | Paul Casey E/W | 30/1 | $125.00 | -$125.00 |
| Champions | Charles Schwab Championship | Kenny Perry To Win | 5/1 | $125.00 | -$125.00 |
| PGA | Sanderson Farms Championship | Jason Bohn To Win | 11/1 | $125.00 | -$125.00 |
| PGA | Sanderson Farms Championship | Nick Taylor E/W | 55/1 | $125.00 | -$125.00 |
| PGA | Sanderson Farms Championship | Boo Weekley E/W | 55/1 | $125.00 | -$125.00 |
| European | BMW Masters | Danny Willett E/W | 20/1 | $250.00 | -$250.00 |
| European | BMW Masters | Justin Rose To Win | 11/2 | $125.00 | -$125.00 |
| European | BMW Masters | Matthew Fitzpatrick E/W | 25/1 | $250.00 | -$250.00 |
| PGA | OHL Classic | Jason Bohn E/W | 20/1 | $250.00 | $500.00 |
| PGA | OHL Classic | Chris Stroud E/W | 28/1 | $125.00 | -$125.00 |
| LPGA | CME Group Tour Championship | Shanshan Feng E/W | 18/1 | $62.50 | -$62.50 |
| LPGA | CME Group Tour Championship | Sandra Gai E/W | 80/1 | $62.50 | -$62.50 |
| LPGA | CME Group Tour Championship | Carlota Ciganda E/W | 70/1 | $62.50 | -$62.50 |
| LPGA | CME Group Tour Championship | So Yeon Ryu E/W | 12/1 | $62.50 | -$62.50 |
| PGA | RSM Classic | Chris Kirk E/W | 40/1 | $250.00 | -$250.00 |
| PGA | RSM Classic | Kevin Kisner E/W | 18/1 | $500.00 | $5,625.00 |
| PGA | RSM Classic | Fabian Gomez E/W | 110/1 | $125.00 | -$125.00 |
| European | DP World Championships | Rory McIlroy Win | 5/1 | $500.00 | $2,250.00 |
| European | DP World Championships | Matthew Fitzpatrick E/W | 33/1 | $125.00 | $67.71 |
| European | DP World Championships | Danny Willett E/W | 33/1 | $125.00 | $67.71 |
| European | DP World Championships | Branden Grace E/W | 22/1 | $125.00 | $281.25 |
2016 Stats
| Tour: | Tournament: | Bet: | Odds: | Risk: | Profit/Loss: |
| --- | --- | --- | --- | --- | --- |
| European | BMW SA Championship | Trevor Fisher Jr. Win Group C | 3/1 | $250.00 | -$250.00 |
| PGA | Hyundai Tournament of Champions | Brandt Snedeker Top 4 | 11/1 | $250.00 | $2,750.00 |
| PGA | Hyundai Tournament of Champions | Patrick Reed Top 4 | 9/4 | $500.00 | $1,125.00 |
| PGA | Sony Open | Gary Woodland Top 10 | 9/2 | $125.00 | -$125.00 |
| PGA | Sony Open | Charles Howell III Top 10 | 13/5 | $500.00 | -$500.00 |
| European | Abu Dhabi | Martin Kaymer E/W | 18/1 | $125.00 | -$125.00 |
| European | Qatar Masters | Alejando Canizaries E/W | 40/1 | $125.00 | -$125.00 |
| PGA | Phoenix Open | Brandt Snedeker Top 10 | 4/1 | $250.00 | -$250.00 |
| PGA | Phoenix Open | Bubba Watson Top 10 | 4/1 | $500.00 | -$500.00 |
| PGA | Phoenix Open | Hideki Matsuyama Top 5 | 9/2 | $500.00 | $1,125.00 |
| European | Dubai Desert Classic | Martin Kaymer Top 5 | 4/1 | $125.00 | -$125.00 |
| European | Dubai Desert Classic | Stephen Gallacher Top 10 | 11/2 | $125.00 | -$125.00 |
| Champions | Aliannz Championship | Michael Allen Top 5 | 7/2 | $125.00 | -$125.00 |
| PGA | Pebble Beach | Brandt Snedeker E/W | 12/1 | $125.00 | -$125.00 |
| PGA | Pebble Beach | Jimmy Walker E/W | 25/1 | $125.00 | -$125.00 |
| European | Tshwane Open | Dean Burmester E/W | 30/1 | $250.00 | $458.33 |
| Champions | Chubb Classic | Olin Browne E/W | 40/1 | $125.00 | -$125.00 |
| PGA | Northern Trust Open | Dustin Johnson E/W | 16/1 | $250.00 | $375.00 |
| PGA | Northern Trust Open | Dustin Johnson Top 5 | 3/1 | $250.00 | $750.00 |
| PGA | Northern Trust Open | Bill Haas E/W | 30/1 | $250.00 | -$250.00 |
| PGA | Northern Trust Open | Keegan Bradley E/W | 40/1 | $125.00 | -$125.00 |
| European | Maybank Championship Malaysia | Rafael Cabrera Bello E/W | 16/1 | $62.50 | -$62.50 |
| European | Maybank Championship Malaysia | Alejando Canizaries E/W | 45/1 | $62.50 | -$62.50 |
| European | Maybank Championship Malaysia | Scott Hend E/W | 60/1 | $62.50 | -$62.50 |
| European | Maybank Championship Malaysia | David Howell E/W | 110/1 | $62.50 | $ - Withdrew |
| LPGA | ISPS Handa Women's Australian Open | Lydia Ko Win | 13/8 | $250.00 | -$250.00 |
| PGA | Honda Classic | Luke Donald Top 10 | 11/2 | $250.00 | -$250.00 |
| PGA | Honda Classic | Jim Herman E/W | 175/1 | $62.50 | -$62.50 |
| PGA | Honda Classic | Fredrik Jacobson E/W | 30/1 | $125.00 | -$215.00 |
| PGA | Honda Classic | Rickie Fowler E/W | 12/1 | $125.00 | -$125.00 |
| European | Perth International | Thorbjorn Olesen E/W | 18/1 | $62.50 | -$62.50 |
| LPGA | Honda LPGA Thailand | Inbee Park Win | 11/2 | $125.00 | -$125.00 |
| LPGA | Honda LPGA Thailand | Stacy Lewis Win | 6/1 | $250.00 | -$250.00 |
| LPGA | Honda LPGA Thailand | Suzanne Pettersen E/W | 20/1 | $125.00 | -$125.00 |
| LPGA | Honda LPGA Thailand | Yani Tseng E/W | 50/1 | $62.50 | -$62.50 |
| WGC | WGC Cadillac Championship | Bubba Watson Top 5 | 9/4 | $375.00 | $843.75 |
| WGC | WGC Cadillac Championship | Dustin Johnson Top 5 | 9/4 | $375.00 | -$375.00 |
| LPGA | HSBC Women's Champions | Lydia Ko To Win | 4/1 | $125.00 | -$125.00 |
| LPGA | HSBC Women's Champions | Stacy Lewis E/W | 20/1 | $125.00 | $250.00 |
| European | True Thailand Classic | Prayad Marksaeng E/W | 30/1 | $250.00 | -$250.00 |
| European | True Thailand Classic | Scott Hend E/W | 40/1 | $250.00 | $6,250.00 |
| European | True Thailand Classic | Joost Luiten E/W | 12/1 | $250.00 | -$250.00 |
| PGA | Arnold Palmer Invitational | Scott Brown E/W | 110/1 | $125.00 | -$250.00 |
| PGA | Arnold Palmer Invitational | Matt Every E/W | 90/1 | $125.00 | -$250.00 |
| PGA | Arnold Palmer Invitational | Jason Kokrak E/W | 55/1 | $250.00 | -$250.00 |
| PGA | Arnold Palmer Invitational | Henrik Stenson E/W | 12/1 | $250.00 | $500.00 |
| European | Hero Indian Open | Mithun Perea E/W | 100/1 | $62.50 | -$62.50 |
| European | Hero Indian Open | Siddikur Rahman E/W | 80/1 | $62.50 | -$62.50 |
| European | Hero Indian Open | Anirban Lahiri E/W | 15/2 | $250.00 | $109.38 |
| European | Hero Indian Open | Chiragh Kumar E/W | 60/1 | $62.50 | -$62.50 |
| European | Hero Indian Open | Prayad Marksaeng E/W | 20/1 | $62.50 | -$62.50 |
| LPGA | JTBC Founders Cup | Stacy Lewis Win | 6/1 | $62.50 | -$62.50 |
| LPGA | JTBC Founders Cup | Pornanong Phatlum E/W | 40/1 | $62.50 | -$62.50 |
| Champions | Tucson Conquistadores Classic | Wes Short Jr. E/W | 40/1 | $62.50 | -$62.50 |
| Champions | Tucson Conquistadores Classic | Scott Hoch E/W | 100/1 | $62.50 | -$62.50 |
| PGA | Puerto Rico Open | Scott Brown E/W | 20/1 | $125.00 | $ - |
| PGA | Puerto Rico Open | Boo Weekley E/W | 35/1 | $125.00 | -$125.00 |
| PGA | Puerto Rico Open | Chesson Hadley E/W | 30/1 | $125.00 | -$125.00 |
| PGA | Puerto Rico Open | George Coetzee E/W | 33/1 | $125.00 | -$125.00 |
| LPGA | Kia Classic | Cristie Kerr E/W | 33/1 | $125.00 | -$125.00 |
| PGA | Houston Open | Jordan Spieth To Win | 13/2 | $250.00 | -$250.00 |
| PGA | Houston Open | J.B. Holmes E/W | 28/1 | $125.00 | Withdrew |
| PGA | Houston Open | Keegan Bradley E/W | 40/1 | $125.00 | -$125.00 |
| PGA | Houston Open | Steve Stricker E/W | 50/1 | $125.00 | -$125.00 |
| PGA | The Masters | Rory McIlroy Win | 9/1 | $250.00 | -$250.00 |
| PGA | The Masters | Dustin Johnson E/W | 18/1 | $250.00 | $208.33 |
| PGA | The Masters | Lee Westwood Top 10 | 10/1 | $125.00 | $1,250.00 |
| PGA | The Masters | Lee Westwood Top 20 | 7/2 | $125.00 | $437.50 |
| European | Espana De Open | Rafael Cabrera Bello E/W | 18/1 | $62.50 | -$62.50 |
| European | Espana De Open | Soren Kjeldsen E/W | 14/1 | $62.50 | $78.13 |
| European | Espana De Open | David Lipsky E/W | 30/1 | $62.50 | -$62.50 |
| PGA | RBC Heritage | Luke Donald E/W | 50/1 | $500.00 | $2,875.00 |
| PGA | RBC Heritage | Matt Kuchar E/W | 40/1 | $250.00 | -$250.00 |
| PGA | RBC Heritage | Jerry Kelly E/W | 60/1 | $125.00 | -$125.00 |
| PGA | Valero Texas Open | Matt Kuchar E/W | 30/1 | $125.00 | -$125.00 |
| PGA | Valero Texas Open | Phil Mickelson E/W | 30/1 | $125.00 | -$125.00 |
| PGA | Valero Texas Open | Andrew Loupe E/W | 150/1 | $62.50 | -$62.50 |
| European | Shenzhen International | Tommy Fleetwood E/W | 20/1 | $125.00 | -$125.00 |
| PGA | Wells Fargo Championship | Patton Kizire Top 10 Finish | 5/1 | $500.00 | -$500.00 |
| PGA | Wells Fargo Championship | Rory McIlroy Win | 4/1 | $250.00 | -$250.00 |
| PGA | Wells Fargo Championship | J.B. Holmes E/W | 30/1 | $125.00 | -$125.00 |
| LPGA | Yokohama Tire LPGA Classic | Mi Jung Hur E/W | 40/1 | $125.00 | -$125.00 |
| PGA | The Players Championship | Rickie Fowler E/W | 20/1 | $250.00 | -$250.00 |
| PGA | The Players Championship | Sergio Garcia E/W | 28/1 | $250.00 | -$250.00 |
| PGA | The Players Championship | Jordan Spieth To Win | 9/1 | $125.00 | -$125.00 |
| PGA | The Players Championship | Justin Rose E/W | 25/1 | $125.00 | -$125.00 |
| PGA | The Players Championship | Hideki Matsuyama E/W | 28/1 | $125.00 | -$125.00 |
| PGA | The Players Championship | Henrik Stenson E/W | 33/1 | $125.00 | -$125.00 |
| PGA | The Players Championship | Jason Bohn E/W | 100/1 | $62.50 | -$62.50 |
| PGA | AT&T Byron Nelson | Matt Kuchar E/W | 20/1 | $250.00 | $500.00 |
| PGA | AT&T Byron Nelson | Charley Hoffman E/W | 30/1 | $250.00 | -$250.00 |
| PGA | Dean & DeLuca Invitational | Chris Kirk E/W | 20/1 | $250.00 | -$250.00 |
| PGA | Dean & DeLuca Invitational | Jordan Spieth To Win | 6/1 | $500.00 | $3,000.00 |
| PGA | Dean & DeLuca Invitational | David Toms E/W | 150/1 | $62.50 | -$62.50 |
| PGA | Dean & DeLuca Invitational | Ben Crane E/W | 200/1 | $62.50 | -$62.50 |
| European | BMW PGA Championship | Miguel Angel Jimenez E/W | 55/1 | $62.50 | -$62.50 |
| European | BMW PGA Championship | Francesco Molinari E/W | 20/1 | $125.00 | -$125.00 |
| European | BMW PGA Championship | Martin Kaymer E/W | 30/1 | $125.00 | -$125.00 |
| PGA | The Memorial Tournament | Jason Day To Win | 16/1 | $250.00 | -$250.00 |
| PGA | The Memorial Tournament | Matt Kuchar E/W | 20/1 | $250.00 | $500.00 |
| PGA | The Memorial Tournament | Hideki Matsuyama Top 10 | 6/4 | $125.00 | -$125.00 |
| European | Nordea Masters | Alex Noren E/W | 16/1 | $125.00 | -$125.00 |
| European | Nordea Masters | Rikard Karlberg E/W | 30/1 | $62.50 | -$62.50 |
| European | Nordea Masters | Fabrizio Zanotti E/W | 30/1 | $62.50 | -$62.50 |
| PGA | Fed Ex St Jude Classic | Dustin Johnson Top 5 | 5/4 | $250.00 | $562.50 |
| PGA | Fed Ex St Jude Classic | David Toms E/W | 90/1 | $125.00 | -$125.00 |
| PGA | Fed Ex St Jude Classic | Ryan Palmer E/W | 16/1 | $125.00 | -$125.00 |
| LPGA | KPMG Women's LPGA Championship | Inbee Park E/W | 33/1 | $125.00 | -$125.00 |
| LPGA | KPMG Women's LPGA Championship | Brittany Lincocome E/W | 125/1 | $125.00 | -$125.00 |
| PGA | US Open | Dustin Johnson E/W | 14/1 | $1,000.00 | $8,750.00 |
| PGA | US Open | Brooks Koepka E/W | 40/1 | $500.00 | -$500.00 |
| PGA | US Open | Jason Dufner E/W | 100/1 | $62.50 | -$62.50 |
| PGA | US Open | David Toms E/W | 300/1 | $62.50 | -$62.50 |
| PGA | US Open | Brandt Snedeker E/W | 66/1 | $62.50 | -$62.50 |
| PGA | US Open | Kevin Chappell E/W | 90/1 | $62.50 | -$62.50 |
| PGA | Quicken Loans National | Shawn Stefani E/W | 75/1 | $125.00 | -$125.00 |
| PGA | Quicken Loans National | Marc Leishman E/W | 25/1 | $125.00 | -$125.00 |
| European | BMW International | Thomas Bjorn E/W | 100/1 | $62.50 | -$62.50 |
| European | BMW International | Fabrizio Zanotti E/W | 50/1 | $62.50 | -$62.50 |
| European | BMW International | Pablo Larrazabal E/W | 40/1 | $62.50 | -$62.50 |
| PGA | Barracuda Championship | Brendan Steele E/W | 13/1 | $62.50 | $3.91 |
| PGA | Barracuda Championship | Martin Laird E/W | 20/1 | $62.50 | -$62.50 |
| PGA | Barracuda Championship | Robert Garrigus E/W | 16/1 | $62.50 | -$62.50 |
| WGC | WGC Bridgestone Invitational | Jim Furyk E/W | 30/1 | $125.00 | -$125.00 |
| WGC | WGC Bridgestone Invitational | Justin Rose E/W | 16/1 | $125.00 | -$125.00 |
| European | Open De France | Martin Kaymer E/W | 14/1 | $62.50 | -$15.63 |
| European | Open De France | Robert Dinwiddie E/W | 60/1 | $62.50 | -$62.50 |
| European | Open De France | James Morrison E/W | 100/1 | $62.50 | -$62.50 |
| LPGA | Cambia Portland Classic | Austin Ernst E/W | 45/1 | $62.50 | $320.31 |
| LPGA | Cambia Portland Classic | Candie Kung E/W | 60/1 | $62.50 | -$62.50 |
| European | Scottish Open | Henrik Stenson To Win | 8/1 | $250.00 | -$250.00 |
| European | Scottish Open | Raphael Jacquelin E/W | 100/1 | $62.50 | -$125.00 |
| LPGA | US Women's Open | Stacy Lewis E/W | 14/1 | $125.00 | -$125.00 |
| PGA | The Open Championship | Rickie Fowler E/W | 30/1 | $500.00 | -$500.00 |
| PGA | The Open Championship | Sergio Garcia E/W | 25/1 | $500.00 | $708.33 |
| PGA | The Open Championship | Jordan Spieth To Win | 11/1 | $250.00 | -$250.00 |
| PGA | The Open Championship | Matt Kuchar E/W | 66/1 | $125.00 | -$125.00 |
| PGA | The Open Championship | Adam Scott E/W | 22/1 | $250.00 | -$250.00 |
| PGA | RBC Canadian Open | Jim Furyk E/W | 25/1 | $125.00 | -$125.00 |
| PGA | RBC Canadian Open | Dustin Johnson To Win | 11/2 | $250.00 | -$250.00 |
| PGA | RBC Canadian Open | Sam Saunders E/W | 125/1 | $62.50 | -$62.50 |
| PGA | PGA Championship | Sergio Garcia E/W | 25/1 | $250.00 | -$250.00 |
| PGA | PGA Championship | Jason Day To Win | 9/1 | $125.00 | -$125.00 |
| PGA | PGA Championship | Jordan Spieth E/W | 14/1 | $250.00 | -$250.00 |
| PGA | PGA Championship | Brandt Snedeker E/W | 40/1 | $250.00 | -$250.00 |
| PGA | Travelers Championship | Bubba Watson To Win | 14/1 | $125.00 | -$125.00 |
| PGA | Travelers Championship | Kevin Streelman E/W | 66/1 | $125.00 | -$125.00 |
| PGA | Travelers Championship | Webb Simpson E/W | 40/1 | $125.00 | -$125.00 |
| PGA | Travelers Championship | Ryan Moore E/W | 16/1 | $125.00 | -$125.00 |
| Champions | 3M Championship | Kenny Perry E/W | 16/1 | $62.50 | -$62.50 |
| Champions | 3M Championship | Marco Dawson E/w | 125/1 | $62.50 | -$62.50 |
| PGA | John Deere Classic | Jerry Kelly E/W | 40/1 | $250.00 | -$250.00 |
| PGA | John Deere Classic | Steve Stricker Win | 12/1 | $125.00 | -$125.00 |
| PGA | John Deere Classic | Johnson Wagner E/W | 80/1 | $125.00 | $546.80 |
| PGA | Wyndham Championship | Webb Simpson E/W | 25/1 | $125.00 | -$125.00 |
| PGA | Wyndham Championship | Brandt Snedeker E/W | 25/1 | $62.50 | $140.63 |
| PGA | Wyndham Championship | Bill Haas E/W | 28/1 | $62.50 | -$62.50 |
| PGA | Wyndham Championship | Ryan Moore E/W | 25/1 | $62.50 | -$62.50 |
| PGA | Wyndham Championship | Jerry Kelly E/W | 110/1 | $62.50 | -$62.50 |
| PGA | The Barclays | Brandt Snedeker | 35/1 | $250.00 | -$250.00 |
| PGA | The Barclays | Henrik Stenson Top 5 | 9/4 | $125.00 | Withdrew |
| PGA | The Barclays | Jordan Spieth E/W | 14/1 | $250.00 | -$250.00 |
| European | Made In Denmark | Bradley Dredge E/W | 22/1 | $62.50 | $187.50 |
| European | Made In Denmark | Paul Lawrie E/W | 80/1 | $62.50 | Withdrew |
| European | Made In Denmark | Terry Pilkardaris E/W | 125/1 | $62.50 | -$62.50 |
| European | Made In Denmark | David Horsey E/W | 55/1 | $62.50 | -$62.50 |
| PGA | Deutsche Bank Championship | Steve Stricker E/W | 80/1 | $125.00 | -$125.00 |
| PGA | Deutsche Bank Championship | Jim Furyk E/W | 40/1 | $125.00 | -$125.00 |
| PGA | Deutsche Bank Championship | Matt Kuchar E/W | 50/1 | $62.50 | -$62.50 |
| PGA | Deutsche Bank Championship | Gary Woodland E/W | 70/1 | $62.50 | -$62.50 |
| PGA | Deutsche Bank Championship | Rickie Fowler E/W | 20/1 | $62.50 | -$62.50 |
| PGA | Deutsche Bank Championship | Sean O'Hair E/W | 80/1 | $62.50 | -$62.50 |
| PGA | BMW Championship | Daniel Berger E/W | 50/1 | $125.00 | -$125.00 |
| PGA | BMW Championship | Rory McIlroy Win | 5/1 | $125.00 | -$125.00 |
| PGA | BMW Championship | Luke Donald E/W | 125/1 | $125.00 | -$125.00 |
| PGA | BMW Championship | Adam Scott E/W | 18/1 | $125.00 | $12.50 |
| European | Italian Open | Francesco Molinari Top 20 | 11/10 | $250.00 | $525.00 |
| European | Italian Open | Matthew Fitzpatrick E/W | 16/1 | $250.00 | -$250.00 |
| European | Italian Open | Rikard Karlberg E/W | 66/1 | $62.50 | -$62.50 |
| European | Italian Open | Lucas Bjerregaard E/W | 90/1 | $62.50 | -$62.50 |
| European | Italian Open | Joakim Lagergren E/W | 100/1 | $62.50 | -$62.50 |
| LPGA | Evian Championship | Mi Hyang lee E/W | 40/1 | $62.50 | -$62.50 |
| PGA | Tour Championship | Paul Casey E/W | 16/1 | $500.00 | $750.00 |
| PGA | Tour Championship | Jordan Spieth Win | 9/1 | $500.00 | -$500.00 |
| European | Porsche European Open | Scott Hend E/W | 28/1 | $125.00 | -$125.00 |
| European | Porsche European Open | Rikard Karlberg E/W | 28/1 | $125.00 | -$125.00 |
| European | Porsche European Open | Richard Bland E/W | 28/1 | $125.00 | -$125.00 |
| European | Porsche European Open | Alejando Canizaries E/W | 28/1 | $125.00 | -$125.00 |
| European | Alfred Dunhill Links Championship | Marc Warren E/W | 150/1 | $62.50 | $1,140.63 |
| European | Alfred Dunhill Links Championship | George Coetzee E/W | 175/1 | $62.50 | -$62.50 |
| European | Alfred Dunhill Links Championship | Chris Paisley E/W | 16/1 | $62.50 | -$62.50 |
| European | Alfred Dunhill Links Championship | Scott Jamieson E/W | 175/1 | $62.50 | -$62.50 |
| European | Alfred Dunhill Links Championship | Matthew Southgate E/W | 200/1 | $62.50 | -$62.50 |
| European | British Masters | Tommy Fleetwood E/W | 30/1 | $100.00 | $70.00 |
| European | British Masters | Richard Bland E/W | 35/1 | $100.00 | $95.00 |
| European | British Masters | Renato Paratore E/W | 100/1 | $100.00 | -$100.00 |
| European | British Masters | Soren Kjeldsen E/W | 28/1 | $100.00 | -$100.00 |
| PGA | Safeway Open | Kevin Na E/W | 25/1 | $62.50 | -$62.50 |
| PGA | Safeway Open | Bryce Modler E/W | 125/1 | $62.50 | -$62.50 |
| LPGA | KEB HanaBank Championship | In Gee Chun E/W | 12/1 | $62.50 | -$62.50 |
| LPGA | KEB HanaBank Championship | Amy Yang E/W | 20/1 | $62.50 | -$62.50 |
| Champions | SAS Championship | Kirk Triplett E/W | 66/1 | $62.50 | -$62.50 |
| PGA | CIMB Classic | Kevin Na E/W | 18/1 | $250.00 | -$250.00 |
| PGA | CIMB Classic | Hideki Matsuyama E/W | 11/1 | $250.00 | $468.75 |
| European | Portugal Masters | Stephen Gallacher E/W | 65/1 | $62.50 | -$62.50 |
| WGC | HSBC Champions | Rory McIlroy Top 5 | 1/1 | $500.00 | $500.00 |
| WGC | HSBC Champions | Bernd Wiesberger E/W | 50/1 | $125.00 | -$125.00 |
| WGC | HSBC Champions | Paul Casey E/W | 22/1 | $125.00 | -$125.00 |
| PGA | Shriners Open | Nick Watney E/W | 80/1 | $62.50 | -$62.50 |
| PGA | Shriners Open | Smylie Kaufman E/W | 75/1 | $62.50 | -$62.50 |
| PGA | Shriners Open | Ryo Ishikawa E/W | 66/1 | $62.50 | -$62.50 |
| PGA | Shriners Open | Martin Laird E/W | 35/1 | $62.50 | -$62.50 |
| European | Turkish Airlines Open | Bernd Wiesberger E/W | 12/1 | $62.50 | $62.50 |
| European | Nedbank Golf Challenge | Retief Goosen E/W | 120/1 | $62.50 | -$62.50 |
| European | Nedbank Golf Challenge | Padraig Harrington E/W | 66/1 | $62.50 | -$62.50 |
| European | Nedbank Golf Challenge | Thongchai Jaidee Top 10 | 40/1 | $62.50 | -$62.50 |
| PGA | OHL Classic | Jason Bohn E/W | 80/1 | $62.50 | -$62.50 |
| PGA | OHL Classic | Keegan Bradley E/W | 25/1 | $250.00 | -$250.00 |
| European | DP World Tour Championship | Andy Sullivan E/W | 22/1 | $62.50 | -$62.50 |
| European | DP World Tour Championship | Victor Dubuisson E/W | 40/1 | $62.50 | $75.00 |
| European | DP World Tour Championship | Matthew Fitzpatrick E/W | 60/1 | $62.50 | $2,343.75 |
| European | DP World Tour Championship | Francesco Molinari E/W | 28/1 | $62.50 | $37.50 |
| PGA | RSM Classic | Chad Campbell E/W | 120/1 | $62.50 | -$62.50 |
| PGA | RSM Classic | Charles Howell III E/W | 33/1 | $62.50 | $62.50 |
2017 Stats
| Tour: | Tournament: | Bet: | Odds: | Risk: | Profit/Loss: |
| --- | --- | --- | --- | --- | --- |
| PGA | SBS Tournament of Champions | Jordan Spieth Top 4 Finish | 1/1 | $500.00 | $200.00 |
| PGA | SBS Tournament of Champions | Jason Day To Win | 7/1 | $250.00 | -$250.00 |
| PGA | Sony Open | Jimmy Walker E/W | 20/1 | $250.00 | -$62.50 |
| PGA | Sony Open | Zac Blair E/W | 100/1 | $62.50 | -$62.50 |
| PGA | Sony Open | Charles Howell III E/W | 40/1 | $62.50 | -$62.50 |
| PGA | Sony Open | Hudson Swafford E/W | 80/1 | $62.50 | -$62.50 |
| PGA | Sony Open | Zach Johnson E/W | 40/1 | $62.50 | -$62.50 |
| European | BMW SA Open | Trevor Fisher Jr E/W | 80/1 | $62.50 | $265.63 |
| European | BMW SA Open | Lee Slattery E/W | 100/1 | $62.50 | -$62.50 |
| European | BMW SA Open | Dean Burmester E/W | 66/1 | $62.50 | $484.38 |
| European | BMW SA Open | George Coetzee E/W | 33/1 | $62.50 | -$62.50 |
| PGA | CareerBuilder Challenge | Zach Johnson E/W | 20/1 | $250.00 | -$250.00 |
| PGA | CareerBuilder Challenge | David Lingmerth E/W | 50/1 | $125.00 | -$125.00 |
| PGA | CareerBuilder Challenge | Webb Simpson E/W | 40/1 | $125.00 | -$125.00 |
| PGA | CareerBuilder Challenge | Bill Haas E/W | 20/1 | $125.00 | -$125.00 |
| European | Abu Dhabi HSBC Championship | Byeong-Hun An E/W | 30/1 | $62.50 | -$62.50 |
| PGA | Farmers Insurance Open | Tiger Woods E/W | 30/1 | $125.00 | -$125.00 |
| PGA | Farmers Insurance Open | Brandt Snedeker E/W | 25/1 | $125.00 | -$125.00 |
| PGA | Farmers Insurance Open | Scott Stallings E/W | 66/1 | $62.50 | -$62.50 |
| PGA | Farmers Insurance Open | Jimmy Walker E/W | 28/1 | $125.00 | -$125.00 |
| PGA | Pebble Beach | Jordan Spieth To Win | 8/1 | $125.00 | $1,000.00 |
| PGA | Pebble Beach | Phil Mickelson E/W | 18/1 | $250.00 | -$250.00 |
| PGA | Pebble Beach | Brandt Snedeker E/W | 18/1 | $125.00 | $218.75 |
| PGA | Pebble Beach | J.B. Holmes E/W | 33/1 | $125.00 | -$125.00 |
| PGA | Pebble Beach | Pat Perez E/W | 55/1 | $125.00 | -$125.00 |
| PGA | Pebble Beach | J.J. Spaun E/W | 66/1 | $125.00 | -$125.00 |
| European | Maybank Championship | Thongchai Jaidee E/W | 25/1 | $62.50 | -$62.50 |
| European | Maybank Championship | Prom Meesawat E/W | 80/1 | $62.50 | -$62.50 |
| European | Maybank Championship | Prayad Marksaeng E/W | 100/1 | $62.50 | -$62.50 |
| European | Maybank Championship | K.T. Kim E/W | 50/1 | $62.50 | -$62.50 |
| PGA | Genesis Open | Dustin Johnson To Win | 9/1 | $125.00 | $1,125.00 |
| European | ISPS Handa World Super 6 | Brett Rumford E/W | 50/1 | $125.00 | $3,906.25 |
| European | ISPS Handa World Super 6 | Louis Oosthuizen E/W | 9/1 | $125.00 | -$125.00 |
| European | ISPS Handa World Super 6 | Jake McLeod E/W | 100/1 | $62.50 | -$62.50 |
| European | ISPS Handa World Super 6 | Peter Uihlein E/W | 20/1 | $125.00 | -$125.00 |
| PGA | Honda Classic | Graeme McDowell E/W | 66/1 | $125.00 | -$125.00 |
| PGA | Honda Classic | Russell Knox E/W | 30/1 | $125.00 | -$125.00 |
| PGA | Honda Classic | Adam Scott E/W | 12/1 | $125.00 | -$125.00 |
| PGA | Honda Classic | Justin Thomas E/W | 18/1 | $125.00 | -$125.00 |
| European | Joburg Open | George Coetzee E/W | 16/1 | $125.00 | -$125.00 |
| European | Joburg Open | Thomas Aiken E/W | 20/1 | $125.00 | -$125.00 |
| European | Joburg Open | Anthony Wall E/W | 28/1 | $62.50 | -$62.50 |
| European | Joburg Open | Justin Walters E/W | 66/1 | $62.50 | -$62.50 |
| LPGA | Honda LPGA Thailand | Amy Yang E/W | 18/1 | $125.00 | $1,406.25 |
| LPGA | Honda LPGA Thailand | Jessica Korda E/W | 50/1 | $125.00 | -$125.00 |
| WGC | Mexico Championship | Bubba Watson E/W | 66/1 | $62.50 | -$62.50 |
| WGC | Mexico Championship | Rickie Fowler E/W | 18/1 | $62.50 | -$62.50 |
| WGC | Mexico Championship | Jim Furyk E/W | 100/1 | $62.50 | -$62.50 |
| WGC | Mexico Championship | Tyrell Hatton E/W | 45/1 | $62.50 | -$62.50 |
| European | Tshwane Open | Anthony Michael E/W | 200/1 | $62.50 | -$62.50 |
| European | Tshwane Open | Darren Fichardt E/W | 33/1 | $62.50 | -$62.50 |
| European | Tshwane Open | Dean Burmester E/W | 14/1 | $250.00 | $2,187.50 |
| PGA | Valspar Championship | Graham Delaet E/W | 40/1 | $62.50 | -$62.50 |
| PGA | Valspar Championship | Wesley Bryan E/W | 40/1 | $62.50 | -$62.50 |
| PGA | Valspar Championship | Sean O'Hair E/W | 66/1 | $62.50 | Withdrew |
| PGA | Arnold Palmer Invitational | Brandt Snedeker E/W | 33/1 | $125.00 | -$125.00 |
| PGA | Arnold Palmer Invitational | Rickie Fowler E/W | 18/1 | $125.00 | -$125.00 |
| PGA | Arnold Palmer Invitational | Justin Rose E/W | 20/1 | $125.00 | -$125.00 |
| PGA | Arnold Palmer Invitational | Henrik Stenson To Win | 11/1 | $125.00 | -$125.00 |
| LPGA | Bank of Hope Founders Cup | Sei Young Kim E/W | 25/1 | $125.00 | -$125.00 |
| LPGA | Bank of Hope Founders Cup | Mi Hyang Lee E/W | 160/1 | $62.50 | -$62.50 |
| Champions | Tucson Classic | Marco Dawson E/W | 60/1 | $62.50 | -$62.50 |
| PGA | Houston Open | Cameron Tringale E/W | 150/1 | $125.00 | -$125.00 |
| PGA | Houston Open | Jon Rahm E/W | 14/1 | $125.00 | -$125.00 |
| PGA | Houston Open | Charles Howell III E/W | 50/1 | $125.00 | -$125.00 |
| LPGA | Ana Inspiration | Lexi Thompson E/W | 20/1 | $125.00 | $250.00 |
| LPGA | Ana Inspiration | Charley Hull E/W | 40/1 | $125.00 | -$125.00 |
| Champions | Mississippi Gulf Resort Classic | Scott Dunlap E/W | 60/1 | $62.50 | -$62.50 |
| PGA | Masters | Daniel Berger E/W | 66/1 | $250.00 | -$250.00 |
| PGA | Masters | Jason Day E/W | 18/1 | $125.00 | -$125.00 |
| PGA | Masters | Jordan Spieth Top 5 Finish | 3/1 | $500.00 | -$500.00 |
| PGA | Masters | Tyrell Hatton E/W | 50/1 | $125.00 | -$125.00 |
| PGA | Masters | Bill Haas Top 20 | 6/1 | $500.00 | -$500.00 |
| PGA | Masters | Justin Rose E/W | 22/1 | $125.00 | $212.50 |
| PGA | RBC Heritage | Jim Furyk E/W | 33/1 | $125.00 | -$125.00 |
| PGA | RBC Heritage | Branden Grace E/W | 25/1 | $250.00 | -$250.00 |
| PGA | RBC Heritage | Luke Donald E/W | 33/1 | $250.00 | $906.25 |
| PGA | RBC Heritage | William McGirt E/W | 50/1 | $125.00 | $718.75 |
| European | Trophee Hassan II | Robert Rock E/W | 100/1 | $62.50 | -$62.50 |
| European | Trophee Hassan II | Nacho Elvira E/W | 60/1 | $62.50 | -$62.50 |
| European | Trophee Hassan II | Chris Hanson E/W | 60/1 | $62.50 | -$62.50 |
| PGA | Valero Texas Open | J.J. Spaun E/W | 50/1 | $62.50 | -$62.50 |
| PGA | Valero Texas Open | Ollie Schneiderjans E/W | 33/1 | $62.50 | -$62.50 |
| PGA | Valero Texas Open | Charley Hoffman E/W | 20/1 | $125.00 | -$125.00 |
| PGA | Valero Texas Open | Zach Johnson E/W | 40/1 | $62.50 | -$62.50 |
| PGA | Valero Texas Open | Ryan Palmer E/W | 40/1 | $62.50 | -$62.50 |
| PGA | Valero Texas Open | Daniel Summerhays E/W | 75/1 | $62.50 | -$62.50 |
| Champions | Legends of Gold | Andrade/Durant E/W | 4/1 | $125.00 | -$125.00 |
| European | Volvo China Open | David Lipsky E/W | 28/1 | $62.50 | -$62.50 |
| European | Volvo China Open | Peter Hanson E/W | 40/1 | $62.50 | Withdrew |
| LPGA | LPGA Texas Shootout | Lexi Thompson Win | 12/1 | $250.00 | -$250.00 |
| LPGA | LPGA Texas Shootout | Cristie Kerr E/W | 25/1 | $250.00 | $656.25 |
| PGA | Wells Fargo Championship | Cameron Smith E/W | 50/1 | $125.00 | Withdrew |
| PGA | Wells Fargo Championship | Brian Gay E/W | 80/1 | $125.00 | -$125.00 |
| PGA | Wells Fargo Championship | Kevin Tway E/W | 70/1 | $125.00 | $260.42 |
| Champions | Insperity Invitational | Jeff Maggert E/W | 50/1 | $125.00 | -$125.00 |
| Web.com | Corales Puntacana Championship | Austin Cook E/W | 40/1 | $32.00 | -$32.00 |
| Web.com | Corales Puntacana Championship | Roberto Diaz E/W | 50/1 | $32.00 | -$32.00 |
| PGA | Players Championship | Justin Thomas E/W | 28/1 | $250.00 | -$250.00 |
| PGA | Players Championship | Francesco Molinari E/W | 55/1 | $125.00 | $105.47 |
| PGA | Players Championship | Jordan Spieth E/W | 12/1 | $250.00 | -$250.00 |
| PGA | Players Championship | Ben Crane E/W | 400/1 | $62.50 | -$62.50 |
| PGA | Players Championship | Adam Scott E/W | 40/1 | $125.00 | $46.88 |
| PGA | AT&T Byron Nelson | Jonathan Randolph E/W | 150/1 | $62.50 | -$62.50 |
| PGA | AT&T Byron Nelson | Bud Cauley E/W | 40/1 | $62.50 | $23.44 |
| PGA | The Memorial | Keegan Bradley E/W | 80/1 | $125.00 | -$125.00 |
| PGA | The Memorial | Matt Kuchar E/W | 28/1 | $250.00 | $750.00 |
| PGA | The Memorial | Stewart Cink E/W | 125/1 | $125.00 | -$125.00 |
| PGA | The Memorial | Tony Finau E/W | 40/1 | $125.00 | -$125.00 |
| European | Nordea Masters | Nicolas Colsaerts E/W | 50/1 | $125.00 | -$125.00 |
| LPGA | Shoprite LPGA Classic | Anna Nordqvist E/W | 18/1 | $250.00 | $437.50 |
| Web.com | Rex Hospital Open | Miguel Angel Carballo E/W | 66/1 | $62.50 | -$62.50 |
| PGA | Fedex St Jude Classic | Phil Mickelson E/W | 16/1 | $250.00 | -$250.00 |
| PGA | Fedex St Jude Classic | Brian Gay E/W | 66/1 | $125.00 | -$125.00 |
| European | Lyoness Open | Gregory Bourdy E/W | 20/1 | $125.00 | Withdrew |
| European | Lyoness Open | Gary Stal E/W | 125/1 | $62.50 | -$62.50 |
| Champions | Principal Charity Classic | Billy Andrade E/W | 20/1 | $125.00 | -$62.50 |
| PGA | US Open | Rickie Fowler E/W | 20/1 | $250.00 | $291.67 |
| PGA | US Open | Jason Day E/W | 12/1 | $250.00 | -$250.00 |
| PGA | US Open | Brendan Steele E/W | 150/1 | $62.50 | -$62.50 |
| PGA | US Open | Paul Casey E/W | 40/1 | $125.00 | -$125.00 |
| PGA | US Open | Charl Schwartzel E/W | 50/1 | $125.00 | -$125.00 |
| PGA | US Open | George Coetzee E/W | 250/1 | $62.50 | -$62.50 |
| PGA | Travelers Championship | Bubba Watson E/W | 33/1 | $500.00 | -$500.00 |
| PGA | Travelers Championship | Brandt Snedeker E/W | 28/1 | $250.00 | -$250.00 |
| PGA | Travelers Championship | Graham Delaet E/W | 50/1 | $125.00 | -$125.00 |
| European | BMW International Open | Pablo Larrazabl E/W | 25/1 | $250.00 | -$250.00 |
| PGA | Greenbrier Classic | Webb Simpson E/W | 20/1 | $125.00 | -$125.00 |
| PGA | Greenbrier Classic | Danny Lee E/W | 20/1 | $125.00 | -$125.00 |
| PGA | Greenbrier Classic | Ted Potter Jr. E/W | 125/1 | $125.00 | -$125.00 |
| PGA | Greenbrier Classic | Smylie Kaufman E/W | 110/1 | $31.25 | -$31.25 |
| PGA | Greenbrier Classic | Scott Brown E/W | 140/1 | $31.25 | -$31.25 |
| PGA | Greenbrier Classic | Spencer Levin E/W | 140/1 | $31.25 | -$31.25 |
| PGA | Greenbrier Classic | Johnson Wagner E/W | 90/1 | $31.25 | -$31.25 |
| European | Irish Open | Hideki Matsuyama Win | 8/1 | $250.00 | -$250.00 |
| European | Irish Open | Tommy Fleetwood E/W | 12/1 | $250.00 | -$250.00 |
| European | Irish Open | Dean Burmester E/W | 125/1 | $125.00 | -$125.00 |
| European | Irish Open | Jon Rahm E/W | 14/1 | $125.00 | $1,093.75 |
| European | Irish Open | David Lipsky E/W | 100/1 | $62.50 | -$62.50 |
| European | Irish Open | Brandon Stone E/W | 80/1 | $62.50 | -$62.50 |
| PGA | John Deere Classic | Johnson Wagner E/W | 66/1 | $125.00 | -$125.00 |
| PGA | John Deere Classic | Danny Lee E/W | 16/1 | $125.00 | Withdrew |
| European | Scottish Open | Bernd Wiesberger E/W | 28/1 | $125.00 | -$125.00 |
| European | Scottish Open | Peter Hanson E/W | 125/1 | $62.50 | -$62.50 |
| European | Scottish Open | Ryan Fox E/W | 80/1 | $125.00 | $400.00 |
| European | Scottish Open | Lucas Bjerregaard E/W | 250/1 | $62.50 | -$62.50 |
| European | Scottish Open | Peter Uihlein E/W | 33/1 | $125.00 | -$125.00 |
| European | Scottish Open | Scott Jamieson E/W | 150/1 | $62.50 | -$62.50 |
| European | Scottish Open | Rikard Karlberg E/W | 150/1 | $62.50 | -$62.50 |
| PGA | The Open | Matt Kuchar E/W | 50/1 | $1,000.00 | $4,500.00 |
| PGA | The Open | Rickie Fowler E/W | 18/1 | $500.00 | -$500.00 |
| PGA | The Open | Tommy Fleetwood E/W | 20/1 | $250.00 | -$250.00 |
| PGA | The Open | Padraig Harrington E/W | 100/1 | $125.00 | -$125.00 |
| PGA | The Open | Steve Stricker E/W | 150/1 | $125.00 | -$125.00 |
| PGA | RBC Canadian Open | Matt Kuchar Win | 11/1 | $250.00 | -$250.00 |
| PGA | RBC Canadian Open | Ricky Barnes E/W | 75/1 | $125.00 | -$125.00 |
| PGA | RBC Canadian Open | Jarrod Du Toit E/W | 250/1 | $62.50 | -$62.50 |
| European | European Open | Trevor Fisher Jr E/W | 100/1 | $62.50 | -$62.50 |
| European | European Open | Scott Jamieson E/W | 70/1 | $62.50 | -$62.50 |
| European | European Open | Danthai Boonma E/W | 200/1 | $62.50 | -$62.50 |
| European | European Open | Peter Hanson E/W | 50/1 | $62.50 | -$62.50 |
| European | European Open | Benjamin Hebert E/W | 55/1 | $62.50 | -$62.50 |
| WGC | Bridgestone Invitational | Ricke Fowler E/W | 14/1 | $125.00 | -$125.00 |
| WGC | Bridgestone Invitational | Rory McIlroy Win | 9/1 | $500.00 | -$500.00 |
| WGC | Bridgestone Invitational | Kevin Chappell E/W | 66/1 | $125.00 | -$125.00 |
| WGC | Bridgestone Invitational | Charl Schwartzel E/W | 55/1 | $125.00 | -$125.00 |
| PGA | Barracuda Championship | J.J. Henry E/W | 40/1 | $62.50 | -$62.50 |
| PGA | Barracuda Championship | Andres Gonzales E/W | 80/1 | $62.50 | -$62.50 |
| PGA | PGA Championship | Hideki Matsuyama E/W | 18/1 | $250.00 | -$250.00 |
| PGA | PGA Championship | Rickie Fowler E/W | 18/1 | $250.00 | $450.00 |
| PGA | PGA Championship | Phil Mickelson E/W | 50/1 | $125.00 | -$125.00 |
| PGA | Wyndham Championship | Webb Simpson E/W | 25/1 | $125.00 | $328.13 |
| PGA | Wyndham Championship | Bill Haas E/W | 22/1 | $125.00 | -$125.00 |
| PGA | Wyndham Championship | Johnson Wagner E/W | 150/1 | $62.50 | -$62.50 |
| PGA | Wyndham Championship | Ryan Moore E/W | 22/1 | $125.00 | -$125.00 |
| PGA | Dell Technologies Championship | Luke List E/W | 250/1 | $62.50 | -$62.50 |
| PGA | Dell Technologies Championship | Jason Day E/W | 14/1 | $125.00 | -$125.00 |
| PGA | Dell Technologies Championship | Charley Hoffman E/W | 40/1 | $125.00 | -$125.00 |
| PGA | Dell Technologies Championship | Patrick Reed E/W | 28/1 | $125.00 | -$125.00 |
| PGA | Dell Technologies Championship | Matt Kuchar E/W | 33/1 | $125.00 | -$125.00 |
| European | Czech Masters | Stephen Gallacher E/W | 66/1 | $62.50 | -$62.50 |
| LPGA | Cambia Portland Classic | Brooke Henderson To Win | 14/1 | $62.50 | -$62.50 |
| LPGA | Cambia Portland Classic | Austin Ernst E/W | 33/1 | $62.50 | -$62.50 |
| PGA | BMW Championship | Jason Day E/W | 18/1 | $250.00 | $437.50 |
| PGA | BMW Championship | Kevin Na E/W | 70/1 | $62.50 | -$62.50 |
| European | KLM Championship | Fabrizio Zanotti E/W | 33/1 | $125.00 | -$125.00 |
| European | KLM Championship | David Horsey E/W | 25/1 | $125.00 | -$125.00 |
| LPGA | Evian Championship | Shanshan Feng Win | 11/1 | $125.00 | -$125.00 |
| PGA | Tour Championship | Juston Rose E/W | 12/1 | $375.00 | -$375.00 |
| PGA | Tour Championship | Jordan Spieth To Win | 5/1 | $250.00 | -$250.00 |
| PGA | Tour Championship | Webb Simpson E/W | 40/1 | $125.00 | -$125.00 |
| European | Portugal Masters | Mikko Korhonen E/W | 66/1 | $62.50 | -$62.50 |
| European | Portugal Masters | Robert Rock E/W | 55/1 | $62.50 | -$62.50 |
| PGA | Safeway Open | Kevin Na E/W | 25/1 | $62.50 | -$62.50 |
| PGA | Safeway Open | Ryan Moore E/W | 25/1 | $62.50 | -$62.50 |
| European | Links Championship | Tommy Fleetwood E/W | 22/1 | $62.50 | -$62.50 |
| European | Links Championship | Richard Sterne E/W | 50/1 | $62.50 | -$62.50 |
| PGA | CIMB Classic | Scott Piercy E/W | 40/1 | $250.00 | -$250.00 |
| PGA | CIMB Classic | Kevin Na E/W | 33/1 | $125.00 | -$125.00 |
| PGA | CIMB Classic | Gary Woodland E/W | 28/1 | $125.00 | -$125.00 |
| European | Italian Open | Francesco Molinari E/W | 14/1 | $125.00 | -$125.00 |
| European | Italian Open | Robert Rock E/W | 125/1 | $62.50 | -$62.50 |
| WGC | HSBC Champions | Phil Mickelson E/W | 28/1 | $125.00 | -$125.00 |
| WGC | HSBC Champions | Ross Fisher E/W | 28/1 | $125.00 | -$125.00 |
2018 Stats
| Tour: | Tournament: | Bet: | Odds: | Risk: | Profit/Loss: |
| --- | --- | --- | --- | --- | --- |
| PGA | Sony Open | Si Woo Kim E/W | 60/1 | $125.00 | -$125.00 |
| PGA | Sony Open | Jordan Spieth Win | 5/1 | $250.00 | -$250.00 |
| PGA | Sony Open | Brian Harman E/W | 18/1 | $125.00 | $104.17 |
| PGA | Sony Open | Marc Leishman E/W | 16/1 | $125.00 | -$125.00 |
| PGA | CareerBuilder Challenge | Brian Harman E/W | 14/1 | $125.00 | -$125.00 |
| PGA | CareerBuilder Challenge | Adam Hadwin E/W | 60/1 | $125.00 | $875.00 |
| PGA | CareerBuilder Challenge | Phil Mickelson E/W | 20/1 | $125.00 | -$125.00 |
| PGA | CareerBuilder Challenge | Chris Kirk E/W | 50/1 | $125.00 | -$125.00 |
| PGA | CareerBuilder Challenge | Jhonnattan Vegas E/W | 66/1 | $62.50 | -$62.50 |
| PGA | Farmers Insurance Open | Jon Rahm To Win | 7/1 | $250.00 | -$250.00 |
| PGA | Farmers Insurance Open | Nick Watney E/W | 150/1 | $62.50 | -$62.50 |
| PGA | Farmers Insurance Open | Brian Harman E/W | 30/1 | $62.50 | -$62.50 |
| PGA | Farmers Insurance Open | Adam Hadwin E/W | 60/1 | $62.50 | -$62.50 |
| PGA | Farmers Insurance Open | Ollie Schniederjans E/W | 40/1 | $62.50 | -$62.50 |
| European | Dubai Desert Classic | Henrik Stenson E/W | 10/1 | $125.00 | -$125.00 |
| European | Dubai Desert Classic | Sean Crocker E/W | 200/1 | $62.50 | -$62.50 |
| European | Dubai Desert Classic | Nicolas Colsaerts E/W | 125/1 | $62.50 | -$62.50 |
| LPGA | Pure Silk-Bahamas LPGA Classic | Stacy Lewis E/W | 14/1 | $250.00 | -$250.00 |
| LPGA | Pure Silk-Bahamas LPGA Classic | Brittany Lincicome E/W | 28/1 | $250.00 | $4,375.00 |
| PGA | Phoenix Open | Hideki Matsuyama E/W | 8/1 | $250.00 | Withdrew |
| PGA | Phoenix Open | Daniel Berger E/W | 40/1 | $125.00 | -$125.00 |
| PGA | Phoenix Open | Matt Kuchar E/W | 50/1 | $250.00 | $171.88 |
| PGA | Phoenix Open | Webb Simpson E/W | 33/1 | $125.00 | -$125.00 |
| European | Maybank Championship | Alexander Levy E/W | 14/1 | $250.00 | -$250.00 |
| European | Maybank Championship | David Lipsky E/W | 66/1 | $125.00 | -$125.00 |
| PGA | Pebble Beach | Jordan Spieth Win | 11/1 | $250.00 | -$250.00 |
| PGA | Pebble Beach | Gary Woodland E/W | 25/1 | $125.00 | -$125.00 |
| PGA | Pebble Beach | Chesson Hadley E/W | 45/1 | $125.00 | -$125.00 |
| PGA | Pebble Beach | Phil Mickelson E/W | 28/1 | $125.00 | $375.00 |
| European | World Super 6 | Jason Scrivener E/W | 25/1 | $62.50 | -$62.50 |
| European | World Super 6 | Wade Ormsby E/W | 40/1 | $62.50 | -$62.50 |
| European | World Super 6 | Sean Crocker E/W | 50/1 | $62.50 | -$62.50 |
| European | World Super 6 | Adrien Saddier E/W | 100/1 | $62.50 | -$62.50 |
| European | World Super 6 | Brett Rumford E/W | 33/1 | $62.50 | -$62.50 |
| Champions | Boca Raton Championship | Esteban Toledo E/W | 100/1 | $62.50 | -$62.50 |
| Champions | Boca Raton Championship | David Toms Win | 8/1 | $62.50 | -$62.50 |
| Champions | Boca Raton Championship | Scott McCarron Win | 9/1 | $62.50 | -$62.50 |
| PGA | Genesis Open | Dustin Johnson Win | 5/1 | $125.00 | -$125.00 |
| PGA | Genesis Open | Phil Mickelson E/W | 22/1 | $125.00 | -$125.00 |
| PGA | Genesis Open | Tommy Fleetwood E/W | 28/1 | $125.00 | -$125.00 |
| PGA | Genesis Open | Thomas Pieters E/W | 45/1 | $125.00 | -$125.00 |
| PGA | Genesis Open | Sangmoon Bae E/W | 125/1 | $125.00 | -$125.00 |
| European | NBO Oman Open | Ryan Evans E/W | 100/1 | $62.50 | -$62.50 |
| European | NBO Oman Open | Thomas Aiken E/W | 80/1 | $62.50 | -$62.50 |
| European | NBO Oman Open | Michael Lorenzo-Vera E/W | 50/1 | $125.00 | -$125.00 |
| European | NBO Oman Open | Joost Luiten E/W | 22/1 | $125.00 | $1,718.75 |
| Champions | Chubb Classic | Jesper Parnevik E/W | 70/1 | $62.50 | -$62.50 |
| LPGA | LPGA Australian Open | Ha Na Jang E/W | 33/1 | $125.00 | -$125.00 |
| LPGA | LPGA Australian Open | Hannah Green E/W | 40/1 | $125.00 | $562.50 |
| LPGA | LPGA Australian Open | Brooke Henderson E/W | 16/1 | $125.00 | -$125.00 |
| PGA | Honda Classic | Luke Donald E/W | 150/1 | $62.50 | -$62.50 |
| PGA | Honda Classic | Scott Stallings E/W | 60/1 | $62.50 | -$62.50 |
| European | Qatar Masters | David Horsey E/W | 66/1 | $125.00 | -$125.00 |
| European | Qatar Masters | Eddie Pepperill E/W | 66/1 | $125.00 | $5,156.25 |
| European | Qatar Masters | Charlie Ford E/W | 150/1 | $62.50 | -$215.00 |
| European | Qatar Masters | Jinho Choi E/W | 250/1 | $62.50 | -$125.00 |
| European | Qatar Masters | Sean Crocker E/W | 66/1 | $125.00 | -$125.00 |
| LPGA | LPGA Thailand | Amy Yang E/W | 16/1 | $125.00 | -$125.00 |
| LPGA | LPGA Thailand | Sei Young Kim E/W | 25/1 | $125.00 | -$125.00 |
| WGC | WGC Mexico | Pat Perez E/W | 80/1 | $62.50 | -$62.50 |
| WGC | WGC Mexico | Webb Simpson E/W | 50/1 | $62.50 | -$62.50 |
| WGC | WGC Mexico | Phil Mickelson E/W | 22/1 | $125.00 | $1,562.50 |
| European | Tshwane Open | Thomas Aiken E/W | 50/1 | $62.50 | -$62.50 |
| European | Tshwane Open | Adilson Da Silva E/W | 150/1 | $62.50 | -$62.50 |
| European | Tshwane Open | Scott Jamieson E/W | 50/1 | $62.50 | -$62.50 |
| European | Tshwane Open | Ryan Evans E/W | 125/1 | $62.50 | -$62.50 |
| European | Tshwane Open | Justin Harding E/W | 66/1 | $62.50 | -$62.50 |
| LPGA | HSBC Womens Championship | Inbee Park Win | 14/1 | $125.00 | -$125.00 |
| LPGA | HSBC Womens Championship | Sung Hyun Park Win | 12/1 | $125.00 | -$125.00 |
| LPGA | HSBC Womens Championship | Michelle Wie E/W | 35/1 | $125.00 | $2,734.38 |
| LPGA | HSBC Womens Championship | Brooke Henderson E/W | 25/1 | $125.00 | $328.13 |
| PGA | Valspar Championship | Henrik Stenson E/W | 20/1 | $125.00 | -$125.00 |
| PGA | Valspar Championship | Webb Simpson E/W | 40/1 | $125.00 | -$125.00 |
| PGA | Valspar Championship | Chesson Hadley E/W | 90/1 | $125.00 | -$125.00 |
| PGA | Valspar Championship | Tiger Woods E/W | 25/1 | $250.00 | $656.25 |
| PGA | Arnold Palmer Invitational | Tiger Woods To Win | 8/1 | $250.00 | -$250.00 |
| PGA | Arnold Palmer Invitational | Tyrell Hatton E/W | 25/1 | $125.00 | -$125.00 |
| PGA | Arnold Palmer Invitational | Jason Day E/W | 12/1 | $250.00 | -$250.00 |
| PGA | Arnold Palmer Invitational | Justin Rose E/W | 14/1 | $250.00 | $437.50 |
| LPGA | Bank of Hope Founders Cup | Lydia Ko E/W | 14/1 | $250.00 | -$250.00 |
| LPGA | Bank of Hope Founders Cup | Sei Young Kim E/W | 30/1 | $250.00 | -$250.00 |
| PGA | The Masters | Henrik Stenson E/W | 40/1 | $500.00 | $1,750.00 |
| PGA | The Masters | Matt Kuchar E/W | 40/1 | $500.00 | -$500.00 |
| PGA | The Masters | Jordan Spieth Win | 10/1 | $500.00 | -$500.00 |
| PGA | The Masters | Paul Casey E/W | 22/1 | $500.00 | -$500.00 |
| PGA | The Masters | Tyrell Hatton E/W | 66/1 | $250.00 | -$250.00 |
| PGA | RBC Heritage | Brian Harman E/W | 33/1 | $250.00 | -$250.00 |
| PGA | RBC Heritage | Matt Kuchar E/W | 16/1 | $125.00 | -$125.00 |
| PGA | RBC Heritage | Cameron Smith E/W | 28/1 | $125.00 | -$125.00 |
| PGA | RBC Heritage | Emilaino Grillo E/W | 40/ | $125.00 | -$125.00 |
| European | Espana De Open | Jon Rahm To Win | 4/1 | $125.00 | $500.00 |
| PGA | Valero Texas Open | Ryan Palmer E/W | 50/1 | $125.00 | -$125.00 |
| PGA | Valero Texas Open | Luke List E/W | 22/1 | $125.00 | -$125.00 |
| PGA | Valero Texas Open | Jason Kokrak E/W | 66/1 | $125.00 | -$125.00 |
| European | Trophee Hassan II | Renato Paratore E/W | 66/1 | $125.00 | -$125.00 |
| European | Trophee Hassan II | Paul Dunne E/W | 12/1 | $125.00 | -$125.00 |
| European | Trophee Hassan II | Nacho Elvira E/W | 50/1 | $125.00 | -$125.00 |
| European | Volvo China Open | Alexander Levy Win | 9/1 | $125.00 | -$125.00 |
| European | Volvo China Open | Sihwan Kim E/W | 150/1 | $62.50 | -$62.50 |
| European | Volvo China Open | Mikko Ilonen E/W | 70/1 | $62.50 | -$62.50 |
| European | Volvo China Open | Sengsu Han E/W | 28/1 | $125.00 | -$125.00 |
| PGA | Wells Fargo Championship | Kevin Streelman E/W | 70/1 | $125.00 | -$125.00 |
| PGA | Wells Fargo Championship | Brian Harman E/W | 55/1 | $125.00 | -$125.00 |
| PGA | Wells Fargo Championship | Webb Simpson E/W | 33/1 | $125.00 | -$125.00 |
| PGA | Wells Fargo Championship | Rickie Fowler Win | 10/1 | $125.00 | -$125.00 |
| PGA | Wells Fargo Championship | Tony Finau E/W | 45/1 | $125.00 | -$125.00 |
| PGA | Players Championship | Jordan Spieth E/W | 14/1 | $250.00 | -$250.00 |
| PGA | Players Championship | Francesco Molinari E/W | 66/1 | $125.00 | -$125.00 |
| PGA | Players Championship | Bryson DeChambeau E/W | 50/1 | $125.00 | -$125.00 |
| PGA | Players Championship | Henrik Stenson E/W | 28/1 | $250.00 | -$250.00 |
| PGA | Byron Nelson | Jimmy Walker E/W | 20/1 | $125.00 | -$125.00 |
| PGA | Byron Nelson | Matt Kuchar E/W | 12/1 | $125.00 | -$125.00 |
| PGA | Byron Nelson | Sergio Garcia E/W | 14/1 | $125.00 | -$125.00 |
| PGA | Byron Nelson | Peter Uihlein E/W | 55/1 | $125.00 | -$125.00 |
| PGA | Byron Nelson | Scott Piercy E/W | 50/1 | $125.00 | -$125.00 |
| LPGA | Kingsmill Championship | In Gee Chun E/W | 14/1 | $500.00 | $625.00 |
| LPGA | Kingsmill Championship | Lexi Thompson Win | 10/1 | $125.00 | -$125.00 |
| LPGA | Kingsmill Championship | So Yeon Ryu Win | 10/1 | $125.00 | -$125.00 |
| PGA | Fort Worth Invitational | Webb Simpson E/W | 18/1 | $125.00 | -$125.00 |
| PGA | Fort Worth Invitational | Jason Dufner E/W | 33/1 | $125.00 | -$125.00 |
| PGA | Fort Worth Invitational | Danny Lee E/W | 70/1 | $125.00 | -$125.00 |
| PGA | Fort Worth Invitational | Steve Stricker E/W | 66/1 | $125.00 | -$215.00 |
| European | BMW PGA Championship | Chris Paisley E/W | 80/1 | $62.50 | -$62.50 |
| European | BMW PGA Championship | Paul Dunne E/W | 33/1 | $62.50 | -$62.50 |
| European | BMW PGA Championship | Matthew Fitzpatrick E/W | 28/1 | $62.50 | -$62.50 |
| European | BMW PGA Championship | Dean Burmester E/W | 140/1 | $62.50 | -$62.50 |
| LPGA | LPGA Volvik Championship | Jessica Korda To Win | 11/1 | $125.00 | -$125.00 |
| LPGA | LPGA Volvik Championship | Lindy Duncan E/W | 80/1 | $250.00 | $2,375.00 |
| Champions | Senior PGA Championship | Kenny Perry E/W | 25/1 | $125.00 | -$125.00 |
| PGA | The Memorial | Kevin Na E/W | 66/1 | $250.00 | -$250.00 |
| PGA | The Memorial | Emiliano Grillo E/W | 45/1 | $125.00 | -$125.00 |
| PGA | The Memorial | Branden Grace E/W | 45/1 | $125.00 | -$125.00 |
| PGA | The Memorial | Matt Kuchar E/W | 45/1 | $125.00 | -$125.00 |
| PGA | The Memorial | Henrik Stenson E/W | 28/1 | $125.00 | -$125.00 |
| European | Italian Open | Matthew Fitzpatrick E/W | 16/1 | $250.00 | -$250.00 |
| European | Italian Open | Andy Sullivan E/W | 30/1 | $250.00 | $104.17 |
| European | Italian Open | Dean Burmester E/W | 100/1 | $125.00 | -$125.00 |
| European | Italian Open | Jeff Winther E/W | 150/1 | $62.50 | -$62.50 |
| European | Italian Open | Michael Lorenzo-Vera E/W | 8-/1 | $62.50 | -$62.50 |
| LPGA | US Women's Open | Brooke Henderson E/W | 14/1 | $125.00 | Withdrew |
| PGA | Fed Ex St Jude Classic | Henrik Stenson Win | 14/1 | $125.00 | -$125.00 |
| PGA | Fed Ex St Jude Classic | Phil Mickelson Win | 14/1 | $125.00 | -$125.00 |
| PGA | Fed Ex St Jude Classic | Keith Mitchell E/W | 80/1 | $125.00 | -$125.00 |
| PGA | Fed Ex St Jude Classic | An Byeong-Hun E/W | 28/1 | $125.00 | -$125.00 |
| European | Shot Clock Masters | Miguel Angel Jimenez E/W | 20/1 | $250.00 | -$250.00 |
| European | Shot Clock Masters | Sepp Straka E/W | 80/1 | $62.50 | -$62.50 |
| European | Shot Clock Masters | Lorenzo Gagli E/W | 28/1 | $125.00 | -$125.00 |
| European | Shot Clock Masters | Mikko Korhonen E/W | 20/1 | $250.00 | $3,125.00 |
| PGA | US Open | Rickie Fowler E/W | 18/1 | $500.00 | -$500.00 |
| PGA | US Open | Rory McIlroy Win | 11/1 | $125.00 | -$125.00 |
| PGA | US Open | Tony Finau E/W | 70/1 | $250.00 | $1,625.00 |
| PGA | US Open | Brandt Snedeker E/W | 150/1 | $125.00 | -$125.00 |
| PGA | US Open | Francesco Molinari E/W | 45/1 | $125.00 | -$125.00 |
| PGA | US Open | Trey Mullinax E/W | 250/1 | $125.00 | -$125.00 |
| PGA | US Open | Bryson DeChambeau E/W | 40/1 | $125.00 | -$125.00 |
| PGA | Travelers Championship | Chesson Hadley E/W | 80/1 | $125.00 | -$125.00 |
| PGA | Travelers Championship | Bubba Watson E/W | 28/1 | $500.00 | $8,750.00 |
| PGA | Travelers Championship | Brian Harman E/W | 66/1 | $125.00 | -$125.00 |
| PGA | Travelers Championship | Webb Simpson E/W | 25/1 | $125.00 | -$125.00 |
| European | BMW International Championship | David Horsey E/W | 66/1 | $62.50 | -$62.50 |
| European | BMW International Championship | Peter Hanson E/W | 100/1 | $62.50 | -$62.50 |
| LPGA | NW Arkansas Championship | Minjee Lee To Win | 16/1 | $125.00 | -$125.00 |
| LPGA | NW Arkansas Championship | Lydia Ko E/W | 18/1 | $250.00 | -$250.00 |
| LPGA | NW Arkansas Championship | Stacy Lewis E/W | 100/1 | $62.50 | -$62.50 |
| LPGA | NW Arkansas Championship | Angela Stanford E/W | 70/1 | $62.50 | -$62.50 |
| PGA | Quicken Loans National | Kyle Stanley E/W | 22/1 | $125.00 | -$125.00 |
| PGA | Quicken Loans National | Kevin Streelman E/W | 45/1 | $125.00 | -$125.00 |
| PGA | Quicken Loans National | Byeong Hun An E/W | 30/1 | $125.00 | -$125.00 |
| PGA | Quicken Loans National | Charles Howell III E/W | 28/1 | $125.00 | -$125.00 |
| European | Open De France | Lee Westwood E/W | 40/1 | $62.50 | -$62.50 |
| European | Open De France | Jeunghun Wang E/W | 125/1 | $62.50 | -$62.50 |
| European | Open De France | Adrian Otaegui E/W | 75/1 | $62.50 | -$62.50 |
| European | Open De France | Alexander Levy E/W | 66/1 | $62.50 | -$62.50 |
| LPGA | Women's LPGA Championship | Brooke Henderson E/W | 33/1 | $125.00 | -$125.00 |
| LPGA | Women's LPGA Championship | Sandra Gal E/W | 66/1 | $125.00 | -$125.00 |
| PGA | Greenbrier Classic | Joaquin Neimann E/W | 25/1 | $62.50 | -$17.33 |
| PGA | Greenbrier Classic | Andrew Putnam E/W | 50/1 | $62.50 | -$62.50 |
| PGA | Greenbrier Classic | Ryan Blaum E/W | 66/1 | $62.50 | -$62.50 |
| PGA | John Deere Classic | Wesly Bryan E/W | 40/1 | $62.50 | -$62.50 |
| PGA | John Deere Classic | Cameron Percy E/W | 140/1 | $62.50 | -$62.50 |
| PGA | John Deere Classic | JJ Henry E/W | 250/1 | $62.50 | -$62.50 |
| PGA | John Deere Classic | Keith Mitchell E/W | 70/1 | $62.50 | -$62.50 |
| PGA | John Deere Classic | Aaron Wise E/W | 60/1 | $62.50 | -$62.50 |
| European | Scottish Open | Chris Paisley E/W | 150/1 | $62.50 | -$62.50 |
| European | Scottish Open | Russell Knox E/W | 20/1 | $62.50 | -$62.50 |
| European | Scottish Open | Raphael Jacquelin E/W | 150/1 | $62.50 | -$62.50 |
| PGA | The Open Championship | Tiger Woods E/W | 25/1 | $250.00 | $500.00 |
| PGA | The Open Championship | Dustin Johnson E/W | 12/1 | $500.00 | -$500.00 |
| PGA | The Open Championship | Justin Rose E/W | 16/1 | $500.00 | $550.00 |
| PGA | The Open Championship | Sergio Garcia E/W | 28/1 | $250.00 | -$250.00 |
| PGA | The Open Championship | Jason Day E/W | 33/1 | $250.00 | -$250.00 |
| PGA | The Open Championship | Emiliano Grillo E/W | 175/1 | $125.00 | -$125.00 |
| PGA | The Open Championship | Ryan Moore E/W | 160/1 | $125.00 | -$125.00 |
| PGA | The Open Championship | Francesco Molinari E/W | 30/1 | $250.00 | $4,500.00 |
| PGA | The Open Championship | Tommy Fleetwood E/W | 22/1 | $250.00 | -$250.00 |
| PGA | The Open Championship | Henrik Stenson E/W | 30/1 | $250.00 | -$250.00 |
| PGA | The Open Championship | Bradley Schnell E/W | 1000/1 | $62.50 | -$62.50 |
| PGA | Canadian Open | Dustin Johnson To Win | 13/2 | $250.00 | $1,625.00 |
| PGA | Canadian Open | Jhonattan Vegas E/W | 66/1 | $62.50 | -$62.50 |
| PGA | Canadian Open | Bubba Watson E/W | 22/1 | $125.00 | -$125.00 |
| PGA | Canadian Open | Charley Hoffman E/W | 25/1 | $250.00 | -$250.00 |
| PGA | Canadian Open | Keith Mitchell E/W | 75/1 | $62.50 | -$62.50 |
| PGA | Canadian Open | Tom Lovelady E/W | 66/1 | $62.50 | -$62.50 |
| PGA | Canadian Open | Tony Finau To Win | 16/1 | $125.00 | -$125.00 |
| European | Porsche European Open | Bryson DeChambeau To Win | 14/1 | $125.00 | -$125.00 |
| WGC | Bridgestone Invitational | Rory McIlroy Win | 11/1 | $125.00 | -$125.00 |
| WGC | Bridgestone Invitational | Justin Rose E/W | 14/1 | $250.00 | Withdrew |
| WGC | Bridgestone Invitational | Henrik Stenson E/W | 28/1 | $125.00 | -$125.00 |
| WGC | Bridgestone Invitational | Zach Johnson E/W | 45/1 | $62.50 | -$62.50 |
| WGC | Bridgestone Invitational | Xander Schauffele E/W | 40/1 | $62.50 | -$62.50 |
| WGC | Bridgestone Invitational | Emiliano Grillo E/W | 125/1 | $62.50 | -$62.50 |
| WGC | Bridgestone Invitational | Kevin Chappell E/W | 66/1 | $62.50 | -$62.50 |
| PGA | Barracuda Championship | Rickie Barnes E/W | 70/1 | $62.50 | -$62.50 |
| PGA | Barracuda Championship | Ben Crane E/W | 110/1 | $62.50 | -$62.50 |
| PGA | Barracuda Championship | Parker McLachlin E/W | 250/1 | $62.50 | -$62.50 |
| PGA | Barracuda Championship | Zac Blair E/W | 100/1 | $62.50 | -$62.50 |
| PGA | Barracuda Championship | Hunter Mahan E/W | 66/1 | $125.00 | -$125.00 |
| PGA | PGA Championship | Tony Finau E/W | 40/1 | $125.00 | -$125.00 |
| PGA | PGA Championship | Rory McIlroy Win | 12/1 | $125.00 | -$125.00 |
| PGA | PGA Championship | Brian Gay E/W | 250/1 | $62.50 | -$62.50 |
| PGA | Wyndham Championship | Ryan Moore E/W | 33/1 | $62.50 | -$62.50 |
| PGA | Wyndham Championship | Webb Simpson E/W | 12/1 | $125.00 | -$125.00 |
| PGA | Northern Trust | Tiger Woods Win | 14/1 | $125.00 | -$125.00 |
| PGA | Northern Trust | Justin Thomas Win | 12/1 | $125.00 | -$125.00 |
| PGA | Northern Trust | Tony Finau E/W | 55/1 | $125.00 | $796.88 |
| PGA | Northern Trust | Patrick Cantlay E/W | 33/1 | $125.00 | -$125.00 |
| European | Czech Masters | JC Ritchie E/W | 50/1 | $62.50 | -$62.50 |
| European | Czech Masters | Scott Vincent E/W | 66/1 | $62.50 | -$62.50 |
| European | Czech Masters | Paul Peterson E/W | 80/1 | $62.50 | -$62.50 |
| European | Czech Masters | Nick Cullen E/W | 140/1 | $62.50 | -$62.50 |
| European | Czech Masters | Matthew Millar E/W | 225/1 | $62.50 | -$62.50 |
| European | Czech Masters | Sebastian Gros E/W | 90/1 | $62.50 | -$62.50 |
| European | Czech Masters | Haydn Porteous E/W | 33/1 | $62.50 | -$62.50 |
| PGA | Dell Championship | Rory McIlroy Win | 16/1 | $125.00 | -$125.00 |
| PGA | Dell Championship | Adam Scott E/W | 25/1 | $250.00 | -$250.00 |
| PGA | Dell Championship | Webb Simpson E/W | 40/1 | $125.00 | -$125.00 |
| PGA | Dell Championship | Patrick Cantlay E/W | 33/1 | $125.00 | -$125.00 |
| PGA | Dell Championship | Brooks Koepka Win | 12/1 | $125.00 | -$125.00 |
| PGA | Dell Championship | Kevin Na E/W | 90/1 | $125.00 | -$125.00 |
| European | Made In Denmark | Gaganjeet Bhullar E/W | 60/1 | $62.50 | -$62.50 |
| European | Made In Denmark | Hunter Stewart E/W | 125/1 | $62.50 | -$62.50 |
| European | Made In Denmark | Matthias Schwab E/W | 50/1 | $62.50 | -$62.50 |
| European | Made In Denmark | Thomas Aiken E/W | 70/1 | $62.50 | -$62.50 |
| PGA | BMW Championship | Hideki Matsuyama E/W | 20/1 | $125.00 | -$125.00 |
| PGA | BMW Championship | Bryson DeChambeau To Win | 16/1 | $125.00 | -$125.00 |
| PGA | BMW Championship | Tiger Woods E/W | 22/1 | $250.00 | -$250.00 |
| PGA | BMW Championship | Justin Rose To Win | 12/1 | $125.00 | -$125.00 |
| PGA | BMW Championship | Patrick Cantlay E/W | 35/1 | $125.00 | -$125.00 |
| European | Omega European Masters | Matt Wallace E/W | 25/1 | $125.00 | -$125.00 |
| European | Omega European Masters | Mike Lorenzo Vera E/W | 50/1 | $125.00 | $718.75 |
| European | Omega European Masters | Mikko Ilonen E/W | 100/1 | $62.50 | -$62.50 |
| European | Omega European Masters | Ashley Chesters E/W | 125/1 | $62.50 | -$62.50 |
| European | Omega European Masters | Alexander Bjork E/W | 50/1 | $62.50 | $ - |
| European | KLM Open | Mike Lorenzo Vera E/W | 28/1 | $125.00 | -$125.00 |
| European | KLM Open | Lee Westwood E/W | 18/1 | $125.00 | -$125.00 |
| European | KLM Open | Andrea Pavan E/W | 40/1 | $62.50 | -$62.50 |
| European | KLM Open | George Coetzee E/W | 55/1 | $62.50 | -$62.50 |
| LPGA | Evian Championship | Sei Young Kim E/W | 28/1 | $125.00 | $375.00 |
| LPGA | Evian Championship | Georgia Hall E/W | 22/1 | $125.00 | -$125.00 |
| LPGA | Evian Championship | Lydia Ko E/W | 18/1 | $62.50 | -$62.50 |
| PGA | Tour Championship | Justin Rose To Win | 8/1 | $500.00 | -$500.00 |
| PGA | Tour Championship | Bryson DeChambeau E/W | 18/1 | $125.00 | -$125.00 |
| PGA | Tour Championship | Webb Simpson E/W | 28/1 | $250.00 | $83.34 |
| PGA | Tour Championship | Paul Casey E/W | 40/1 | $62.50 | -$62.50 |
| European | Portugal Masters | Robert Rock E/W | 60/1 | $62.50 | -$62.50 |
| European | Portugal Masters | Andy Sullivan E/W | 20/1 | $62.50 | -$62.50 |
| European | Portugal Masters | Jorge Campillo E/W | 55/1 | $62.50 | -$62.50 |
| European | Portugal Masters | Ashun Wu E/W | 45/1 | $62.50 | -$62.50 |
| PGA | Ryder Cup | Team Europe Win | 5/4 | $250.00 | $312.50 |
| PGA | Ryder Cup | Top European Rookie: Fleetwood | 11/5 | $250.00 | $470.00 |
| PGA | Ryder Cup | Top American: DJ | 9/2 | $250.00 | -$250.00 |
| PGA | Ryder Cup | Top European: Rory McIlroy | 9/2 | $250.00 | -$250.00 |
| PGA | Safeway Open | Phil Mickelson E/W | 25/1 | $125.00 | -$125.00 |
| PGA | Safeway Open | Sangmoon Bae E/W | 40/1 | $125.00 | -$125.00 |
| PGA | Safeway Open | Wes Roach E/W | 175/1 | $62.50 | -$62.50 |
| PGA | Safeway Open | Emiliano Grillo E/W | 25/1 | $125.00 | -$125.00 |
| PGA | Safeway Open | Kramer Hickok E/W | 80/1 | $125.00 | -$125.00 |
| PGA | Safeway Open | Sungjae Im E/W | 90/1 | $125.00 | $462.50 |
| European | Dunhill Links Championship | Tony Finau Win | 14/1 | $125.00 | -$125.00 |
| European | Dunhill Links Championship | Tyrell Hatton E/W | 14/1 | $62.50 | $78.13 |
| European | Dunhill Links Championship | Robert Rock E/W | 100/1 | $62.50 | -$62.50 |
| European | Dunhill Links Championship | Gonzalo Fdez-Castano E/W | 250/1 | $62.50 | -$62.50 |
| European | Dunhill Links Championship | Paul Dunne E/W | 66/1 | $62.50 | -$62.50 |
| PGA | CIMB Classic | Ryan Moore E/W | 12/1 | $125.00 | -$125.00 |
| PGA | CIMB Classic | Cameron Smith E/W | 28/1 | $62.50 | -$62.50 |
| European | British Masters | Lucas Bjerregaard E/W | 25/1 | $125.00 | -$125.00 |
| European | British Masters | Padraig Harrington E/W | 35/1 | $125.00 | -$125.00 |
| LPGA | LPGA KEB Hana Bank Championship | Brittany Lincicome E/W | 50/1 | $125.00 | -$125.00 |
| LPGA | LPGA KEB Hana Bank Championship | In Gee Chun E/W | 22/1 | $250.00 | $3,437.50 |
| LPGA | LPGA KEB Hana Bank Championship | Carlota Ciganda E/W | 40/1 | $125.00 | -$125.00 |
| PGA | CJ Cup | Justin Thomas Win | 6/1 | $250.00 | -$250.00 |
| PGA | CJ Cup | Brandt Snedeker E/W | 50/1 | $125.00 | -$125.00 |
| PGA | CJ Cup | Kevin Na E/W | 40/1 | $62.50 | -$62.50 |
| European | Valderrama Masters | Robert Rock E/W | 33/1 | $125.00 | -$125.00 |
| WGC | HSBC Champions | Dustin Johnson To Win | 8/1 | $62.50 | -$62.50 |
| WGC | HSBC Champions | Matthew Fitzpatrick E/W | 50/1 | $62.50 | -$62.50 |
| WGC | HSBC Champions | Pat Perez E/W | 110/1 | $62.50 | -$62.50 |
| PGA | Sanderson Farms | Aaron Baddeley E/W | 28/1 | $62.50 | -$62.50 |
| PGA | Sanderson Farms | Hunter Mahan E/W | 45/1 | $125.00 | -$125.00 |
| PGA | Sanderson Farms | Shawn Stefani E/W | 66/1 | $62.50 | -$62.50 |
| PGA | Shriners Open | Scott Piercy E/W | 55/1 | $62.50 | -$62.50 |
| PGA | Shriners Open | Ryan Moore E/W | 55/1 | $62.50 | -$62.50 |
| European | Turkish Airlines Open | Thorbjorn Olesen E/W | 14/1 | $250.00 | -$250.00 |
| European | Turkish Airlines Open | Andrea Pavan E/W | 40/1 | $125.00 | -$125.00 |
| European | Turkish Airlines Open | Ashley Chesters E/W | 100/1 | $125.00 | -$125.00 |
| European | Turkish Airlines Open | Kiradech Aphibarnrat E/W | 25/1 | $125.00 | -$125.00 |
| PGA | Mayakoba | Tony Finau Top 5 | 3/1 | $125.00 | -$125.00 |
| PGA | Mayakoba | Rickie Fowler To Win | 8/1 | $250.00 | -$250.00 |
| PGA | Mayakoba | Sam Ryder E/W | 50/1 | $125.00 | -$125.00 |
| PGA | Mayakoba | Cameron Davis E/W | 66/1 | $125.00 | -$125.00 |
| European | Nedbank | Danny Willett E/W | 25/1 | $250.00 | -$250.00 |
| European | Nedbank | Sam Horsfield E/W | 60/1 | $125.00 | -$125.00 |
| European | Nedbank | Lucas Bjerregaard E/W | 18/1 | $62.50 | -$62.50 |
| European | Nedbank | Sergio Garcia To Win | 9/1 | $62.50 | -$62.50 |
| PGA | RSM Classic | J.J. Spaun E/W | 22/1 | $125.00 | -$125.00 |
| PGA | RSM Classic | C.T. Pan E/W | 22/1 | $125.00 | -$125.00 |
| PGA | RSM Classic | Jim Furyk E/W | 45/1 | $125.00 | -$125.00 |
| PGA | RSM Classic | Bud Cauley E/W | 55/1 | $62.50 | -$62.50 |
| PGA | RSM Classic | Kramer Hickok E/W | 80/1 | $62.50 | -$62.50 |
| European | DP World Tour Championship | Jon Rahm To Win | 10/1 | $62.50 | -$62.50 |
| European | DP World Tour Championship | Dean Burmester E/W | 90/1 | $125.00 | $854.20 |
| European | DP World Tour Championship | Francesco Molinari E/W | 20/1 | $125.00 | -$125.00 |
| European | DP World Tour Championship | Ian Poulter E/W | 50/1 | $62.50 | -$62.50 |
| European | Hong Kong Open | Rafa Cabrera Bello To Win | 10/1 | $62.50 | -$62.50 |
| European | Hong Kong Open | Lucas Bjerregaard E/W | 16/1 | $125.00 | -$125.00 |
| European | Hong Kong Open | Marcus Fraser E/W | 40/1 | $62.50 | -$62.50 |
| European | Hong Kong Open | Jason Scrivener E/W | 30/1 | $62.50 | $265.63 |
2019 Stats
| Tour: | Tournament: | Bet: | Odds: | Risk: | Profit/Loss: |
| --- | --- | --- | --- | --- | --- |
| PGA | Sony Open | Cameron Champ E/W | 25/1 | $250.00 | -$250.00 |
| PGA | Sony Open | Gary Woodland E/W | 14/1 | $62.50 | -$62.50 |
| PGA | Sony Open | Cameron Smith E/W | 28/1 | $62.50 | -$62.50 |
| PGA | Sony Open | Charles Howell III E/W | 28/1 | $125.00 | -$125.00 |
| PGA | Desert Classic | Jon Rahm To Win | 13/2 | $125.00 | -$125.00 |
| PGA | Desert Classic | Adam Hadwin E/W | 25/1 | $250.00 | $656.33 |
| PGA | Desert Classic | Brian Stuard E/W | 150/1 | $62.50 | -$62.50 |
| European | Abu Dhabi HSBC Championship | Tommy Fleetwood To Win | 10/1 | $125.00 | -$125.00 |
| European | Abu Dhabi HSBC Championship | Louis Oosthuizen E/W | 18/1 | $250.00 | $437.50 |
| European | Abu Dhabi HSBC Championship | Henrik Stenson E/W | 16/1 | $62.50 | -$62.50 |
| European | Abu Dhabi HSBC Championship | Martin Kaymer E/W | 40/1 | $62.50 | -$62.50 |
| European | Abu Dhabi HSBC Championship | Pablo Larrazabai E/W | 110/1 | $62.50 | -$62.50 |
| PGA | Farmers Insurance Open | Marc Leishman E/W | 20/1 | $62.50 | -$62.50 |
| PGA | Farmers Insurance Open | Ryan Palmer E/W | 100/1 | $125.00 | -$125.00 |
| PGA | Farmers Insurance Open | Patrick Cantlay E/W | 28/1 | $62.50 | -$62.50 |
| PGA | Farmers Insurance Open | Cameron Champ E/W | 40/1 | $62.50 | -$62.50 |
| European | Dubai Desert Classic | Sergio Garcia To Win | 14/1 | $125.00 | -$125.00 |
| European | Dubai Desert Classic | Lee Westwood E/W | 40/1 | $62.50 | -$62.50 |
| European | Dubai Desert Classic | Andy Sullivan E/W | 50/1 | $62.50 | -$62.50 |
| PGA | Phoenix Open | Daniel Berger E/W | 50/1 | $62.50 | -$62.50 |
| PGA | Phoenix Open | Talor Gooch E/W | 90/1 | $62.50 | -$62.50 |
| PGA | Phoenix Open | Lucas Glover E/W | 80/1 | $62.50 | -$62.50 |
| PGA | Phoenix Open | Hideki Matsuyama E/W | 12/1 | $125.00 | -$125.00 |
| PGA | Phoenix Open | Ryan Palmer E/W | 80/1 | $125.00 | -$125.00 |
| PGA | Pebble Beach | Talor Gooch E/W | 125/1 | $62.50 | -$62.50 |
| PGA | Pebble Beach | Jordan Spieth E/W | 18/1 | $125.00 | -$125.00 |
| PGA | Pebble Beach | Kevin Kisner E/W | 66/1 | $62.50 | -$62.50 |
| PGA | Genesis Open | Jordan Spieth E/W | 22/1 | $125.00 | -$125.00 |
| PGA | Genesis Open | Bubba Watson E/W | 20/1 | $125.00 | -$125.00 |
| PGA | Genesis Open | Michael Thompson E/W | 140/1 | $62.50 | -$62.50 |
| PGA | Genesis Open | Paul Casey E/W | 28/1 | $62.50 | -$62.50 |
| WGC | Mexico Championship | Justin Thomas To Win | 10/1 | $250.00 | -$250.00 |
| WGC | Mexico Championship | Kevin Kisner E/W | 110/1 | $62.50 | -$62.50 |
| WGC | Mexico Championship | Marc Leishman E/W | 30/1 | $125.00 | -$125.00 |
| WGC | Mexico Championship | Xander Schauffele E/W | 25/1 | $62.50 | -$62.50 |
| European | Puerto Rico Open | Aaron Baddeley E/W | 28/1 | $125.00 | $375.00 |
| European | Puerto Rico Open | Matt Every E/W | 25/1 | $125.00 | -$125.00 |
| European | Puerto Rico Open | Whee Kim E/W | 66/1 | $62.50 | -$62.50 |
| LPGA | Honda LPGA Thailand | Brooke Henderson E/W | 22/1 | $62.50 | -$62.50 |
| LPGA | Honda LPGA Thailand | Amy Yang E/W | 25/1 | $125.00 | $1,953.13 |
| PGA | Honda Classic | Lucas Glover E/W | 60/1 | $125.00 | $875.00 |
| PGA | Honda Classic | Gary Woodland E/W | 16/1 | $62.50 | -$62.50 |
| PGA | Honda Classic | An Byeong-Hun E/W | 45/1 | $125.00 | -$125.00 |
| PGA | Honda Classic | Luke List E/W | 40/1 | $62.50 | -$62.50 |
| European | Oman Open | Min Woo Lee E/W | 35/1 | $62.50 | -$62.50 |
| European | Oman Open | Victor Perez E/W | 55/1 | $62.50 | -$62.50 |
| European | Oman Open | Scott Vincent E/W | 66/1 | $62.50 | -$62.50 |
| European | Oman Open | Victor Dubuisson E/W | 50/1 | $62.50 | -$62.50 |
| LPGA | HSBC Women's World Championship | Brooke Henderson To Win | 11/1 | $125.00 | -$125.00 |
| PGA | Arnold Palmer | Louis Oosthuizen E/W | 55/1 | $62.50 | -$62.50 |
| PGA | Arnold Palmer | Matt Wallace E/W | 100/1 | $62.50 | -$62.50 |
| PGA | Arnold Palmer | Lucas Glover E/W | 50/1 | $125.00 | -$125.00 |
| PGA | Arnold Palmer | Jason Kokrak E/W | 70/1 | $62.50 | -$62.50 |
| European | Qatar Masters | Gaganjeet Bhullar E/W | 120/1 | $62.50 | -$62.50 |
| European | Qatar Masters | Victor Dubuisson E/W | 25/1 | $62.50 | Withdrew |
| PGA | Players Championship | Jordan Spieth E/W | 60/1 | $62.50 | -$62.50 |
| PGA | Players Championship | Lucas Glover E/W | 66/1 | $62.50 | -$62.50 |
| PGA | Players Championship | Rafael Cabrera-Bello E/W | 55/1 | $62.50 | -$62.50 |
| PGA | Players Championship | Hideki Matsuyama E/W | 40/1 | $62.50 | -$62.50 |
| European | Kenya Open | Ross McGowan E/W | 75/1 | $62.50 | -$62.50 |
| European | Kenya Open | Sebastian Sodeberg E/W | 40/1 | $62.50 | -$62.50 |
| PGA | Valspar Championship | Lucas Glover E/W | 40/1 | $62.50 | -$62.50 |
| PGA | Valspar Championship | Webb Simpson E/W | 20/1 | $125.00 | -$125.00 |
| PGA | Valspar Championship | Michael Thompson E/W | 90/1 | $62.50 | -$62.50 |
| PGA | Valspar Championship | Jim Furyk E/W | 33/1 | $62.50 | -$62.50 |
| LPGA | Hope Founders Cup | Stacy Lewis E/W | 28/1 | $62.50 | -$62.50 |
| LPGA | Hope Founders Cup | In Gee Chun E/W | 25/1 | $62.50 | -$62.50 |
| PGA | Valero Texas Open | Ryan Palmer E/W | 55/1 | $62.50 | -$62.50 |
| PGA | Valero Texas Open | Wyndham Clark E/W | 110/1 | $62.50 | -$62.50 |
| PGA | Valero Texas Open | D.J. Trahan E/W | 160/1 | $62.50 | -$62.50 |
| PGA | Valero Texas Open | Aaron Baddeley E/W | 50/1 | $62.50 | -$62.50 |
| PGA | The Masters | Rory Mcilroy To Win | 13/2 | $500.00 | -$500.00 |
| PGA | The Masters | Justin Rose E/W | 14/1 | $500.00 | -$500.00 |
| PGA | The Masters | Paul Casey E/W | 25/1 | $250.00 | -$250.00 |
| PGA | The Masters | Matt Kuchar E/W | 40/1 | $250.00 | -$250.00 |
| PGA | The Masters | Patrick Cantlay E/W | 66/1 | $125.00 | -$125.00 |
| PGA | The Masters | Charley Hoffman E/W | 90/1 | $125.00 | -$125.00 |
| PGA | The Masters | Cameron Smith E/W | 80/1 | $125.00 | -$125.00 |
| PGA | The Masters | Tommy Fleetwood E/W | 26/1 | $125.00 | -$125.00 |
| PGA | The Masters | Tiger Woods E/W | 16/1 | $100.00 | $1,469.33 |
| PGA | RBC Heritage | Jim Furyk E/W | 33/1 | $250.00 | -$250.00 |
| PGA | RBC Heritage | Si Woo Kim E/W | 40/1 | $125.00 | -$125.00 |
| PGA | RBC Heritage | Matt Kuchar E/W | 22/1 | $500.00 | $1,125.00 |
| PGA | RBC Heritage | Webb Simpson E/W | 25/1 | $125.00 | -$125.00 |
| PGA | RBC Heritage | Graeme McDowell E/W | 55/1 | $62.50 | -$62.50 |
| PGA | RBC Heritage | Luke Donald E/W | 55/1 | $125.00 | -$125.00 |
| PGA | RBC Heritage | Ryan Armour E/W | 225/1 | $62.50 | -$62.50 |
| PGA | RBC Heritage | Jason Kokrak E/W | 45/1 | $62.50 | -$62.50 |
| European | Trophee Hassan II | Julian Suri E/W | 25/1 | $200.00 | $525.00 |
| European | Trophee Hassan II | Fabrizio Zanotti E/W | 25/1 | $200.00 | -$200.00 |
| PGA | Wells Fargo Championship | Rory Mcilroy To Win | 7/1 | $62.50 | -$62.50 |
| PGA | Wells Fargo Championship | Phil Mickelson E/W | 28/1 | $125.00 | -$125.00 |
| PGA | Byron Nelson | Scott Piercy E/W | 45/1 | $250.00 | $1,271.33 |
| PGA | Byron Nelson | Keith Mitchell E/W | 33/1 | $250.00 | -$250.00 |
| PGA | Byron Nelson | Scott Scheffler E/W | 60/1 | $125.00 | -$125.00 |
| PGA | PGA Championship | Brooks Koepka To Win | 10/1 | $500.00 | $5,000.00 |
| PGA | PGA Championship | Xander Schauffele E/W | 25/1 | $125.00 | -$125.00 |
| PGA | PGA Championship | Sergio Garcia E/W | 45/1 | $500.00 | -$500.00 |
| PGA | PGA Championship | Matt Kuchar E/W | 50/1 | $125.00 | -$10.42 |
| PGA | PGA Championship | Francesco Molinari E/W | 25/1 | $125.00 | -$125.00 |
| PGA | PGA Championship | Lucas Glover E/W | 100/1 | $62.50 | -$62.50 |
| PGA | Charles Schwab | Jordan Spieth To Win | 14/1 | $62.50 | -$62.50 |
| PGA | Charles Schwab | Francesco Molinari E/W | 17/1 | $62.50 | -$62.50 |
| PGA | Charles Schwab | Paul Casey E/W | 25/1 | $125.00 | Withdrew |
| PGA | Charles Schwab | Scott Piercy E/W | 50/1 | $125.00 | -$125.00 |
| PGA | Charles Schwab | Chez Reavie E/W | 55/1 | $62.50 | -$62.50 |
| PGA | Charles Schwab | Brandt Snedeker E/W | 60/1 | $62.50 | -$62.50 |
| European | Made In Denmark | Soren Kjeldsen E/W | 50/1 | $62.50 | -$62.50 |
| European | Made In Denmark | George Coetzee E/W | 90/1 | $62.50 | -$62.50 |
| European | Made In Denmark | Erik Van Rooyen To Win | 25/1 | $62.50 | -$62.50 |
| LPGA | LPGA Pure Silk Championship | Lexi Thompson To Win | 14/1 | $62.50 | -$62.50 |
| LPGA | LPGA Pure Silk Championship | In Gee Chun E/W | 33/1 | $62.50 | -$62.50 |
| PGA | RBC Canadian Open | Scott Piercy E/W | 28/1 | $250.00 | -$250.00 |
| PGA | RBC Canadian Open | Ryan Armour E/W | 175/1 | $62.50 | -$62.50 |
| PGA | RBC Canadian Open | Bud Cauley E/W | 55/1 | $125.00 | -$125.00 |
| PGA | RBC Canadian Open | Peter Malnati E/W | 150/1 | $125.00 | -$125.00 |
| PGA | US Open | Tiger Woods Win | 12/1 | $500.00 | -$500.00 |
| PGA | US Open | Adam Scott E/W | 33/1 | $500.00 | $1,400.00 |
| PGA | US Open | Jordan Spieth E/W | 22/1 | $250.00 | -$250.00 |
| PGA | US Open | Patrick Cantlay E/W | 18/1 | $125.00 | -$125.00 |
| PGA | US Open | Brandt Snedker E/W | 50/1 | $125.00 | -$125.00 |
| PGA | US Open | Phil Mickelson E/W | 55/1 | $125.00 | -$125.00 |
| PGA | US Open | Gary Woodland E/W | 80/1 | $125.00 | $6,000.00 |
| PGA | Travelers Championship | Justin Thomas E/W | 18/1 | $62.50 | -$62.50 |
| PGA | Travelers Championship | Marc Leishman E/W | 28/1 | $62.50 | -$62.50 |
| PGA | Travelers Championship | Paul Casey E/W | 18/1 | $125.00 | -$10.42 |
| PGA | Travelers Championship | Kevin Streelman E/W | 60/1 | $125.00 | -$125.00 |
| PGA | 3M Open | Kevin Na E/W | 40/1 | $125.00 | -$125.00 |
| PGA | 3M Open | Michael Thompson E/W | 125/1 | $62.50 | -$62.50 |
| PGA | 3M Open | Rory Sabbatini E/W | 33/1 | $125.00 | -$125.00 |
| PGA | 3M Open | Sungjae Im E/W | 40/1 | $62.50 | -$62.50 |
| PGA | 3M Open | Collin Morikawa E/W | 80/1 | $125.00 | $1,187.50 |
| European | Irish Open | Jorge Campillo E/W | 60/1 | $125.00 | -$125.00 |
| European | Irish Open | Matthew Southgate E/W | 125/1 | $62.50 | -$62.50 |
| European | Irish Open | Jordan L. Smith E/W | 40/1 | $125.00 | -$125.00 |
| European | Irish Open | Bernd Wiesberger E/W | 50/1 | $250.00 | $1,437.50 |
| PGA | John Deere Classic | Troy Merritt E/W | 66/1 | $62.50 | -$62.50 |
| PGA | John Deere Classic | Zach Johnson E/W | 28/1 | $62.50 | -$62.50 |
| PGA | John Deere Classic | Vaughn Taylor E/W | 66/1 | $62.50 | -$62.50 |
| PGA | John Deere Classic | Cameron Tringale E/W | 66/1 | $62.50 | -$62.50 |
| LPGA | LPGA Marathon Classic | Mirim Lee E/W | 33/1 | $62.50 | -$62.50 |
| LPGA | LPGA Marathon Classic | Daniela Daraquea | 175/1 | $62.50 | -$62.50 |
| PGA | Open Championship | Jon Rahm To Win | 14/1 | $125.00 | -$125.00 |
| PGA | Open Championship | Xander Schauffele E/W | 25/1 | $250.00 | -$250.00 |
| PGA | Open Championship | Matt Kuchar E/W | 35/1 | $125.00 | -$125.00 |
| PGA | Open Championship | Bryson DeChambeau E/W | 40/1 | $62.50 | -$62.50 |
| PGA | Open Championship | Patrick Cantlay E/W | 28/1 | $250.00 | -$250.00 |
| PGA | Open Championship | Adam Scott E/W | 28/1 | $125.00 | -$125.00 |
| PGA | Open Championship | Webb Simpson E/W | 75/1 | $125.00 | -$125.00 |
| PGA | Open Championship | Rory Sabbatini E/W | 250/1 | $62.50 | -$62.50 |
| PGA | Open Championship | Jazz Janewattananond E/W | 300/1 | $62.50 | -$62.50 |
| PGA | Open Championship | Chez Reavie E/W | 150/1 | $62.50 | -$62.50 |
| PGA | Open Championship | Tyrell Hatton E/W | 90/1 | $125.00 | $765.63 |
| WGC | FedEx St Jude Invitational | Rory McIlroy To Win | 10/1 | $125.00 | -$125.00 |
| WGC | FedEx St Jude Invitational | Chez Reavie E/W | 55/1 | $125.00 | -$125.00 |
| WGC | FedEx St Jude Invitational | Tommy Fleetwood E/W | 22/1 | $125.00 | $145.83 |
| WGC | FedEx St Jude Invitational | Hideki Matsuyama E/W | 30/1 | $62.50 | -$62.50 |
| WGC | FedEx St Jude Invitational | Billy Horschel E/W | 60/1 | $62.50 | -$62.50 |
| PGA | Wyndham Championship | Collin Morikawa E/W | 18/1 | $125.00 | -$125.00 |
| PGA | Wyndham Championship | Rory Sabbatini E/W | 60/1 | $125.00 | -$125.00 |
| PGA | Wyndham Championship | Brandt Snedker E/W | 22/1 | $62.50 | -$62.50 |
| PGA | Wyndham Championship | Nick Taylor E/W | 100/1 | $62.50 | -$62.50 |
| PGA | Northern Trust | Collin Morikawa E/W | 50/1 | $125.00 | -$125.00 |
| PGA | Northern Trust | Patrick Cantlay E/W | 22/1 | $62.50 | -$62.50 |
| PGA | Northern Trust | Sepp Straka E/W | 225/1 | $62.50 | -$62.50 |
| PGA | BMW Championship | Brooks Koepka To Win | 8/1 | $125.00 | -$125.00 |
| PGA | BMW Championship | Paul Casey E/W | 40/1 | $62.50 | -$62.50 |
| PGA | BMW Championship | Brandt Snedeker E/W | 60/1 | $62.50 | $187.50 |
| PGA | BMW Championship | Jim Furyk E/W | 140/1 | $62.50 | -$62.50 |
| PGA | BMW Championship | Corey Connors E/W | 160/1 | $62.50 | -$62.50 |
| European | Czech Masters | Tom Lewis E/W | 25/1 | $62.50 | Withdrew |
| European | Czech Masters | Gavin Green E/W | 28/1 | $62.50 | -$62.50 |
| European | Czech Masters | Andrea Pavan E/W | 20/1 | $62.50 | $125.00 |
| European | Czech Masters | Jamie Donaldson E/W | 100/1 | $62.50 | -$62.50 |
| European | Porsche European Open | Paul Casey Win | 13/2 | $250.00 | $1,625.00 |
| European | Porsche European Open | Lucas Herbert E/W | 60/1 | $125.00 | -$125.00 |
| European | Porsche European Open | Matthias Schwab E/W | 25/1 | $125.00 | $328.13 |
| European | Porsche European Open | Alexander Levy E/W | 33/1 | $125.00 | -$125.00 |
| PGA | Greenbrier Classic | Marc Leishman E/W | 25/1 | $125.00 | -$125.00 |
| PGA | Greenbrier Classic | Jason Kokrak E/W | 16/1 | $62.50 | -$62.50 |
| PGA | Greenbrier Classic | Sungjae Im E/W | 20/1 | $62.50 | -$62.50 |
| PGA | Greenbrier Classic | Brendon Todd E/W | 110/1 | $62.50 | -$62.50 |
| PGA | Greenbrier Classic | Kramer Hickcok E/W | 80/1 | $62.50 | -$62.50 |
| PGA | Sanderson Farms Championship | Corey Connors E/W | 28/1 | $125.00 | -$125.00 |
| PGA | Sanderson Farms Championship | Sepp Straka E/W | 100/1 | $62.50 | -$62.50 |
| PGA | Sanderson Farms Championship | Harry Higgs E/W | 125/1 | $125.00 | -$125.00 |
| European | BMW PGA Championship | Paul Casey To Win | 14/1 | $62.50 | -$62.50 |
| European | BMW PGA Championship | Francesco Molinari E/W | 28/1 | $125.00 | -$125.00 |
| European | BMW PGA Championship | Viktor Hovland E/W | 28/1 | $250.00 | -$250.00 |
| European | BMW PGA Championship | Henrik Stenson E/W | 22/1 | $125.00 | -$125.00 |
| European | BMW PGA Championship | Billy Horschel E/W | 55/1 | $125.00 | $796.88 |
| PGA | Safeway Open | Patrick Cantlay E/W | 10/1 | $62.50 | -$62.50 |
| PGA | Safeway Open | Sungjae Im E/W | 22/1 | $500.00 | -$500.00 |
| PGA | Safeway Open | Ryan Moore E/W | 40/1 | $125.00 | -$125.00 |
| PGA | Safeway Open | Harold Varner III E/W | 66/1 | $125.00 | -$125.00 |
| PGA | Safeway Open | Kevin Na E/W | 40/1 | $62.50 | -$62.50 |
| PGA | Shriners Open | Collin Morikawa E/W | 25/1 | $125.00 | -$125.00 |
| PGA | Shriners Open | Jim Furyk E/W | 66/1 | $62.50 | -$62.50 |
| PGA | Shriners Open | Brian Harman E/W | 80/1 | $62.50 | -$62.50 |
| European | Italian Open | Francesco Molinari E/W | 14/1 | $125.00 | -$125.00 |
| PGA | Houston Open | Sepp Straka E/W | 110/1 | $125.00 | $587.50 |
| PGA | Houston Open | Russell Henley E/W | 25/1 | $125.00 | -$125.00 |
| PGA | Houston Open | Kristoffer Ventura E/W | 140/1 | $125.00 | -$125.00 |
| PGA | Houston Open | Matt Every E/W | 110/1 | $125.00 | -$125.00 |
| PGA | Houston Open | Zac Blair E/W | 100/1 | $125.00 | -$125.00 |
| Japan | Bridgestone Open | Seung-Su Han E/W | 25/1 | $125.00 | $328.13 |
| Japan | Bridgestone Open | Shota Akiyoshi E/W | 20/1 | $125.00 | -$125.00 |
| PGA | CJ Cup | Wyndham Clark E/W | 200/1 | $62.50 | -$62.50 |
| PGA | CJ Cup | Rafael Cabrera-Bello E/W | 25/1 | $62.50 | -$62.50 |
| PGA | CJ Cup | Luke List E/W | 100/1 | $62.50 | -$62.50 |
| PGA | CJ Cup | Phil Mickelson E/W | 80/1 | $62.50 | -$62.50 |
| PGA | CJ Cup | Tyrell Hatton E/W | 45/1 | $62.50 | -$62.50 |
| PGA | CJ Cup | Ian Poulter E/W | 60/1 | $62.50 | -$62.50 |
| European | Open de France | Marcus Kinuit E/W | 25/1 | $62.50 | -$62.50 |
| European | Open de France | Callum Shinkwin E/W | 60/1 | $62.50 | -$62.50 |
| European | Open de France | Matthew Southgate E/W | 40/1 | $125.00 | Withdrew |
| LPGA | Buick LPGA Shanghai | Shanshan Feng E/W | 25/1 | $62.50 | -$62.50 |
| LPGA | Buick LPGA Shanghai | Nasa Hataoka To Win | 16/1 | $62.50 | -$62.50 |
| European | Portugal Masters | George Coetzee E/W | 25/1 | $125.00 | -$125.00 |
| WGC | HSBC Champions | Jordan Spieth E/W | 35/1 | $62.50 | -$62.50 |
| WGC | HSBC Champions | Sungjae Im E/W | 28/1 | $125.00 | -$125.00 |
| WGC | HSBC Champions | Andrew Putnam E/W | 66/1 | $125.00 | -$125.00 |
| PGA | Mayakoba Golf Classic | Russell Knox E/W | 30/1 | $250.00 | -$250.00 |
| PGA | Mayakoba Golf Classic | Scottie Scheffler E/W | 33/1 | $125.00 | -$125.00 |
| PGA | Mayakoba Golf Classic | Aaron Wise E/W | 35/1 | $62.50 | -$62.50 |
| PGA | Mayakoba Golf Classic | Charles Howell E/W | 28/1 | $62.50 | -$62.50 |
| European | Nedbank Golf Challenge | Lee Westwood E/W | 30/1 | $125.00 | -$125.00 |
| European | Nedbank Golf Challenge | Scott Jamieson E/W | 100/1 | $62.50 | -$62.50 |
| European | Nedbank Golf Challenge | Paul Waring E/W | 33/1 | $62.50 | -$62.50 |
| European | Nedbank Golf Challenge | Andrea Pavan E/W | 45/1 | $62.50 | -$62.50 |
| European | Nedbank Golf Challenge | Richie Ramsay E/W | 80/1 | $62.50 | -$62.50 |
| PGA | RSM Classic | Brian Gay E/W | 40/1 | $125.00 | -$125.00 |
| PGA | RSM Classic | Harry Higgs E/W | 75/1 | $62.50 | -$62.50 |
| PGA | RSM Classic | Stewart Cink E/W | 125/1 | $62.50 | -$62.50 |
| PGA | RSM Classic | David Hearn E/W | 100/1 | $62.50 | -$62.50 |
| European | DP World Tour Championship | Jon Rahm To Win | 13/2 | $250.00 | $1,625.00 |
| European | DP World Tour Championship | Lee Westwood E/W | 50/1 | $125.00 | -$125.00 |
| PGA | Hero World Challenge | Rickie Fowler Top 5 Finish | 2/1 | $250.00 | -$250.00 |
2020 Stats
| Tour: | Tournament: | Bet: | Odds: | Risk: | Profit/Loss: |
| --- | --- | --- | --- | --- | --- |
| PGA | Tournament of Champions | Patrick Cantlay Top 5 | 25/1 | $500.00 | $1,000.00 |
| PGA | Tournament of Champions | Brandan Todd E/W | 35/1 | $62.50 | -$62.50 |
| PGA | Tournament of Champions | Gary Woodland E/W | 14/1 | $62.50 | -$62.50 |
| PGA | Tournament of Champions | Graeme McDowell E/W | 125/1 | $62.50 | -$62.50 |
| PGA | Sony Open | Joaquin Niemman E/W | 30/1 | $125.00 | -$125.00 |
| PGA | Sony Open | Sebastian Munoz E/W | 66/1 | $125.00 | -$125.00 |
| PGA | Sony Open | Corey Conners E/W | 40/1 | $62.50 | -$62.50 |
| European | Abu Dhabi | Patrick Cantlay Top 5 | 11/5 | $125.00 | -$125.00 |
| European | Abu Dhabi | Viktor Hovland E/W | 25/1 | $125.00 | -$125.00 |
| European | Abu Dhabi | Paul Waring E/W | 75/1 | $62.50 | -$62.50 |
| European | Abu Dhabi | Paul Waring Top 10 | 6/1 | $62.50 | -$62.50 |
| PGA | Amex Championship | Sungjae Im E/W | 16/1 | $62.50 | -$62.50 |
| PGA | Amex Championship | Vaugh Taylor E/W | 50/1 | $62.50 | -$62.50 |
| PGA | Farmers Insurance Open | Gary Woodland E/W | 25/1 | $125.00 | -$125.00 |
| PGA | Farmers Insurance Open | Ryan Palmer E/W | 55/1 | $125.00 | -$125.00 |
| PGA | Farmers Insurance Open | Lanto Griffin E/W | 60/1 | $125.00 | -$125.00 |
| PGA | Farmers Insurance Open | Bud Cauley E/W | 80/1 | $62.50 | -$62.50 |
| PGA | Farmers Insurance Open | Billy Horschel E/W | 66/1 | $62.50 | -$62.50 |
| European | Dubai Classic | Sergio Garcia E/W | 20/1 | $250.00 | -$250.00 |
| European | Dubai Classic | Paul Waring E/W | 50/1 | $125.00 | -$125.00 |
| European | Dubai Classic | Erik Van Rooyen E/W | 35/1 | $62.50 | -$62.50 |
| European | Dubai Classic | Bernd Wiesberger E/W | 25/1 | $62.50 | -$62.50 |
| PGA | Waste Management Phoenix Open | Gary Woodland E/W | 28/1 | $250.00 | -$250.00 |
| PGA | Waste Management Phoenix Open | Bubba Watson E/W | 30/1 | $250.00 | $812.50 |
| PGA | Waste Management Phoenix Open | Ryan Moore E/W | 66/1 | $62.50 | -$62.50 |
| PGA | Waste Management Phoenix Open | Branden Grace E/W | 45/1 | $62.50 | -$62.50 |
| PGA | Pebble Beach Pro-Am | Paul Casey E/W | 20/1 | $125.00 | -$125.00 |
| PGA | Pebble Beach Pro-Am | Kevin Na E/W | 70/1 | $62.50 | -$62.50 |
| PGA | Pebble Beach Pro-Am | Adam Hadwin E/W | 50/1 | $62.50 | -$62.50 |
| PGA | Pebble Beach Pro-Am | Mark Hubbard E/W | 150/1 | $62.50 | -$62.50 |
| PGA | Genesis Invitational | Bubba Watson E/W | 22/1 | $1,000.00 | -$1,000.00 |
| PGA | Genesis Invitational | Patrick Cantlay Top 5 | 4/1 | $125.00 | -$125.00 |
| PGA | Genesis Invitational | Tony Finau Top 5 | 11/2 | $125.00 | -$125.00 |
| PGA | Genesis Invitational | Sergio Garcia E/W | 55/1 | $62.50 | -$62.50 |
| PGA | Genesis Invitational | Jim Furyk E/W | 150/1 | $62.50 | -$62.50 |
| PGA | Genesis Invitational | Phil Mickelson E/W | 40/1 | $62.50 | -$62.50 |
| PGA | Genesis Invitational | Marc Leishman E/W | 40/1 | $62.50 | -$62.50 |
| WGC | WGC Mexico | Webb Simpson E/W | 18/1 | $62.50 | -$62.50 |
| European | Puerto Rico Open | Matthew Nesmith E/W | 30/1 | $62.50 | -$62.50 |
| European | Puerto Rico Open | David Hearn E/W | 66/1 | $62.50 | -$62.50 |
| PGA | Honda Classic | Byeong-Hun An E/W | 33/1 | $250.00 | $328.13 |
| PGA | Honda Classic | Daniel Berger E/W | 33/1 | $250.00 | $328.13 |
| PGA | Honda Classic | Harris English E/W | 60/1 | $62.50 | -$62.50 |
| PGA | Honda Classic | Gary Woodland E/W | 20/1 | $62.50 | -$62.50 |
| PGA | Honda Classic | Lee Westwood E/W | 66/1 | $125.00 | $421.88 |
| PGA | Honda Classic | Tom Hoge E/W | 100/1 | $62.50 | -$62.50 |
| European | Oman Open | Benjamin Hebert E/W | 40/1 | $62.50 | -$62.50 |
| Asian Tour | New Zealand Open | Michael Hendry E/W | 35/1 | $500.00 | $718.75 |
| PGA | Arnold Palmer Invitational | Bubba Watson E/W | 45/1 | $250.00 | -$250.00 |
| PGA | Arnold Palmer Invitational | Byeong-Hun An E/W | 40/1 | $125.00 | -$125.00 |
| PGA | Arnold Palmer Invitational | Abraham Ancer E/W | 60/1 | $62.50 | -$62.50 |
| PGA | Arnold Palmer Invitational | Scottie Scheffler E/W | 100/1 | $62.50 | -$62.50 |
| PGA | Arnold Palmer Invitational | Kevin Na E/W | 100/1 | $62.50 | -$62.50 |
| PGA | Charles Schwab Challenge | Jon Rahm E/W | 12/1 | $125.00 | -$125.00 |
| PGA | Charles Schwab Challenge | Webb Simpson E/W | 22/1 | $125.00 | -$125.00 |
| PGA | Charles Schwab Challenge | Matt Kuchar E/W | 50/1 | $125.00 | -$125.00 |
| PGA | Charles Schwab Challenge | Harris English E/W | 66/1 | $62.50 | -$62.50 |
| PGA | Charles Schwab Challenge | Ryan Palmer E/W | 80/1 | $62.50 | -$62.50 |
| PGA | RBC Heritage | Webb Simpson E/W | 28/1 | $250.00 | $4,375.00 |
| PGA | RBC Heritage | Collin Morikawa E/W | 25/1 | $125.00 | -$125.00 |
| PGA | RBC Heritage | Jordan Spieth E/W | 30/1 | $62.50 | -$62.50 |
| PGA | The Memorial | Abraham Ancer E/W | 45/1 | $125.00 | -$125.00 |
| PGA | The Memorial | Patrick Cantlay E/W | 14/1 | $125.00 | -$125.00 |
| European | British Masters | Marc Warren E/W | 45/1 | $62.50 | -$62.50 |
| PGA | 3M Open | Sam Burns E/W | 45/1 | $125.00 | -$125.00 |
| PGA | 3M Open | Henrik Norlander E/W | 50/1 | $62.50 | -$62.50 |
| PGA | 3M Open | Charley Hoffman E/W | 80/1 | $62.50 | -$62.50 |
| WGC | Fed Ex St Jude | Webb Simpson E/W | 22/1 | $500.00 | -$500.00 |
| WGC | Fed Ex St Jude | Patrick Reed E/W | 35/1 | $250.00 | -$250.00 |
| WGC | Fed Ex St Jude | Billy Horschel E/W | 45/1 | $125.00 | -$125.00 |
| WGC | Fed Ex St Jude | Chez Reavie E/W | 125/1 | $62.50 | -$62.50 |
| PGA | PGA Championship | Adam Scott E/W | 60/1 | $125.00 | -$125.00 |
| PGA | PGA Championship | Chez Reavie E/W | 100/1 | $125.00 | -$125.00 |
| PGA | PGA Championship | Cameron Champ E/W | 150/1 | $125.00 | -$125.00 |
| PGA | PGA Championship | Bryson DeChambeau E/W | 16/1 | $125.00 | $137.50 |
| PGA | PGA Championship | Bubba Watson E/W | 100/1 | $62.50 | -$62.50 |
| PGA | PGA Championship | Lucas Glover E/W | 200/1 | $125.00 | -$125.00 |
| PGA | PGA Championship | Paul Casey E/W | 100/1 | $125.00 | $1,187.50 |
| PGA | Northern Trust | Bryson DeChambeau To Win | 11/1 | $500.00 | -$500.00 |
| PGA | Northern Trust | Tony Finau E/W | 33/1 | $125.00 | -$125.00 |
| PGA | Northern Trust | Xander Schauffele E/W | 22/1 | $125.00 | -$125.00 |
| PGA | Northern Trust | Paul Casey E/W | 50/1 | $125.00 | -$125.00 |
| PGA | Northern Trust | Cameron Champ E/W | 90/1 | $62.50 | -$62.50 |
| PGA | Northern Trust | Patrick Reed E/W | 30/1 | $62.50 | -$62.50 |
| PGA | Northern Trust | Jason Day E/W | 25/1 | $125.00 | -$125.00 |
| PGA | Northern Trust | Harris English E/W | 80/1 | $125.00 | $1,187.50 |
| European | ISPS Handa UK | Gavin Green E/W | 20/1 | $125.00 | -$125.00 |
| European | ISPS Handa UK | John Catlin E/W | 125/1 | $62.50 | -$62.50 |
| European | ISPS Handa UK | Chris Paisley E/W | 60/1 | $62.50 | -$62.50 |
| European | ISPS Handa UK | Deam Burmester E/W | 70/1 | $62.50 | -$62.50 |
| PGA | BMW Championship | Dustin Johnson To Win | 8/1 | $125.00 | -$125.00 |
| PGA | Tour Championship | Webb Simpson To Win | 11/1 | $62.50 | -$62.50 |
| PGA | Tour Championship | Xander Schauffele E/W | 25/1 | $62.50 | $164.06 |
| European | Andalucia Masters | Wade Ormsby E/W | 40/1 | $62.50 | -$62.50 |
| PGA | Safeway Open | Cameron Davis E/W | 35/1 | $125.00 | -$62.50 |
| PGA | US Open | Daniel Berger E/W | 30/1 | $125.00 | -$125.00 |
| PGA | US Open | Patrick Reed E/W | 35/1 | $125.00 | -$125.00 |
| PGA | US Open | Brian Harman E/W | 200/1 | $125.00 | -$125.00 |
| PGA | US Open | Webb Simpson E/W | 25/1 | $125.00 | -$50.00 |
| PGA | US Open | Xander Schauffele Top 10 Finish | 13/8 | $62.50 | $101.57 |
| PGA | US Open | Kevin Kisner E/W | 90/1 | $62.50 | -$62.50 |
| PGA | US Open | Chez Reavie E/W | 150/1 | $62.50 | -$62.50 |
| PGA | Corales Championship | Mackenzie Hughes E/W | 14/1 | $125.00 | $156.25 |
| PGA | Corales Championship | Pat Perez E/W | 35/1 | $125.00 | -$125.00 |
| PGA | Corales Championship | Xinjun Zhang E/W | 50/1 | $125.00 | -$125.00 |
| European | Scottish Open | Romain Langasque E/W | 40/1 | $125.00 | -$125.00 |
| European | Scottish Open | Andrew Johnston E/W | 55/1 | $125.00 | -$125.00 |
| European | Scottish Open | Thomas Pieters E/W | 22/1 | $125.00 | -$125.00 |
| European | Scottish Open | George Coetzee E/W | 35/1 | $125.00 | -$125.00 |
| PGA | Sanderson Farms | Sam Burns E/W | 22/1 | $125.00 | -$125.00 |
| PGA | Sanderson Farms | Cameron Davis E/W | 40/1 | $62.50 | -$62.50 |
| PGA | Sanderson Farms | Davis Riley E/W | 125/1 | $62.50 | -$62.50 |
| PGA | Sanderson Farms | Kristoffer Ventura E/W | 80/1 | $62.50 | -$62.50 |
| LPGA | Shoprite LPGA Classic | Inbee Park Win | 10/1 | $25.00 | -$25.00 |
| LPGA | Shoprite LPGA Classic | Anna Nordqvist E/W | 25/1 | $20.00 | -$20.00 |
| LPGA | Shoprite LPGA Classic | Mariah Stackhouse E/W | 125/1 | $20.00 | -$20.00 |
| Korn Ferry | Savannah Golf Championship | Dan McCarthy E/W | 28/1 | $24.00 | -$24.00 |
| European | BMW PGA Championship | Sam Horsfield E/W | 45/1 | $62.50 | -$62.50 |
| European | BMW PGA Championship | John Catlin E/W | 66/1 | $62.50 | -$62.50 |
| PGA | Shriners Hospital Open | Doc Redman E/W | 80/1 | $62.50 | -$62.50 |
| PGA | Shriners Hospital Open | Zach Johnson E/W | 50/1 | $62.50 | -$62.50 |
| PGA | Shriners Hospital Open | Kyle Stanley E/W | 200/1 | $62.50 | -$62.50 |
| PGA | Shriners Hospital Open | Cameron Davis E/W | 70/1 | $62.50 | -$62.50 |
| Champions | SAS Championship | Bernhard Langer To Win | 8/1 | $25.00 | -$25.00 |
| Champions | SAS Championship | Jerry Kelly E/W | 11/1 | $30.00 | -$30.00 |
| Korean | Genesis Championship | Seung-Hyuk Kim E/W | 25/1 | $20.00 | -$20.00 |
| PGA | Bermuda Championship | Wesley Bryan E/W | 60/1 | $62.50 | $62.50 |
| PGA | Bermuda Championship | Justin Suh E/W | 40/1 | $62.50 | -$62.50 |
| PGA | The Masters | Xander Schauffele E/W | 16/1 | $250.00 | -$250.00 |
| PGA | The Masters | Webb Simpson E/W | 33/1 | $125.00 | -$125.00 |
| PGA | The Masters | Patrick Cantlay E/W | 25/1 | $125.00 | -$125.00 |
| PGA | The Masters | Si Woo Kim E/W | 150/1 | $62.50 | -$62.50 |
| PGA | The Masters | Ian Poulter E/W | 150/1 | $62.50 | -$62.50 |
| European | Dunhill Championship | Zander Lombard E/W | 80/1 | $30.00 | -$30.00 |