PDC Darts Tips Day 7 (21/12/16)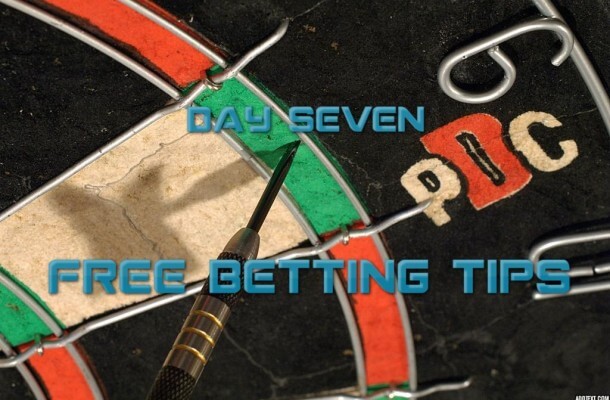 By
Posted:
December 21, 2016
.
Hot Bonus Alert: Get a $1,000(!) deposit bonus at
BetOnline
.
The seventh day of the 2017 PDC World Championships and, to be honest, we haven't seen any real shocks yet. Sure, we've seen a few seeds being knocked out, but all the big names we expected to go well have gone through with the minimum of fuss. There's now only two days left to get a first round shock, and will it happen tonight? Well, the biggest name taking the stage tonight is James Wade as he takes on Belgium's Ronny Huybrechts. Mensur Suljovic, the breakout start of 2016, faces Ron Meulenkamp, and Robert Thornton takes on the winner of the Zoran Lerchbacher versus Simon Stevenson match. So, we have three of the highest ranked players on the PDC Order of Merit playing, so we might get some fireworks, even if we don't get that much-needed shock.
Notable Upcoming Bets:
Zoran Lerchbacher vs Simon Stevenson – Prelim Match
This is the second appearance at the PDC World Championship for Zoran Lerchbacher. He first played at the Ally Pally in 2014, and he won his prelim game against Ben Ward 4-1, then lost 3-0 to Michael van Gerwen as Mighty Mike marched to his first and, to date, only world title. Lerchbacher averaged 90.25 in his prelim game and 89.884 against MvG. So, it's safe to say there was no nerves for the Austrian on his debut. As for Simon Stevenson, he won his Tour Card on day one of Q School, and found things hard going at first with a lot of early exits. However, in September he put together some nice runs to the last 16 of some floor tournaments, and then made the semi-final of the World Championship qualifying event, where he lost 5-4 to Mark Frost.
Lerchbacher has been in the wilderness a bit as of late, but he is still qualifying for some European Tour events, although he isn't going too deep. However, he has the experience of playing on the biggest stages, and that might just help him here, as he's done it on this stage before and had a decent average. Stevenson's lack of experience might count against him, and I can't see how the bookies have priced this with Lerchbacher around the 2/1 mark. Madness, and it's real value here. So, take Zoran Lerchbacher to win the evening's prelim match for the first value bet of the evening.
Mensur Suljovic vs Ron Meulenkamp
A mainland Europe battle in the night's opening first round game, and it's all about Suljovic according to the bookies, as they have the Austrian about 1/6 on, while Meulenkamp is generally a 4/1 shot.
This has been a breakthrough season for Suljovic, there's no doubt about it, as he's climbed into the top ten in the PDC Order of Merit, after a semi-final in the Dutch Darts Masters and another in UK Open Qualifier 5. He backed it up with a quarter-final in a Players Championship event in March and then against in April. Three quarter-finals in a row, in Gibraltar, then the European Matchplaying and finally a floor event in Coventry got him further up the rankings. Then, come September, things really took off, with a win in the International Darts Open, then a final in the European Darts Trophy and another final in a Players Championship event, a quarter-final in the German Darts Championship and then the final of the European Championship. Suffice to say, Mensur has had one of the most prolific years on the ProTour, and he'll be looking to continue his great form at the Ally Pally. The main problem Mensur has, however, is his consistency. One match he'll hammer Phil Taylor, then next he's losing to someone 50 places below him in the rankings, which is a lot to do with his mental game more than anything.
Ron Meulenkamp got his Tour Card in January, but hasn't had the most amazing year on the ProTour. His best results have been a couple of last 16 finishes. He did, however, beat Stephen Bunting and Gary Anderson at the Players Championship Finals, banging in solid 90-plus averages. He then came up stuck against Peter Wright, losing 10-3. It was an impressive run from the Dutchman, and his finishing was key to him beating Anderson, as he hit 75% of his doubles, with Anderson averaging over 100.
I think this is tailor made for Mensur Suljovic here. I wouldn't be reading too much into Meulenkamp's run at the Players Championship Finals, as it was a short format, and I feel like Anderson had been struggling up to that point, as he could have lost against John Henderson in the previous round, and Bunting has been woefully out of form. However, the bookies have Suljovic far too short to be of any value, so I have to look elsewhere. One of the key parts of Suljovic's game is his combination finishes, usually wacky finishes, too, and I think he might just bang in a couple tonight, and if Meulenkamp can get his finishing going like he did against Gary Anderson, he should cop one or two, also. So get on highest checkout over 122.5.
James Wade vs Ronny Huybrechts
James Wade probably couldn't have hand-picked a much better draw for himself, as although the head to head between the two players is 2-2, and Huybrechts has won their last two meetings, it's such a contrast in seasons for both players that one will have sky high confidence and the other will be in the doldrums… well, until very recently.
James Wade is coming into the World Championsip with a runners-up spot at the Grand Slam of Darts, and a semi-final of the European Championship. He's had a long season playing the Masters events, but Wade seems to be peaking just at the right time. The thing with James Wade is, you know what you're going to get – a solid average and some deadly finishing, especially under pressure. Sure, he's had a few duffers in the floor, but in front of the cameras is where Wade is at his best. He did disappoint at the World Grand Prix, bu to be fair, Terry Jenkins is no slouch and the format doesn't help in the first round.
As for Ronny Huybrechts, he's had a solid if unspectacular ear, although he did make the final of a floor tournament in Ireland, which was between some poor runs on the floor. However, it's not like he hasn't been getting some wins on the floor, it's just that he can't seem to string any kind of consistency together. Ronny's last match on TV was at the Players Championship Finals, where he lost 6-4 to Rowby John Rodriguez, and his doubling really let him down. He lost to an 80.93 average, which isn't great, and it's not close to what James Wade is going to average tonight.
So where do I stand on this? Well, I think it's safe to say Wade is going to win here, as it's a plum draw for him, really, as he'll be bursting with confidence. However, like Barney last night, I don't like the look of a 3-0 win, as Ronny Huybrechts has won on this stage before and he's beaten James Wade before, so he's not going to have any fear. The handicap is the place to be here, and I like Ronny Huybretches to at least get a set just down to his previous experience, so take Ronny Huybrechts +2.5 sets as the play in this one.
Robert Thornton vs Lerchbacher or Stevenson
Like many of the bigger names, I've been looking to take Robert Thornton on, but I just can't bet against him taking on either of these players. There are other unseeded players I would have loved Thornton to draw, and these aren't it. But we'll keep our powder dry and see what the coming rounds bring for the Scotsman. Hell, we still might get a shock here, but I'm still seeing this as no bet for me, of course.
I'll be back with more free tips for day eight of the 2017 PDC World Championship tomorrow, which is the last day of round one action from the Alexandra Palace, before the second rond gets underway on Friday, with a double-header of action.