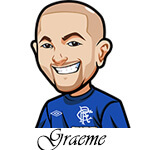 Follow @SBTSportBetting


[Get Exclusive Tips on our Patreon, Ad-Free
]
One of the guys today did some research on the Finnish league. Well, not really. But while he was looking over the games today he said we should bet Overs in those games, because "there is always hunners of goals".
Great analysis.
Either way, the two of us argued, and we're going with a betting challenge. We're betting Over 1.5 goals in all 4 games in the first half, then betting over 1.5 goals in all 4 games in the second half. All in an accumulator, which is at massive 30/1 odds. Can't beat that.
Should note that is two separate accumulators. We could do an accumulator for Over 2.5 in the goals total – but it's funner we think doing it each one by half.
For those wondering, the games are FC Haka vs AC Oulu, FC KooTeePee vs PK-35, HIFK vs FC Ilves and JJK vs FC Viikingit.
No research on this really – just us brightening up a Monday with a fun betting challenge.
Let's get to it and all times posted are in EST.
11:30am: Kick Off!
11:39am: We have our first goal in Jyvaskyla JK vs FC Viikingit. 1-0 thanks to Mikko Mannien. One more please.
11:45am: Mortn Gerster-Peipinen makes it 1-0 AC Oulu over Haka.
11:59am: We now have two games up. Haka 1-1 AC Oulu means that is Over 1.5 and Jyvaskyla JK 2-0 over FC Viikingit. In the other games Kalle Sotka just scored for HIFK to make it 1-0, but the 4th game is 0-0.
12:15pm: Half-time, and we unfortunately only went 2-2. Not what you need for an accumulator sad to say. Oh well. We've placed the bets for the 2nd half and it's 28/1 odds – so all we need is all 4 games to have 2 goals and we are good. Easy peasy, right?
12:35pm: 5 minutes gone and some good signs. HIFK vs Ilves has had 2 goals already which means we are 1 up.
12:45pm: FC KTP have scored to make it 1-1 there and only 1 more goal needed. Same with the Jyvaskyla JK game.
1pm: With about 15 minutes left, Haka vs AC Oulu had a goal.
1:20pm: And we're done. Ugh. We came so close to cracking that accumulator. FC KTP had two late goals in their game against PK-35 Vantaa to make that one up. Haka vs AC Oulu as well went up. We were just waiting on Jyvaskyla JK but after the 4-0 and 4th goal they were done.
Still – that was a fun betting challenge and we're going to explore Finland in the future. We think it could be a goldmine we just need to do this thing called research and we'll be working on that.
We're going to be naming this betting challenge "Fun Finland" and start doing that every few weeks – once we've did rsearch.
If we had went with an accumulator of Over 2.5 goals in all games we would have won. Even more importantly if we did an accumulator on all games Over 3.5 wow we would be rolling in it.
Oh well – it happens, and we don't care that much about the Finnish leagues but we were super into it today.
Follow @SBTSportBetting