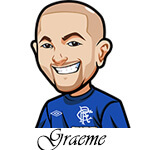 Ah, the magic of the cup. One short month ago, people were scoffing at the thought of Italy going any further than the group stage. "Worst Italian Team in years", many said. "The match-fixing scandal will mess up their mental game", others said.
Yet here we are, just before the final of Euro 2012 – and people are talking about Italy actually being able to BEAT Spain, with "Super Mario" at the helm.
Just as I predicted.
Back prior to the tournament beginning, I recommended everyone back Italy at 14/1 to win the tournament(now traded off!). And here they are, 90 minutes away from victory.
The odds from the online sportsbooks are rather similar. Live betting odds of Spain vs Italy updated every 15 minutes from :
Spain 6/5
Draw: 21/10
Italy: 11/4
So despite the strong efforts of Italy, Spain are still heavily favoured.
That's quite a surprise.
Italy have just got stronger, the more they play. Their strikeforce is figuring out how to play together, and we're seeing that in their games post-group stage. They completely dominated England and were unlucky to have to take it to penalties. They showed their true strength against Germany, who up until the Italian game looked like they would be the winners of Euro 2012(with bookies even making them joint favourites to win).
Spain on the other hand? I have absolutely no idea what they are playing at. They have looked extremely poor in most of their games with the 4-6-0 or 2-8-0 formation. They've looked dangerous at times when playing with a striker(Torres against Italy for example) but overall Spain have just looked very poor.
When it comes to Spain vs Italy betting tips, there's only one I can fully recommend:
Bet Italy to win in 90 minutes.
This is the best bet – the value we are getting here is incredible. Balotelli is growing in leaps and bounds, and Spain will not be able to handle him.
This is an +EV bet by far – for Spain vs Italy Betting Picks, it HAS to be Italy in 90 minutes.