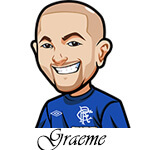 Follow @SBTSportBetting


[Get Exclusive Tips on our Patreon, Ad-Free
]
Well here I am writing betting tips for Frances Euro 2016 Quarter Final game – for the SECOND time in 48 hours.
Why second? Well because I jumped the gun a bit and wrote up a first draft covering the France vs England betting tips. Mostly the preview stuff. Because never in a million years would I have predicted that England would lose to Iceland. Hell even with 10 minutes left in the game I was firing on money on England to qualify just waiting for them to get that goal.
And they didn't.
Unreal.
As a betting man it sucks to lose money but as a Scotsman I've never been happier to lose money. And we Scots can be a bit stingy. Hell I wish I could build a time machine, go back in time and bet MORE on England to lose because it just feels so bloody good!
Alright – onto France vs Iceland.
Iceland have got here in incredible fashion. They drew 1-1 with Portugal which caused Ronaldo to spew venom from his mouth in their direction. They then took a lead against Hungary and defended it in amazing fashion – but just couldn't quite hold on. However they would then go on to amazingly beat Austria 2-1 to take 2nd place in the group and qualify for the last 16. They then beat England 2-1 in a very deserved result.
France meanwhile had a bit of a rough group phase. They beat Romania and Albania with two late goals, and then drew 0-0 with Switzerland in a result that pleased both teams. They then went on and beat the Republic of Ireland 2-1 however that's a really tough game to judge the quality of France. Ireland took that early lead and then went into uber defensive mode. And the problem is their defense isn't really that good. Randolph was the only one that kept them in it. Yeah France looked good in attack – but they're now facing an insane Iceland team and surely they take them seriously. Let's see what the bookies think:
France vs Iceland Match Betting Odds:
France: 2/5, -250
Iceland: 9/1, 10.00, +900
Draw: 15/4, 4.75, +375
France vs Iceland Match Betting Tips:
I honestly can't decide.
In my opinion France should be able to beat Iceland. They have the quality to do it. But they have their issues too. Iceland aren't like Ireland – they have a sturdier defense and also have a vicious counter attack. We saw that with England. They also have a strong team chemistry and will and they will battle to the end.
I mean hell look at the way they played against England. As soon as Rooney scored I thought the heads are going to go down but it was really just the opposite – it fired them up and they went absolutely crazy. Their confidence against England was amazing.
I dunno. I think France have the quality to win but I can't count out this Iceland side at all. Based on the way they've played, 9/1 is an absolutely insane price and we've got to place that bet purely for value knowing we could lose it. It's the right move.
Bet Iceland purely for value. Or a safer bet of Draw or Iceland knowing how defensive both teams can be.
France vs Iceland Prop Bets:
The one bet I really like in this game is Over 2.5 Goals. I'm a bit worried about the defenses but I can see there being an early goal an dthat will open the game up. France will want to stomp their authority on the game while Iceland will want to get off to an amazing start. I'm betting that.
Follow @SBTSportBetting