Euro 2016 Group E Winners Betting Tips & Odds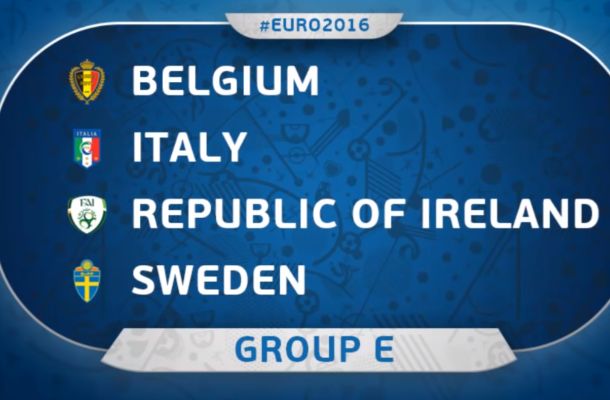 By
Group E in Euro 2016 features the top ranked team in Europe according to FIFA, Belgium, Italy, Republic of Ireland and Sweden
Belgium are the marginal favourites according to the bookies to win Group E. The best team in Europe, according to FIFA's World Rankings (and second best in the world) have a wealth of talent at their disposal, and they start their Euro 2016 tournament on June 13th against Italy at the Parc Olympique Lyonnais in Lyon. Belgium qualified for Euro 2016 by winning Group B, which consisted of Wales, Bosnia and Herzegovina, Israel , Cyprus and Andorra, losing only once, which was to Wales in Cardiff. 24 goals scored and only five conceded show just why Belgium have climbed FIFA's rankings.
Italy are the second-favourites to win Group E, and although they've slipped down the World Rankings (they're now 15th), they still have a squad packed full of talent. They start Euro 2016 on June 13th against Belgium in the aforementioned Parc Olympique Lyonnais. Italy qualified for Euro 2016 by winning Group H, and going undefeated against Croatia, Norway, Bulgaria, Azerbaijan and Malta. The Italians didn't take part in many high-scoring matches, scoring 16 and conceding seven.
Sweden start their Euro 2016 campaign against the Republic of Ireland on June 13th the Stade de France in Saint-Denis. Sweden qualified for Euro 2016 through the play-offs, having finished third in Group G behind Austria and Russia, while finishing ahead of Montenegro, Liechtenstein and Moldova. They then squeezed through 4-3 on aggregate against Denmark to finally clinch their place in France.
The final team in Group E, and seen as the rank outsider to win the group are the Republic of Ireland, who start their campaign, like the rest of Group E, on June 13th, when they take on Sweden in Saint-Denis. Like Sweden, Ireland qualified for Euro 2016 through the play-offs where they beat Bosnia and Herzegovina 3-1 on aggregate. The Republic of Ireland finished third in Group D, behind Germany and Poland and ahead of Scotland, Georgia and Gibraltar.
Group E Winners Betting Odds:
Belgium: 2.2, 6/5 +120
Italy: 2.62, 13/8, +162
Sweden: 7.00 , 6/1, +600
Republic of Ireland: 11.00, 10/1, +1000
Group E Winners Betting Tips:
Group E is a really tricky group to predict. The bookies, quite rightly, have Belgium and Italy fighting it out for favouritism, while counting out the two teams that qualified through the play-offs, Ireland and Sweden. But who wins here? Well, if you were wanting to Dutch Belgium and Italy as group winners, using the best odds, you would make a slight profit, and if you were wagering large stakes, it might be worthwhile. For example, if you had $/£1,000 to bet on the Group E winner, betting 544.04 on Belgium at 6/5 and 455.96 on Italy would give you a return of $/£196.89 if either country win. Sure, it's not a huge return, but if you're like me and think Sweden and Ireland can't win the group, it's a great way of locking in profit.
However, if you're looking for a winner from Group E, Belgium are slight favourites, and that's because they're the better team. If Group E comes down to goal difference, Belgium should take it. Italy don't concede many, but they don't score many, having ended qualification with a goal difference of +9. Belgium score goals and don't concede many, having scored 24 and conceded 5. Belgium actually beat Italy in November 2015 3-1, so you would have to take Belgium to win Group E, just because all signs points that way, and they are still odds-against which is a bit of value given they are technically the best team in Europe.
Group E Qualifiers Betting Odds:
Belgium 1.10, 1/10, -3300
Italy: 1.17, 1/6, -600
Sweden: 1.73, 8/11, -137
Republic of Ireland: 2.38, 11/8, +137
Group E Qualifiers Betting Tips:
Group E looks a done deal on paper in terms of qualification. Ireland almost didn't even make the play-offs for Euro 2016, and had to rely on the last round of fixtures to secure their place. In fact, although they were outstanding at home, the Irish only won two games away, and that was against group whipping boys Georgia and Gibraltar. They don't score many and don't concede many, so it they might get a shock draw or even beat Sweden, but 11/8 or so for them to qualify seems about right.
The same can be said of Sweden, as they were solid, if unspectacular at home, and not so great away. They also don't score many. This Sweden teams revolves around one man, and that's Zlatan, but it's not got the strength and depth of Swedish teams of the '90s and it might just be a bit of a struggle for the Swedes to make it out of Group E.
So, there's no real bet to be had here, although Belgium/Italy straight forecast pays 4.00, 3/1, +300 which is the way to go if you think Belgium are going to win Group E.