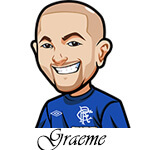 Group C sees the second games take place on Thursday, June 16th. Northern Ireland will take on Ukraine then a bit later in the day it will be Poland vs Germany.
Northern Ireland got off to a very disappointing start against Poland. We've seen that a lot by teams before – they are just so happy to get here and then they shut up shop. Considering the ability of players like Kyle Lafferty and Steven Davis this was a big mistake to make.
Northern Ireland just gave Poland too much respect, and you can tell from the interviews in their camp that they're mad at themselves. They're going to want to come out here and rattle Ukraine hard and fast and get back on the winning end of things. Have to expect they push on Washington for Ferguson to give Lafferty some much needed support.
However it's going to be very interesting to see how Ukraine play here. Against the Germans they sat back and relied on their excellent counter attack. Will they do the same against Northern Ireland? I'd expect them to do that at least at the beginning of the game while Northern Ireland pile on. And the first 15 minutes in this game could be crucial.
Northern Ireland vs Ukraine Match Betting Odds:
Northern Ireland: 6/1, 7.00, +600
Ukraine: 4/7, 1.57, -175
Draw: 3/1, 4.00, +300
[colored_box color="blue"]Best odds for Northern Ireland vs Ukraine are available at Bovada - $200 in free bets and accepts Americans..[/colored_box]
Northern Ireland vs Ukraine Match Betting Tips:
I'll be honest – I was in two minds when thinking about this game – but I've absolutely got to go with Northern Ireland to win at that price.
That's an incredible price. Northern Ireland went up against one of the best strikers in the game and fared well enough with a clinical defensive performance. We're going to see the same similar defensive performance from the likes of Craig Cathcart and Jonny Evans. They stepped up big then and I like them to do the same again here.
I also think Northern Ireland mix things up by putting on a 2nd striker – someone to help support big Kyle Lafferty up there. Northern Ireland are no pushover. They deserve to be here and I just think the odds for that are way too high.
[colored_box color="blue"]You can get 6/1 odds on Northern Ireland to win at Bovada - $200 in free bets and accepts Americans..[/colored_box]
Northern Ireland vs Ukraine Prop Bets:
(Both teams are going to want to win here. They lost the first one and with both of them considered the weaker ones of the group a draw does no good to them. What I am expecting is a spirited performance here.
Now it's a bit iffy because of the defenses of both teams. They're both bloody solid. However as long as we get an early enough goal – and I think we will with how fired up Northern Ireland will be – I think that will open the game up and we'll get the goals we need.
I'm takign Over 2.5 Goals in this one.
[colored_box color="blue"]I'm also betting "goal in first 10 minutes" which you can get for crazy odds at Bovada - $200 in free bets and accepts Americans..[/colored_box]