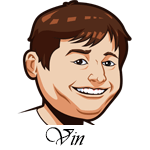 Follow @SBTSportBetting


[Get Exclusive Tips on our Patreon, Ad-Free
]
It's likely that sometime over the last couple of years you've heard the three words: "Daily Fantasy Sports". It's something that is getting bigger and bigger as time goes on and there are even advertisements during the NFL for it now.
We get a lot of people asking what exactly IS daily fantasy sports and how does it work? We're going to break down all the questions you have in our daily fantasy sports for dummies article.
We're also going to use Fantasy Football – aka the NFL – in most of the examples below because that's the most popular, and one most people will be familiar with. Even if you aren't familiar with NFL however this article is still perfect for you.
What Is Fantasy Sports?
Let's quickly explain what fantasy sports in general is. You pick a team of players. That's your team. You might pick Tom Brady as your quarterback, Dez Bryant and Calvin Johnson as Wide Recievers, and Doug Martin as your running back. It's fantasy after all – it's like picking a dream team.
You will then play against other people, possibly in a league with 12 players or in one big free for all with thousands of players. The points that you earn are based on exactly how your players do that week in the NFL. So if you have Tom Brady in your fantasy team, in real life you are hoping he throws no interceptions and throws a few touchdowns.
That's how fantasy works. There are quite a few variations but the most common is either being able to pick who you want with little to no restriction, or being in a league with other players where you do a draft format. So you may get the #3 pick in the draft. If someone picks Dez Bryant #1 then you will not be able to pick him as they are exclusive to that one team.
What Is DAILY Fantasy Sports?
As much fun as regular fantasy sports are – sometimes they suck too. You pick up some key players like Jamaal Charles as your #1 draft pick, only for him to get injured and miss a bunch of games. Then you're stuck picking up the Jacksonville RB or some other crap.
Or hey – sometimes your picks don't work out. Around Week 6 you're 0-6 and no chance of winning your league or making the playoffs. That sucks and you're basically out of it for the season so it's nowhere near as fun.
Daily Fantasy Sports fills that void. Your team is only for that DAY(or week in the NFL). Let's use NBA For example. On November 6th, the San Antonio Spurs are playing the Houston Rockets, and the Dallas Mavericks are playing the Portland Trail Blazers. You enter a daily fantasy sports content on that day and you are only picking players from those 4 teams. It doesn't last all season or anything like that – it's how they perform on that specific DAY.
So there's no long-term commitments; no worries about injuries. No long-term planning needed. You look at the schedule for that day or week, you see the Patriots are playing the Jaguars and you pick Gronkowski. No need to worry about whether he will pick up yet another injury down the road or anything like that – you now he is fit and healthy NOW – and all you need him for is that one game.
How Does Daily Fantasy Sports Work?
Let's do a step by step process as we enter an NFL Daily Fantasy Sports contest. We'll do this at FanDuel as we much prefer their interface.
So we visit FanDuel, we filter the list by NFL and here is just some of the Daily Fantasy Sports tournaments we can enter: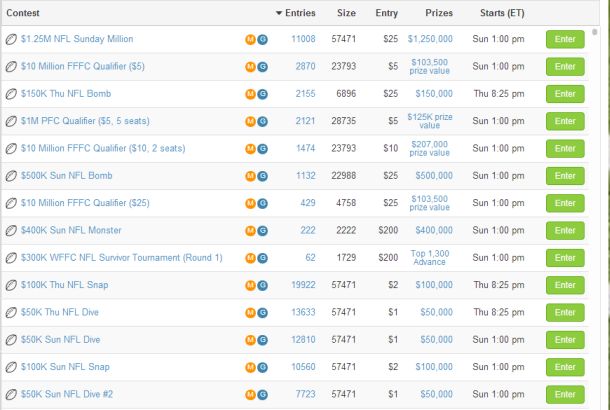 It lists the amount of entries so far, size which is the maximum entries, the entry cost, the guaranteed prizepool and then when the tournament starts. The M = Multi-Entry, which is that you can enter multiple teams if you want. The G means the prize pool is guaranteed.
Some of them are satellite tournaments – if you cash in, you get to gain entry to a tournament with a much bigger entry fee. We're going to enter the $1 "$50k Thu NFL Dive". This tournament has a guaranteed prize pool of $50,000.
Depending on the tournament, the payouts will be different. Here is the payouts for this one: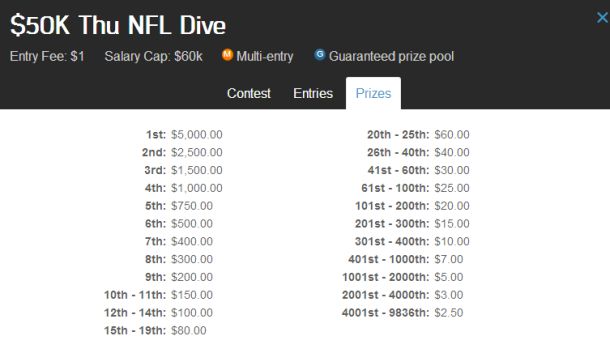 So we're entering for $1. All we have to do is come in the top 9836 players to win some money. In that case it would be $1.50 profit. Obviously, the better you do the more money you make. If you pick the best team and have the most points, you get a whopping $5,000 for that $1 entry fee.
Now the majority of these daily fantasy sports will have restrictions. It'd be nice if it was so easy that you could just pick the theoretically best players every week – but it requires strategy. What you have is a BUDGET.
In this case, we have $60,000 to spend. We need to pick the following positions:
QB
RB
RB
WR
WR
WR
TE
K
D
Here's an example of the salaries for the top players: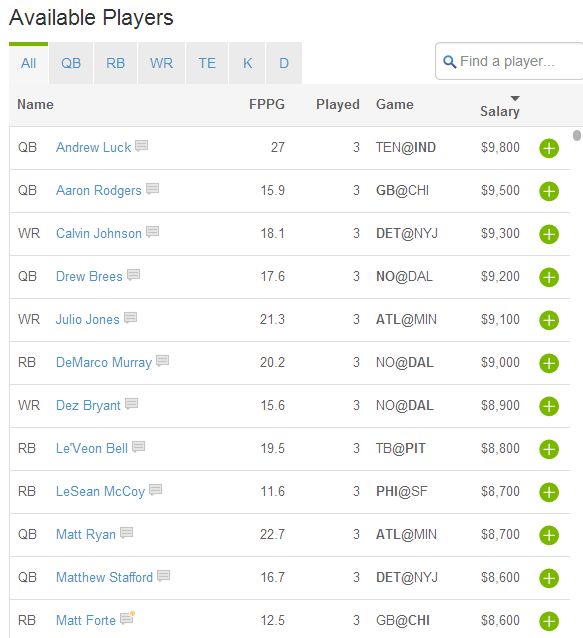 So yeah – basically all you do is pick your team from here on out. I'm going to pick a team for this tournament, and go through my thought process. Everyones strategy is different but here's mine:
I like to go for the cheapest players first, which is going to be my kicker and my defense. The Jets looked slippy last week on offense, and they're playing Detroit who have the ability to return the ball. So I will go with Detroit as my defense at $4,700.
For kicker – the Saints are a good team at stopping the redzone and forcing the kick. They're going up against the Cowboys this week, so Dan Bailey is a solid choice. He's the most expensive kicker at $5500 but he is guaranteed at least double figures in points.
Next, I want to take advantage of the San Diego Chargers, who are going up against Jacksonville. So first I will take Philip Rivers at $8400.
Next, I want to take at least one WR from the Chargers. What's great is I can filter easily – I just click "Jac @ SD" on the bar at the top and it only shows players from that particular game.
I take Eddie Royal from the Chargers. One good thing is it calculates how much your salary amount left over is, and then what the average amount you have left to spend on players is. With 5 positions left, I have a $35,300 budget remaining, which is $7,060 per player.
I pick up Reuben Randle for $5300 as I feel he is a good sleeper pick, DeMarco Murray and Le'Veon Bell as my RBs(at $9,000 and $8,800) and then Zach Ertz and Eric Decker.
As you pick, it shows you your team and here is my completed team: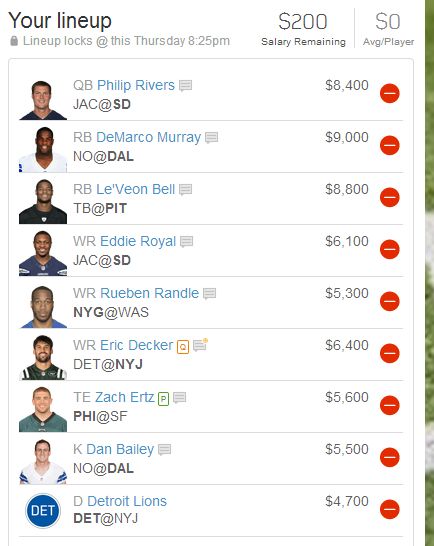 I click Enter, and that's me in it. I can make edits up until 8:25pm on the Thursday, when the lineup locks in.
You get points via a variety of methods. I won't list them all – but here are a few:
Offense:
Rushing Touchdown: 6pts.
Passing Touchdown: 4pts.
Passing Yard: 0.04pts.
Kickoff Return Touchdown: 6pts
Defense:
14-20 points allowed: 1pt
0 points allowed: 10pts
Blocked Kicks: 2pts
Return Touchdowns: 6pts
And so on and so forth. Every tournament before you click enter has a full list of all the rules and so on so you can read and plan accordingly. You can also click the player notes, and get an idea of how they played the previous week and so on for this type of scoring.
Hopefully that explains it – we're not actually playing against any one person in this league(that would be a head to head league you are looking for) – we're playing against everyone else, and our goal is just for our players to get more points than as many other teams as possible.
(Note: After this week is over I'll come back and provide a listing of the results etc and how we did)
Where Should I Play Daily Fantasy Sports?
There's a LOT of websites where you can play Daily Fantasy Sports. Later on, once you are more experienced, we would recommend jumping to a lot of different ones and focusing on clearing the bonuses. However right now there are two options. These are the two biggest entities in the daily fantasy sports world:
FanDuel: Barely the #1, FanDuel is massive with over $400 million dollars to be paid out this year alone. They launched in 2009 and have grown bigger and bigger and bigger as time goes on.
DraftKings: While we'd put FanDuel at #1 it's just barely – really DraftKings is just as good. They also just bought one of the other biggest sites in Draftstreet to grow even bigger.
Both of these websites are absolutely massive, and you can't go wrong with either of them.
Our suggestion? Sign up at FanDuel AND DraftKings. Play around with both interfaces and see what you like best. Between the two, it really does come down to personal preference.
What Daily Fantasy Sports Are There?
What Is Fanduel?
Did you see an ad during NFL or similar, and wonder what exactly Fanduel is? It's a daily fantasy sports league as mentioned above.
They are a completely trustworthy site with a very solid easy to use interface. You can win money without even having to deposit as they run freerolls with about $15,000+ a month given away free, no entry fee required. In the past they've ran a $200 Survivor Entry, a Playboy Championships and many more. They also offer $1,000,000+ guaranteed prize pools every Sunday in the NFL.
For more details on Fanduel, click here.
What Is Draft Kings?
Draft Kings is the #2 Daily Fantasy Sports website. Don't worry – they're #2 by the TINIEST of margins. They are an amazing site that offers a free $100k contest to all first time depositors, and run a ridiculous selection of promotions. They're also one of the only daily fantasy sports sites to offer both daily fantasy golf and daily fantasy soccer.
Visit DraftKings to read more about them.
More Questions?:
Hopefully we covered everything you need here but if you have any more questions then just leave them in the comments below and we'll answer.
Follow @SBTSportBetting