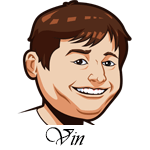 Follow @SBTSportBetting


[Get Exclusive Tips on our Patreon, Ad-Free
]
This is it, this is my life now.
I was eliminated from my week to week fantasy league this week on a stupid tie-breaker. Getting eliminated sucks, but it frees me up to focus fully on daily fantasy which is what I want to do anyways. All season long I have thought about these last few weeks of the season and how (in my mind) they were my best chance to make money. We know who the contenders are, we know who is quitting and we know who is trying to play spoiler. This is the time to strike, this is the time to make money. This is when it gets fun.
So, let's find some value plays and rake in some cash this weekend. We earned it.
QUARTERBACK
DRAFT
Russell Wilson: The Seahawks are back… I think. This week will be the test as they face a tough Philadelphia team, but it should really be a test of Russell Wilson. Despite a couple of big rushing games, Wilson has been mostly disappointing this season. I think that changes this weekend with a big game against the Eagles.
Matthew Stafford: He played one of his best games of the season last week and now he gets the Tampa Bay defense.
Zach Mettenberger: This week's buy-low candidate. Before he ran into JJ Watt last week he had games of 17 and 20 and the Giants defense is bottom-10 against the pass. If he plays, I like him.
DON'T DRAFT
Mark Sanchez: It's been fun, but like I said in the Russell Wilson section: the Seahawks are back. (I think.)
Matt Ryan: Cold weather, red hot Packers, bad offensive line. No, thank you.
RUNNING BACK
DRAFT
CJ Anderson: Surprisingly not super expensive despite rushing for 160+ yards the past two weeks. The Buffalo defense is decent, but no match for a Peyton Manning offense. I see another big one for CJ this week.
Tre Mason: Another guy who seems like he should be more expensive than he is. 110+ yards in two of the last three and now facing a Redskins team that is pretty much a mess. The Rams aren't giving up on the season and Mason is a big part of that.
Justin Forsett: A lot of people will hide from this one because the Dolphins defense is tough, but don't be fooled: you can run on them. The Jets proved that on Monday night and the Broncos proved it the week before. There are holes there are Forsett is good enough to exploit them.
DON'T DRAFT
Lesean McCoy: I can tell already I am going to get myself in trouble with this, but, again, I like Seattle this week. McCoy could produce, but I just don't see it being in the top 8 of running backs.
Alfred Morris: There are a lot better options out there than Morris this week. A lot.
WIDE RECEIVER
DRAFT
Odell Beckham Jr: Did you see what happened to the Titans secondary last week? It might not be that bad, but the ODB breakout will continue this Sunday.
Brandon LaFell: 14+ in four of the last five. Seems he's earning Brady's trust more and more. The warm weather in San Diego will help.
Doug Baldwin: Wilson has to throw to someone and Baldwin leads the team in just about every passing category.
DON'T DRAFT
Julio Jones: Last week was great, but this week is the Packers in Green Bay and I don't see it going that way again.
Jeremy Maclin: I could be wrong about the Seahawks, but I'm not wrong about this: Richard Sherman. Capiche?
TIGHT END
DRAFT
Jordan Reed: Big game last week and now the Redskins may be without Desean Jackson. Who else are they going to throw to?
Dwayne Allen: It looks like he'll be back for the first time in a month and I can't help but think that Luck will welcome him back with open arms. Just a hunch.
DON'T DRAFT
Greg Olsen: Has slowed down as of late and only three catches the last time he faced the Saints.
DEFENSE
DRAFT
Kansas City Chiefs: I don't feel like I'm going out on a limb when I say the Chiefs will not be kind to Drew Stanton. The Chiefs are good.
Denver Broncos: Kyle Orton wants to throw an interception. I can tell.
DON'T DRAFT
Miami Dolphins: They've been solid, but I think Forsett runs them down.
Follow @SBTSportBetting