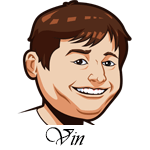 Follow @SBTSportBetting


[Get Exclusive Tips on our Patreon, Ad-Free
]
I have a new nickname for myself: the 10 AM Tinkerer.
I've given myself this nickname because no matter how much time, how much energy or how much research I put into building my daily fantasy team, at 10AM on Sunday morning I will tinker with my lineup. It never fails. No matter how strongly I feel, I will doubt and I will change.
The worst example of this was last week when I decided that instead of CJ Anderson, Calvin Johnson and TY Hilton that I really needed Justin Forsett, Josh Gordon and Jordy Nelson. I needed more J first names.
Here's how those three compare on FanDuel (where I did this):
CJ Anderson: 23.8
Calvin Johnson: 25.8
TY Hilton: 30
Justin Forsett: 14.8
Josh Gordon: 2.5
Jordy Nelson: 30.6
From 79.6 to 48.1. In the $2.25 Sunday Million event I was in this was a swing of A HUNDRED DOLLARS.
My advice to you? Don't do that.
Let's get to the picks…
QUARTERBACK
DRAFT
Eli Manning: I know, I know,; but Eli Manning's best game of the season was against the Redskins and they haven't gotten any better. For the season the Redskins are allowing 24 fantasy points per game to opposing QBs and Eli beat that number way back when. Maybe he'll do it again?
Kyle Orton: Last week Matt Ryan and Julio Jones combined to do nasty, nasty things to the Green Bay defense. I could see Orton and Sammy Watkins doing a poor man's version of that.
Johnny Football(!!!): Johnny Manziel is finally getting his first start and it couldn't come at a better time: against the Bengals. Early in the season the Bengals looked like they might be a top team in the NFL, but that was a long time ago. They've actually been pretty good at holding QBs to low fantasy points, but that's because they have given up so many running yards. Rookie quarterbacks tend to panic and run. Johnny Manziel is a running quarterback. Rushing yards are worth more than passing yards. Manziel is my buy low QB of the week.
DON'T DRAFT
Tom Brady: Way back in Week 1, the Dolphins held Brady to 1TD and 249 yards on 56 attempts. That was then and this is now, but I am definitely taking that into account. I'm also taking into account the way the Dolphins have been giving up running yards these past couple weeks. I just don't see a big Brady day.
Colin Kaepernick: Don't get cute.
RUNNING BACK DRAFT
Justin Forsett: 12 or more fantasy points in six straight with five touchdowns. Now he faces the Jaguars who are giving up 22 points per game to opposing running backs. It's hard to imagine him NOT hitting 100 yards this Sunday.
Jonathan Stewart: Big game last week, low price this week. A good match-up against Tampa Bay and Cam Newton is out. Seems worth a flier to me.
Chris Ivory: Or maybe Chris Johnson, but I like Ivory. Or both! The Titans have given up more rushing yards than anyone else this season (and they have a 160 yard lead) so at least one of these two should have a good game. Plus, it's not like the Jets will be passing.
DON'T DRAFT
Eddie Lacy: Buffalo has been tough on RBs this season and the Packers seem content on letting Starks steal carries and TDs from him. No thanks.
Denard Robinson: Not this week.
WIDE RECEIVER
DRAFT
Sammy Watkins: Poor man's Julio Jones? Maybe. The Packers' 20 TD to opposing WRs is the most in the league.
Kenny Stills: I'm chalking up last week to a bad game for the Saints offense. This Monday against the Bears defense should not be that. Before last week he was looking like a favorite target for Brees.
Marqise Lee: Slowly emerging as the Jaguars best WR, this week he gets a weak Ravens secondary that is giving up the most fantasy points to opposing WRs in the league.
DON'T DRAFT
Josh Gordon: The Bengals have done well against opposing WRs and I think Manziel runs a lot this week.
Kelvin Benjamin: Derek Anderson is starting.
TIGHT END
DRAFT
Jimmy Graham: Obvious name? VERY, but the Bears are allowing huge fantasy points to opposing tight ends this year and I think this is a high scoring game.
Delanie Walker: The Jets have played 13 games and allowed 12 TDs to opposing tight ends. Delanie Walker is a pretty good tight end. Simple.
Larry Donnell: Remember that 3 TD game he had this year that made everyone fall in love with him? That was against the Redskins. He plays them again this week. Just saying.
DON'T DRAFT
Greg Olsen: Again, Derek Anderson is starting. DO NOT TRUST.
Julius Thomas: He's banged up and he had a mere 3 points last time he faced San Diego.
DEFENSE
DRAFT
New York Giants: I've said it before and I'll say it again: The Redskins are a mess.
Tampa Bay Buccaneers: With all this negative talk about Derek Anderson starting, I basically have to put them here.
DON'T DRAFT
Green Bay Packers: The second half of Monday night is a sign of things to come.
San Francisco 49ers: Nope.
Follow @SBTSportBetting