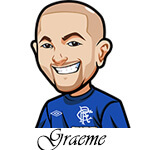 Follow @SBTSportBetting


[Get Exclusive Tips on our Patreon, Ad-Free
]
One question we seem to be asked time and time again lately from our visitors is:
When Should I Cash Out A Bet?
Before we answer that – we want to explain what cashing out a bet is, and then we'll use a specific scenario to discuss when you should cash out a bet.
Cashing out of a bet is a feature that many online sportsbooks offer – it's essentially you taking insurance that you will be getting paid. This feature has been added to many online sportsbooks due to the popularity it has gained thanks to betting exchanges.
For example – you bet $10 on Swansea to beat Manchester United. The odds are 7/1. If your bet wins, you get a total return(including your original stake) of $80, or a profit of $70.
With 5 minutes left in the game, Swansea are up 1-0. However they're now parking the bus, and Manchester United are taking shots at will. This is nerve-wracking stuff for you and your bet. BUT you can log into your sportsbook account, and choose to cash out the bet. The odds will be reduced. For example they may only be offering you 5/1 at this time. So you can cash out for a profit of $50 as opposed to $70. If the result stays the same and Swansea win, you only get the $50 profit. But if Manchester United score you can breathe a sigh of relief – you cashed out, and have that $50.
Cashing out is something that is offered as most bets kick off, and the odds are changed throughout the game, based on the result and what is happening in the game in question. A lot of Crypto betting sites offer the cashout feature as well.
Now we're going to deal with a particular bet that someone asked us about, and explain when you should cash out.
In this particular situation, someone bet 10 soccer games. They bet the 10 favourites as part of a large accumulator. The odds came to 50/1 for this particular accumulator, meaning they would profit $500 if it came in.
9 of the 10 games were played, with 1 game remaining and all bets had won. WIth 1 game remaining, they were then given the option of cashing out at $350.
Their mindset – which was incorrect – was that they should let it run based on the fact that they were only risking $10 to win $150. And considering the odds of that team winning were 1/2 and they were getting 15/1 – that was a steal.
That's wrong.
That sort of mentality is how people lose so much at casinos, sportsbooks etc. Or just in general – how people lose money period.
Let's say you went to Vegas for the weekend. You don't like to bet much, and you threw $10 in slots. Then you luck out – and won $100,000! But then over the course of that weekend, you proceeded to blow that $100,000 on Blackjack, craps, more slots etc and end up with $0. Did you still just "lose $10" on that weekend? No. You had $100,010 and you lost THAT.
The same applies here.
By the time the punter had the opportunity to cash out, he currently had $350 to lose, not $10. He was NOT risking $10 to win an extra $150, he was risking $350 to profit $150.
So then you need to put the parlay aside – don't factor in any of the previous action. Now you are betting $350 to win $150 on this last game. Would you bet that?
It's not a yes or no answer. There are many factors to play. For example, your bankroll comes into play. If you normally bet $100 per game, and then $10 on risky/fun accumulators – well risking $350 to profit $150 isn't that big a deal. It's 3.5 units to win 1.5 units. Not a big risk.
But if you bet $10 per game normally – well now you're risking 35 units to win 15 units. And if you take those 35 units it adds to your bankroll substantially – and allows you to increase your bets, which are better in the long term.
You may also just be a casual better. Throw $10 down every weekend on a random accumulator. In which case – $350 is huge for you, will cover the next 35 weeks, and is something you should really think like taking.
There are no yes or no answers to this one – there are many factors at play, and a lot depends on you, and your situation.
For those curious – the person who placed that bet decided to "let it ride". The game was 1-1 until the 88th minute, when the team he was betting scored and won the game, and he won the bet.
Follow @SBTSportBetting