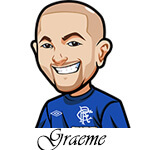 Follow @SBTSportBetting


[Get Exclusive Tips on our Patreon, Ad-Free
]
He's one of the worlds best players – but have you ever wondered how Lionel Messi would do outside of Spain?
Even more importantly – just how good IS HE? There's no doubt he is one of the worlds best, but what if he was forced to play without the likes of Xavi, Iniesta, Pedro etc? Would he still be as good?
We decided to put both of these questions to the test. First of all, we'd take him out of Spain, and put him in the UK – where the play is a lot more physical, the tackles a lot harder hitting.
And then we decided to see how good he is – by putting Lionel Messi in Clyde.
Who Are Clyde?
Clyde are a Scottish team, currently playing in the Scottish League 2. They are expected to finish 5th in the league this season. They sell about 300 season tickets, and average an attendance of 500 a game, despite having an 8006 all-seater stadium. They are managed by ex-Glasgow Rangers legend, Barry Ferguson.
Scotland has 4 divisions. Scottish Premiership, Scottish Championship, Scottish League One and Scottish League Two.
Now you may wonder – why not just sell Messi? 50 million quid would keep them settled for years. Well we've thought of that(and sure enough if you just add him in, he leaves promptly) so we've given him a £300,000 a week contract lasting 15 years. That should keep him there. Yes it will hurt Clydes finances, but not like they could get him for £25 a week anyway and in Football Manager, a team never goes bust or anything like that.
Alright, onto the simulation:
Football Manager Simulations: Messi in Clyde Season 1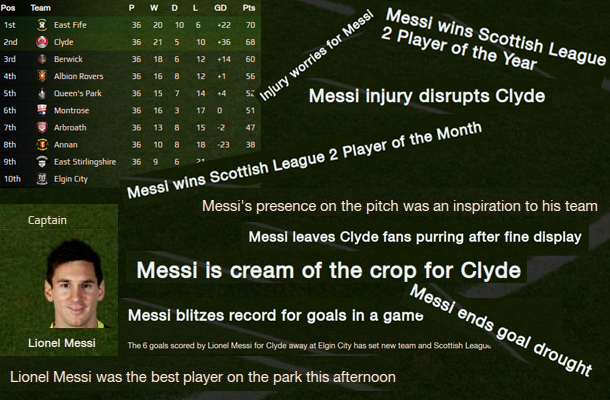 Right off the bat, Messi being in the club sent them from 5th favourites to win the league to 2nd favourites. Messi was handed the captaincy, and would be playing up front in a 4-5-1 formation.
The physical style of Scotland however looked like it would cause an issue. In his 2nd game, he picked up a gashed leg and was out for 2 weeks. Then in October, a torn groin muscle caused him to miss 2 months of football. He returned healthy, but in April suffered a 10 hour goal drought. Clydes reliance on Messi saw them finish the league in 2nd place. Thankfully he returned to form in time for the playoffs to assist them in promotion to the Scottish League 1.
Clyde struggled financially throughout the season, forced to sell both their training facilities and youth facilities. At the end of the season, manager Barry Ferguson left the club, with many believing it was due to the financial difficulties.
League Stats: 32 games, 41 goals(3 pen), 15 assists, 15 MoM. Average Rating: 8.13.
Cup Stats: 6 games, 7 goals, 2 MoM, Average Rating: 7.58.
Messi won Scottish League 2 Player of the Year, was their top goalscorer by 17 goals, 2nd in assists to team-mate Darren Ramsay.
Unfortunately due to the lower stature of the team he was playing for, Messi did not feature for Argentina once and missed out on the 2014 World Cup.
Football Manager Simulations: Messi In Clyde Season 2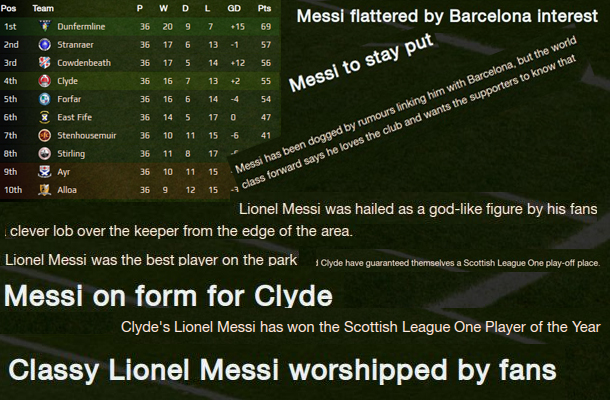 There was worry for the Clyde fans, as Barcelona chased Messi during the off-season. However Messi ended up deciding to stay at Clyde, a decision that won him over with the fans in a way that even his 48 goals last season couldn't do.
Other than a thigh strain in September, Messi stayed uninjured throughout the season. Clyde struggled at times though even with their superstar, and needed to win in the Playoffs to gain promotion to the Scottish Championship.
League Stats: 37 games, 56 goals, 19 assists, 31 MoM. Average Rating: 8.40.
Cup Stats: 6 games, 3 goals, 1 assist, 1 MoM. Average rating: 6.92.
Messi also picked up his first red card for Clyde.
Football Manager Simulations: Messi in Clyde Season 3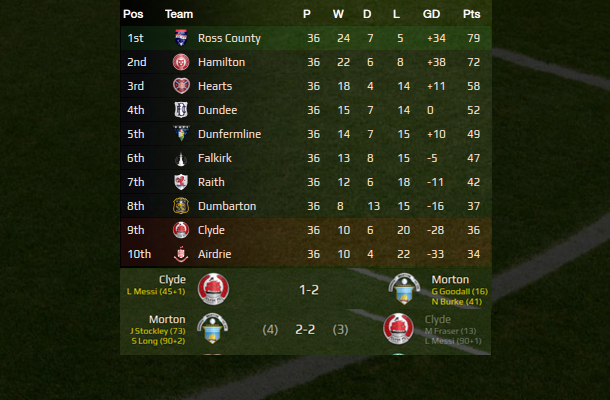 In horrific fashion, Clyde were relegated from the Scottish Championship in the playoffs.
Losing the 1st leg 2-1 to Morton, they pulled back and went into injury time at 1-1. Messi scored in injury time to make it 2-1 and take it to extra time, but unfortunately Morton snuck one in a minute later while they were still celebrating.
The Scottish Championship just appeared to be too much for a one man team. Messi had yet another solid season, but it just wasn't enough.
League: 40 games, 47 goals, 6 assists, 15 MoM, 7.78 rating.
Cup: 5 games, 4 goals and 2 MoM. 7.62 average rating.
Despite relegation, Messi won Scotish Championship Player of the Year and set a new average rating record for the Championship. He also managed to last the full season without an injury – so sadly, it looks like the Championship is just too much for one man.
Messi also may not be a Clyde player much longer. He has requested to leave the club and put up for transfer, due to the fact that he wants a new challenge. He made this decision late in the season, with Clyde clearly battling for relegation.
Lionel Messi would go on to sign with Barcelona during the Summer.
Follow @SBTSportBetting